---
Close
Close
Behind the scenes at NRG2fly: 5 questions for programme manager Tristan Oppeneer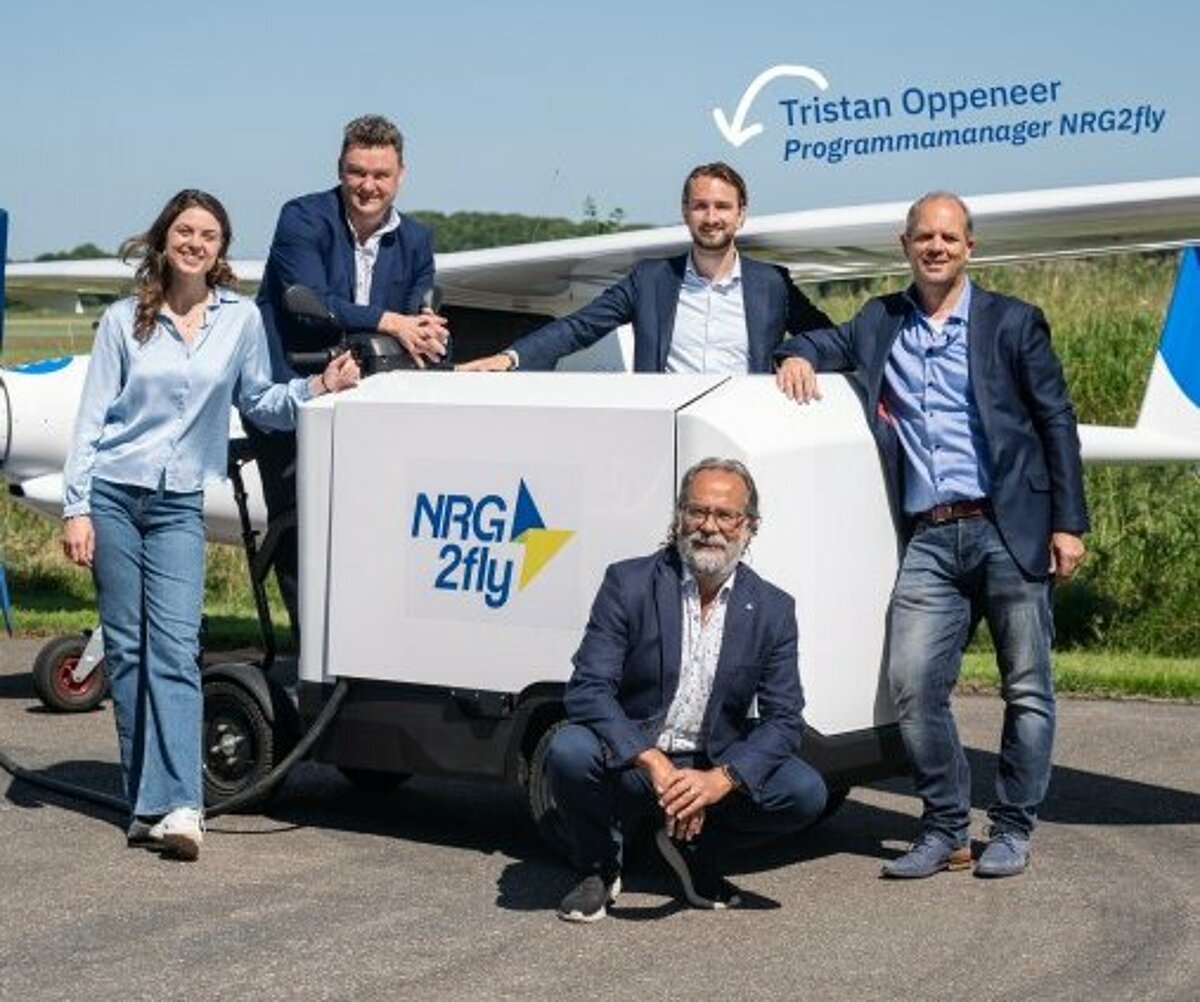 NRG2fly is pioneering the charging of electric planes and vehicles at airports. Our ultimate dream? A future where every type of electric aircraft and vehicle can be effortlessly sustainably charged at any airport, anywhere in the world. Because electric flying and charging are still virgin territory for many, it requires considerable research and numerous test projects. In our new series 'Behind the Scenes at NRG2fly', we take a look at our day-to-day work, using 5 questions to one of our team members. This time, we question Tristan Oppeneer, Programme Manager at NRG2fly.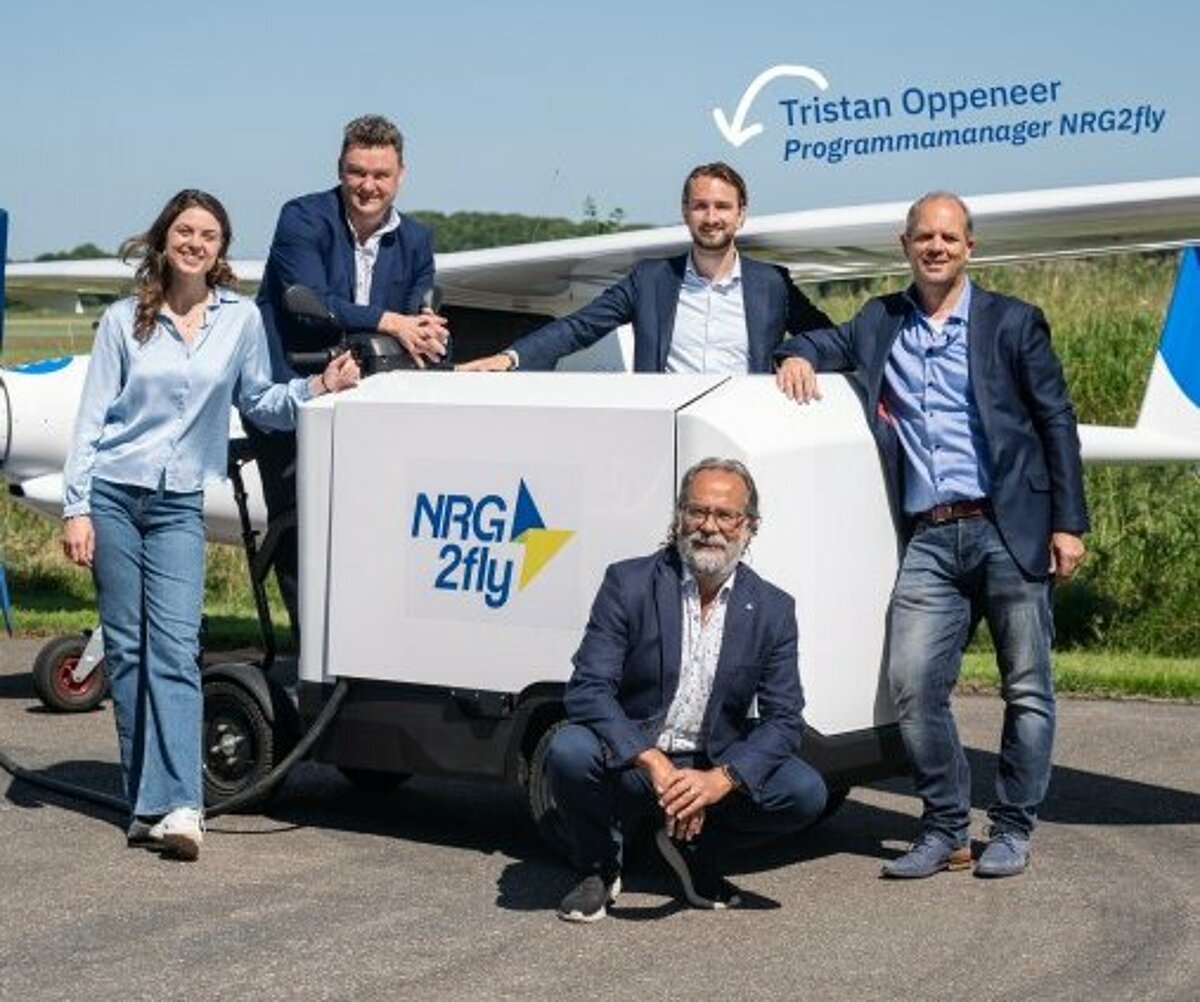 #1. Tristan, could you tell us about the main project you are currently working on at NRG2fly?
"Absolutely, my main project at NRG2fly is the 'Green Transport Delta - Electrification (GTD-E)' project. Its main aim is to develop a powerful battery ecosystem in the Netherlands, with the ultimate goal of accelerating the transition to climate-neutral mobility. This project is supported by the Ministry of Economic Affairs and Climate, among others, and involves numerous Dutch companies, including NRG2fly.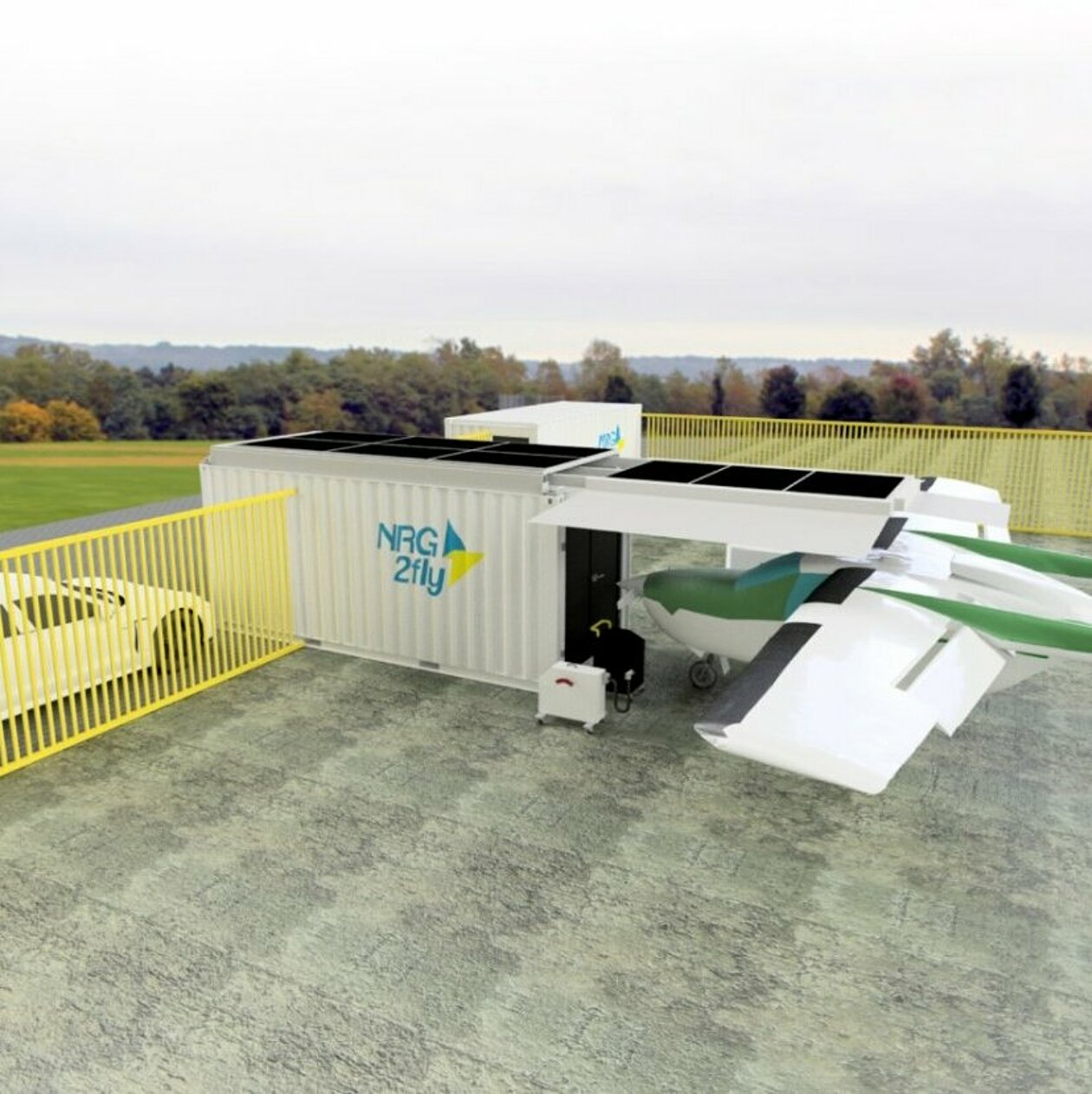 We specifically focus on creating a test facility for charging electric aircraft at airports. We are currently conducting these tests at NV Airport Teuge, as this is the location where daily electric flights take place, and thus recharge, through the E-Flight Academy. At a later stage of the project, we will conduct similar tests at a larger airport. This is important because electric aircraft are expected to get bigger soon and therefore require significantly more energy to recharge (a factor of 4-5 more than today). Therefore, we will also investigate how charging facilities with larger energy requirements relate to e.g. the power grid. The interesting thing is that by testing at two airports, we will be able to link these locations and thus conduct tests beyond individual airports. This is interesting for exploring the potential for regional electric flights (Regional Air Mobility - RAM), a development that many sustainable aviation experts have high hopes for."
#2. Interesting! So lots of reading, research and lots of figuring out. So do you sit at your desk researching all day? Or do you also get to go outside once in a while?
"Haha, I definitely get to go outside!
NRG2fly has an office at Breda International Airport and we are also E-Campus residents at E-Deck at NV Airport Teuge. At Teuge, you can literally see E-Flight Academy's electric planes in action, and we even have two mobile NRG2fly chargers involved in my GTD-E project. These mobile chargers actually act as portable batteries that can be brought to electric planes on site, so the planes don't have to taxi to a fixed charging location."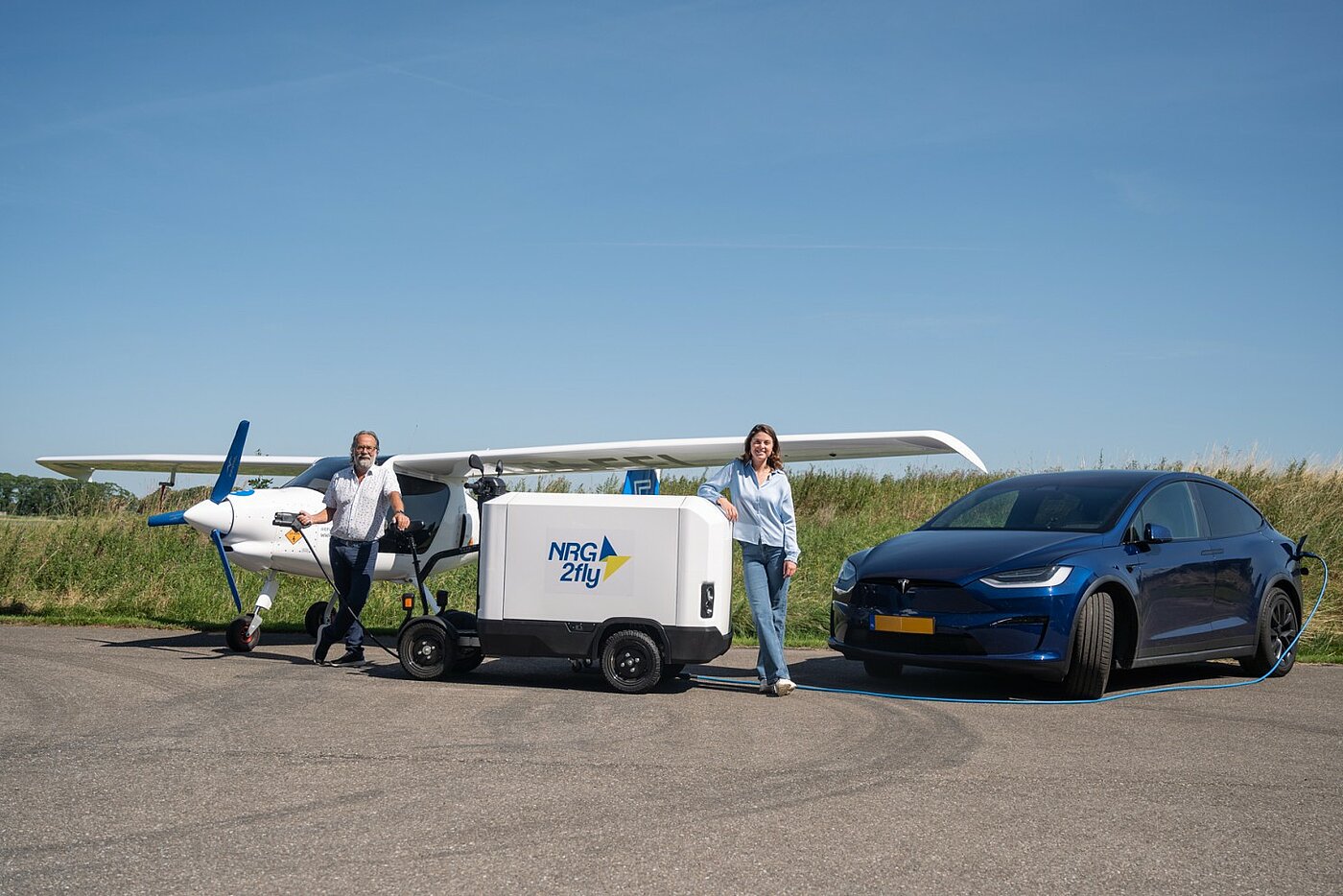 #3 Back to the core: What do you see as essential to making effortless electric aircraft charging successful at all airports?
"I think there are several crucial factors, but one of the most important is undoubtedly the early standardisation of charging systems for electric aviation. We have learnt from the automotive sector how crucial this is. For example, the CSS (Combined Charging System) has been on the market for 10 years in several countries and has proven to be a successful standard.''
''From NRG2fly, I participate in various international working groups to promote this vision and to share our knowledge gained from our test rigs.''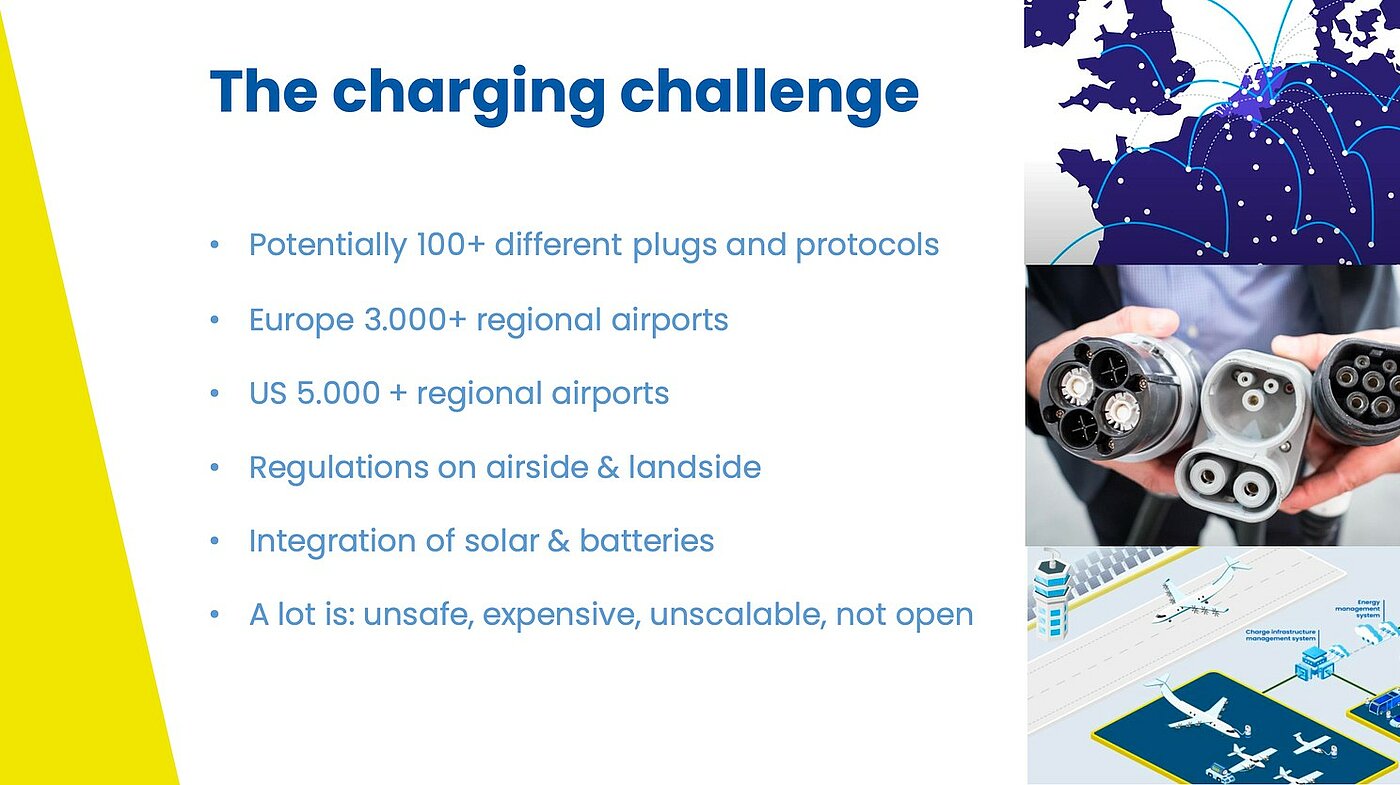 #4 What else can we learn from the automotive industry to promote the development of charging infrastructure at airports?
"Besides plug standardisation, another crucial aspect is an open system that is accessible to all and allows smart charging. The automotive industry has been successfully implementing the 'Open Charge Point Protocol (OCPP)' for some time. This is an open protocol that describes the communication between the electric vehicle charge point and the back office system. OCPP facilitates standardised communication between different systems. Among others, together with ElaadNL and the Open Charge Alliance, we are currently investigating whether such an open protocol is also suitable for electric aviation, and what, if anything, needs to be adapted to make it applicable."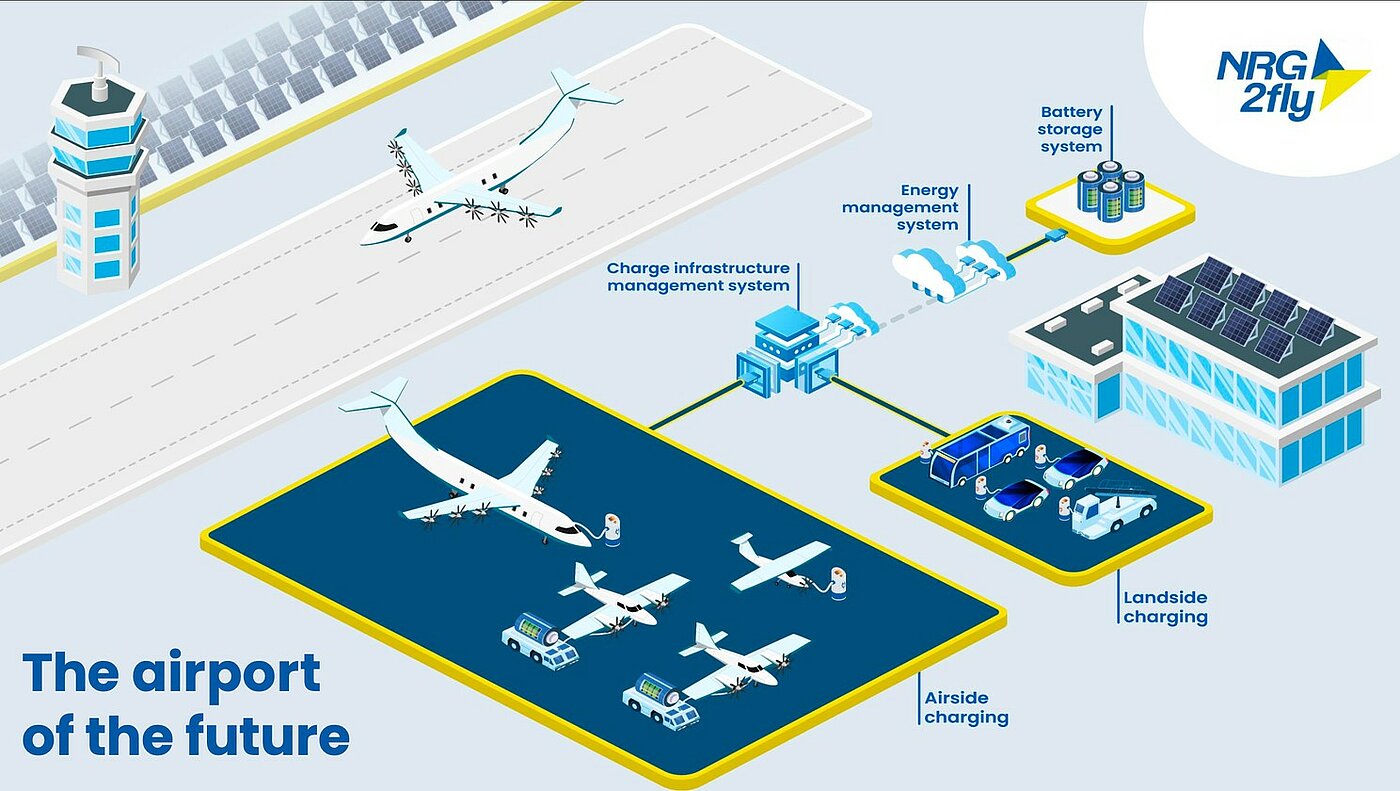 #5 So interesting developments and exciting times! What do you personally hope to achieve with this project within NRG2fly?
"It is extremely exciting to be involved at such an early stage in an innovation like electric flying. On the one hand, the future still seems far away, but on the other hand, developments in electric aircraft are happening at a furious pace. It is therefore essential to think thoroughly now about the optimal solutions for when electric flying is rolled out on a large scale.
''My personal goal is to cross Europe in a few years, after completing my pilot training at E-Flight Academy, with an electric plane. I hope to be able to charge everywhere effortlessly thanks to the infrastructure I have contributed to myself."