---
Close
Close
Knowledge of AI offers good opportunities in job market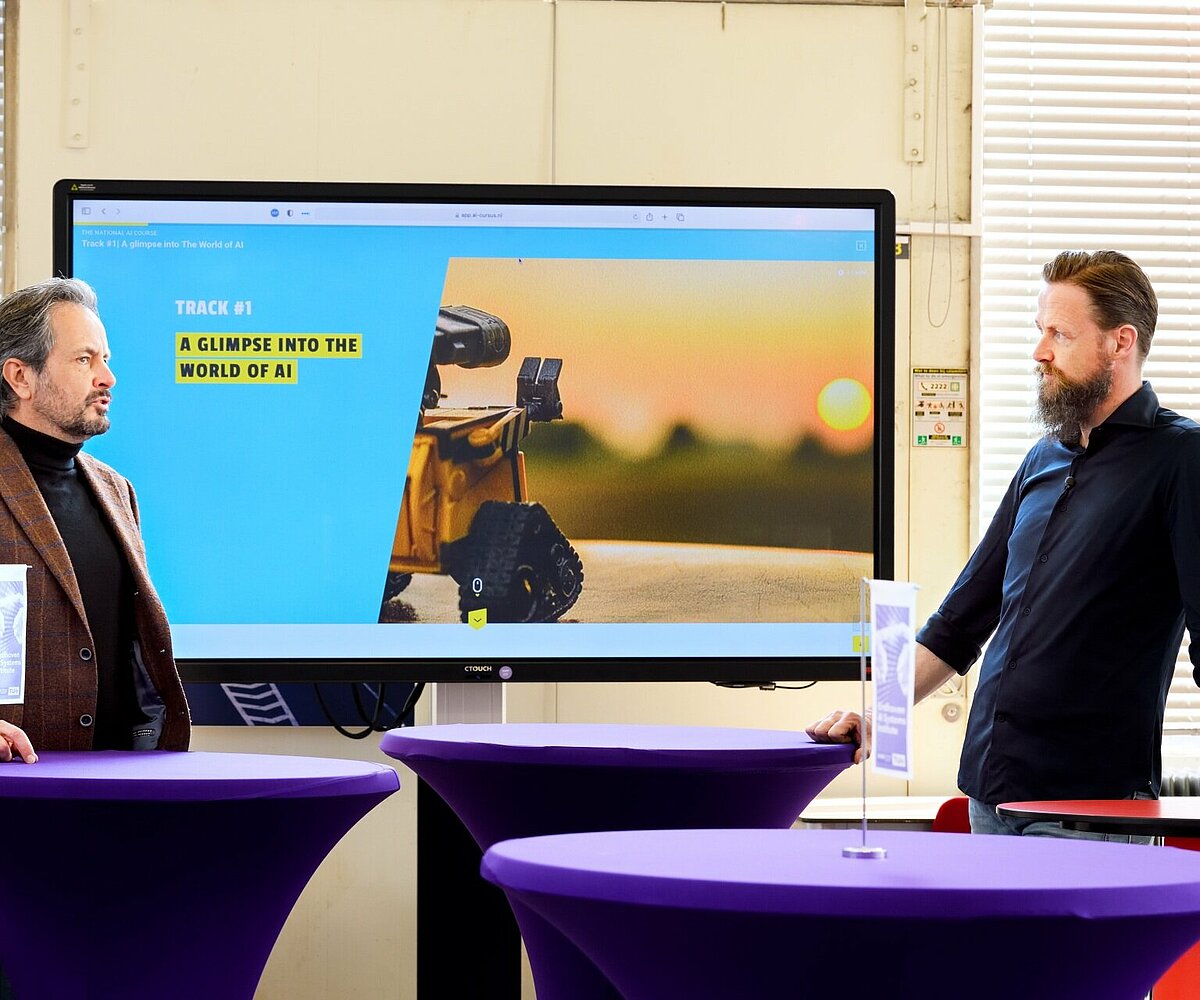 The number of Artificial Intelligence (AI) job vacancies in this region has doubled over the past five years. From 1821 newly placed vacancies in 2016 to 4173 in 2020, reveals a monitor published by Brainport. The total number of vacancies in the AI field is even higher. Unfortunately the shortfall in people able to fill these vacancies is significant and the match between the job-seeking population and the requirements of industry is evidently poor. With a program for industry and a Brainport AI course, TU/e is taking steps to remedy the situation.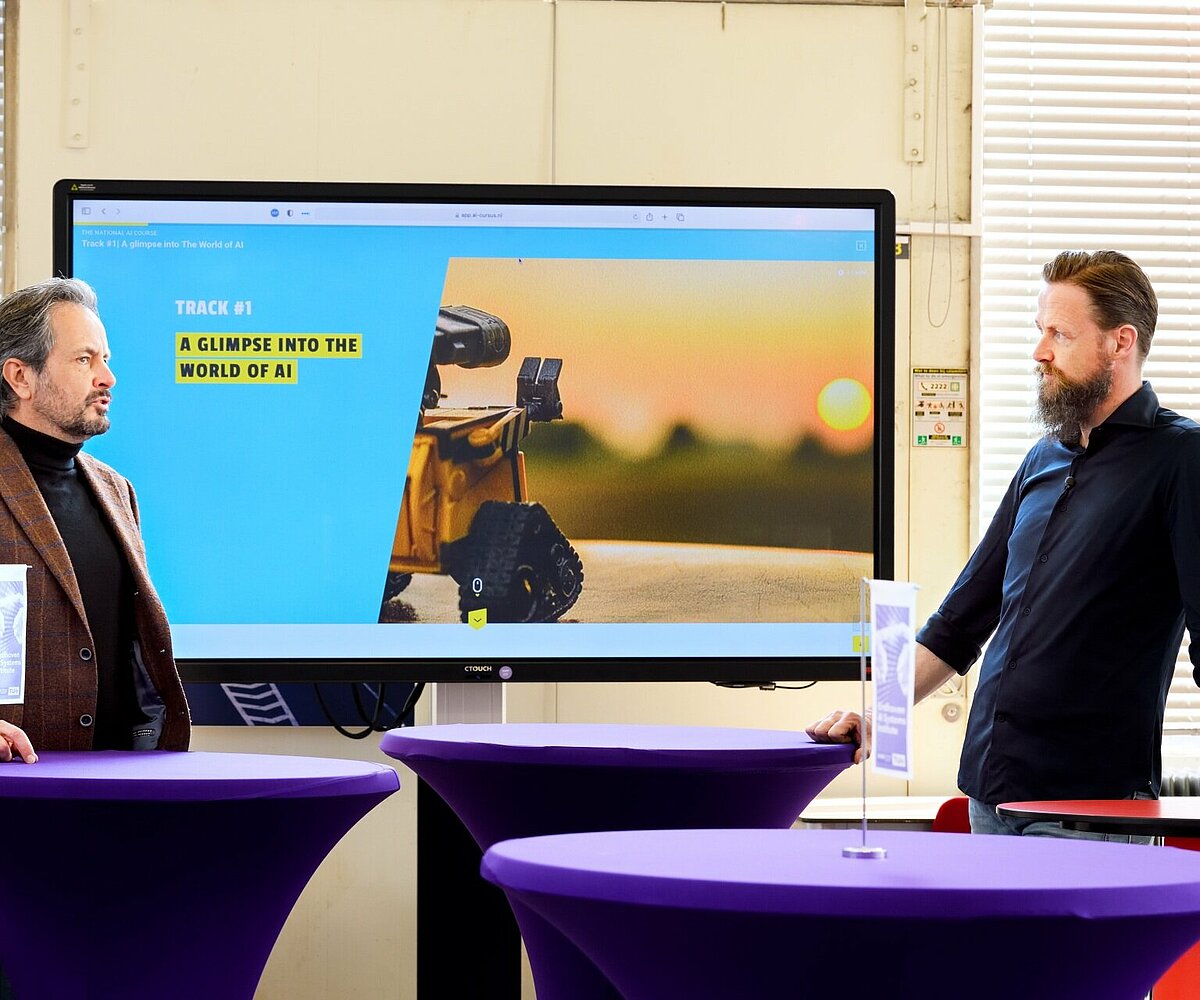 Written by Bridget Spoor, TU/e Cursor. Photography Bart van Overbeeke.
The job market is crying out for people with new skills, as well as knowledge and experience of AI. But a new young workforce like this can't just be pulled out of a hat, it takes time. This is precisely why Carlo van de Weijer, general manager at EAISI believes it is important to invest in encouraging people already working in the field to move towards AI. "We are well on the way to offering bachelor's and master's programs to our own students but people beyond the university also need to appreciate what AI is. AI prompts fears of unemployment, yet in fact it could save us ever having to the boring, repetitive tasks again; leave them to a robot." What our jobs will be is hard to say. "But a hundred and fifty years ago nearly everyone was a farmer," says Van de Weijer. "Now it's just 3 percent. Yet we still have enough to eat. If you had told those original farmers the future would look like this, with only 3 percent of the population involved in farming, and you had named the jobs people do today, you would likely have been met with disbelief. Without a doubt, this region has always been good at adapting, and that applies to all the essential innovations of the past century: from the tube amplifier, via the transistor to the chip. The same can happen again, provided we become pioneers in teaching AI."
Mismatch continues to grow
Of this region's five most important technologies, its key technologies, AI has far and away the most vacancies. Growth in AI vacancies in the Brainport region has exceeded that in the Netherlands as a whole. Though in terms of the figures it should be said that some vacancies are broad in scope and have thus been counted under more than one technology. This illustrates perfectly the opportunities available to people with AI knowledge: they are also in demand for jobs that don't fall directly under the AI banner. Brainport expects to see the current shortage of employees with a background in AI continue in the coming years. Van de Weijer expects the same: "I think the mismatch in the job market in terms of the supply and demand of employees with a background in AI will only grow in the coming period. We need to create a basis. This doesn't mean to say that all these people need to throw themselves into hardcore AI, but it does show the need for a certain level of understanding and flexibility."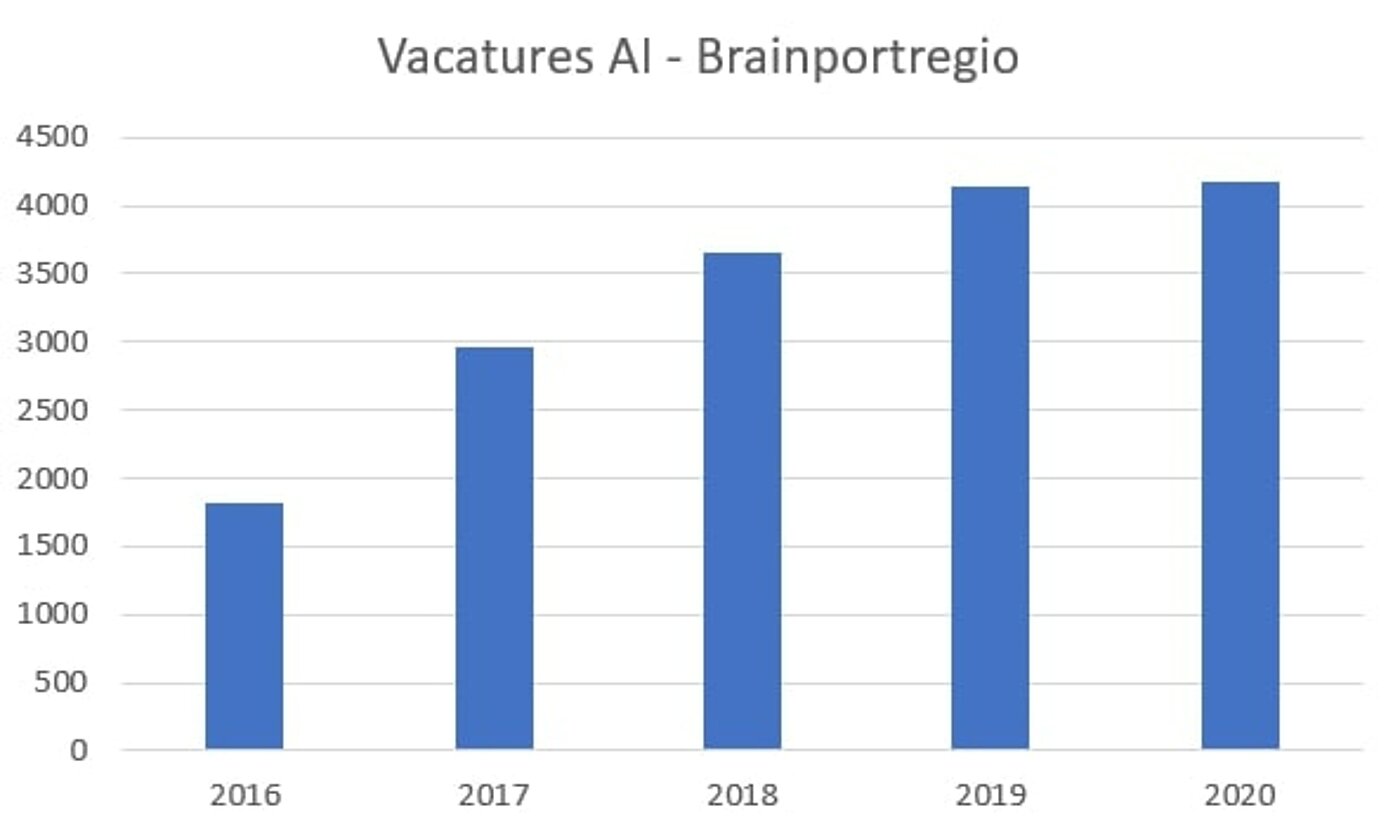 "We'll also see education move increasingly toward challenge based learning," says Van de Weijer. "I think the future curriculum will increasingly resemble what the student teams are doing and will involve less 'learning things off by heart'; you can find this information online. Today's world requires other, broader knowledge, though you must also be able to show that you can master in-depth study." A study by Brainport reveals certain shifts in AI vacancies: a big increase in the demand for knowledge ('what do I know'); a very small increase in demand for skills ('what can I do'), and a clear decrease in the demand for soft skills as defined in the study as 'who am I'. According to the study then, knowledge is crucial for an employee.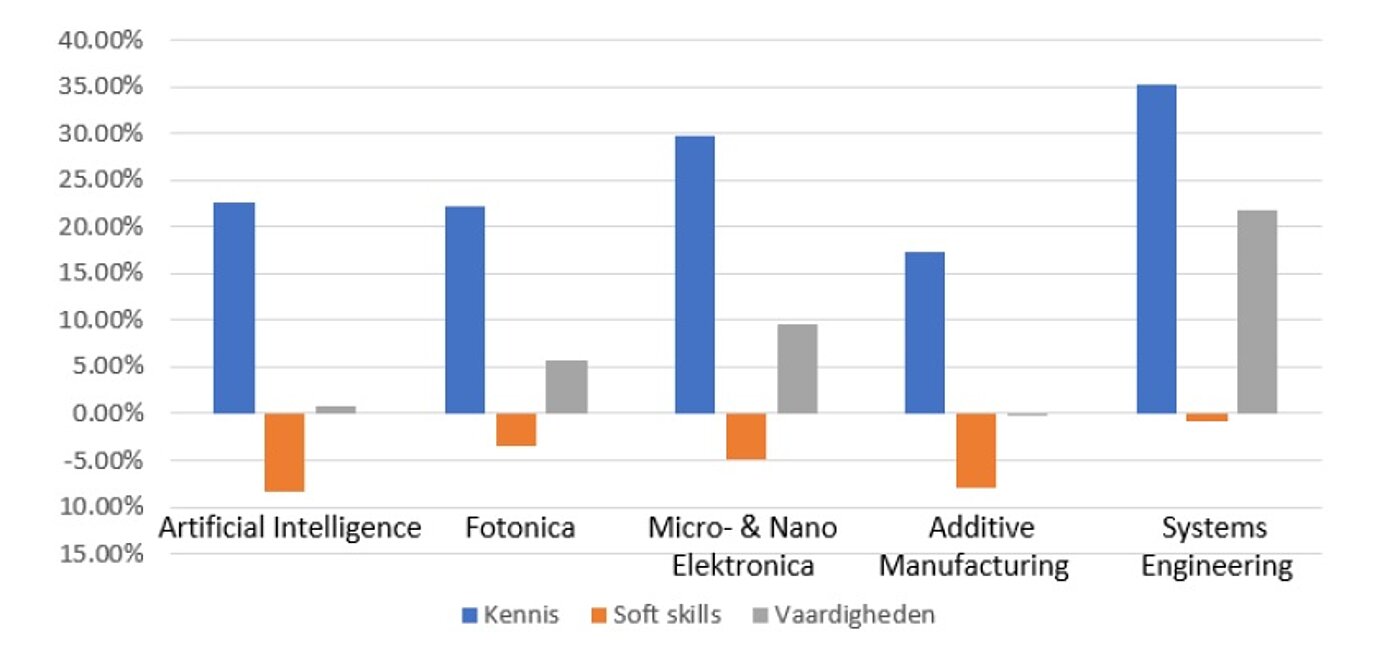 Brainport AI course
Van de Weijer and Jim Stolze have played a leading role in developing the Brainport AI course, which is based on the national AI course created by Stolze. The latter is popular; more than 224,000 people have taken it. "I am proud of the gender balance," says Stolze, "It's running at 52 percent men and 48 percent women. That's unique for a tech course. One can only assume why men like it: the design is friendly, it involves a lot of pictures, pastel colors are used and it doesn't feel like a programming course. The field of AI is also much broader than programming and the applications extend far and wide: from healthcare to education and leisure time."
Stolze was immediately keen to adapt his course to create a special version with examples specific to the Brainport region. "This course is a springboard of sorts, allowing us to go into the subject in more depth. The examples from the region give an immediate impression of how and where you could find work in the future with your knowledge. Ten examples from the region are included. For example, 'AlphaBeats', an Eindhoven-based start-up. This company does a lot with data. And these days it is increasingly easy to measure data. You can, for example, use your cell phone to measure your heart rate or respiratory rate. Or, a device much like a bath cap full of electrodes to measure your brain activity during meditation. AlphaBeats has gathered data on how people experience stress in their brain and based on this they can offer advice on which music to listen to if you want to relax. They have met with a very enthusiastic reception. So there's a good chance this piece of technology could soon become available on your phone."
Van de Weijer: "For students at TU/e the course may be a little lightweight, but you easily skip parts of it." Participants who complete the course receive a certificate. "It isn't an official diploma," says Stolze, "but I see as is being a bit like the Dutch national swimming diploma A - the basic level in the set A, B, C." It is so important to familiarize people with engineering, and to enable them to make judgment calls. Take, for example, the deep fakes, if you don't know what they are, this could impact your ability to assess the news. Once you know more about AI, you start looking at the world differently."
Continuing education for employees
"As well as being charged with providing AI-focused education for bachelor's and master's students in our capacity as EAISI, and the above-mentioned AI course, we are also moving into professional education," says Van de Weijer. This is aimed at people who are already working but have little or no knowledge of AI. The program launches on June 3rd, 2021. In conjunction with JADS and Tilburg University, EAISI is offering a five-day course and following this up with an extension program of thirteen days.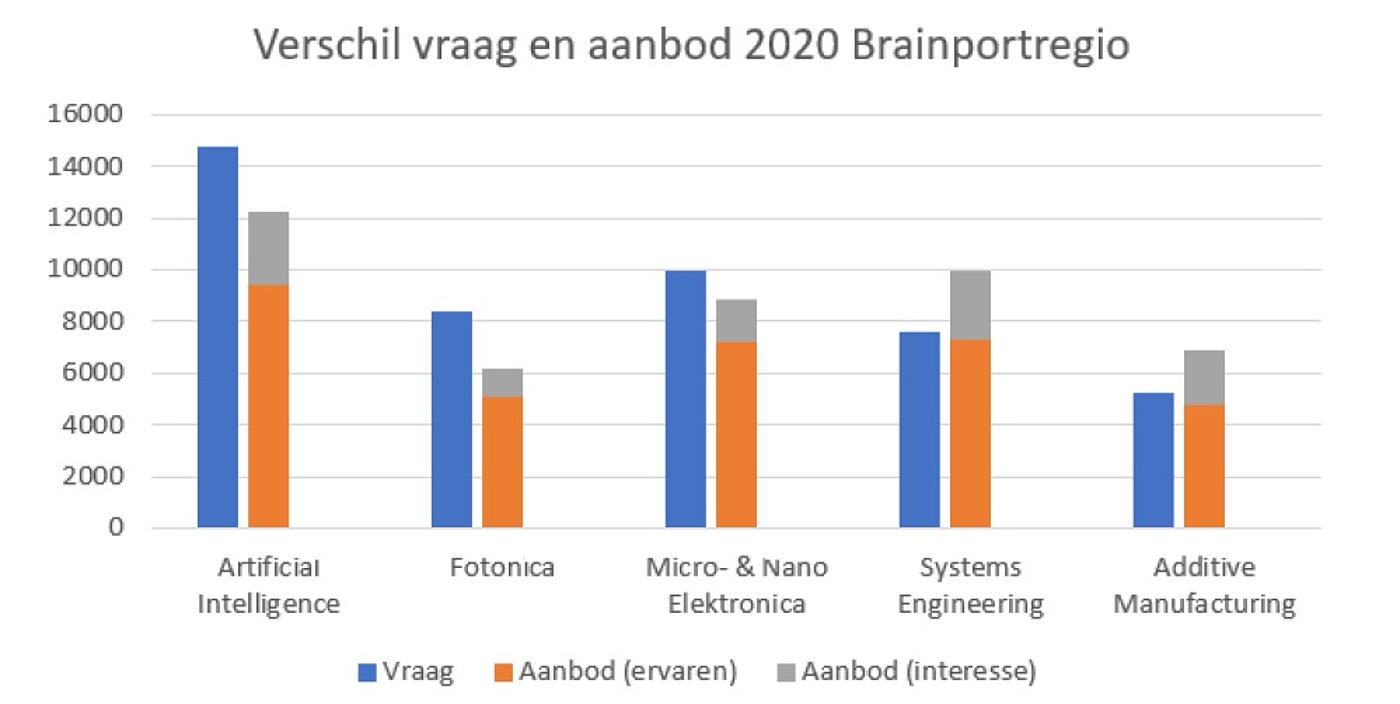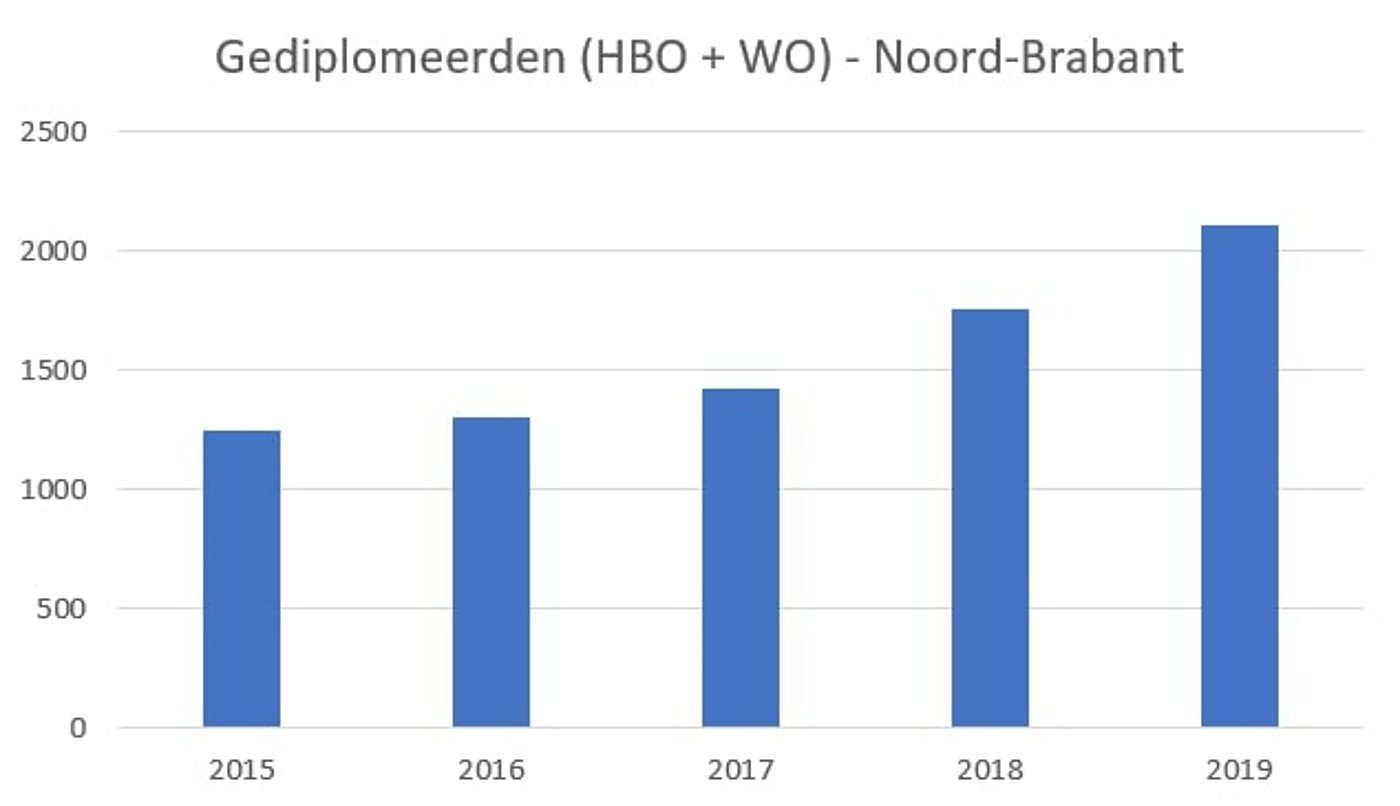 "The professional education pathways such as those EAISI will be offering are intended for people in engineering, such as mechanical engineers and electronics engineers," says Van de Weijer. "These are skill sets we continue to need, but in addition there is a growing demand for software engineers; the balance has shifted. Introducing people already in work to this field of knowledge and skills will make an impact. Besides, it's not as if we can pull a whole new workforce out of a hat." The courses we are offering are suitable for employees with a background in secondary vocational education, higher vocational education and higher academic education. The 'tone of voice' differs depending on the audience, say managers as opposed to people steeped in engineering. All the courses are in English. Van de Weijer has no doubt about the need for this training: "We are expecting hundreds of participants in the first year."
Doing more with AI
You can follow the Brainport AI course online for free. Looking for more depth? The national AI course is also free but will take you a little more time, about six to eight hours, and you also follow it online. If you have already progressed beyond this stage and are looking for further options for in-depth learning, you may want to consider a bachelor's, master's or extra-curricular courses in this field, or you can join a student team. A hardcore AI team is, of course, FruitpunchAI, but there are plenty of teams whose involvement in AI is less extreme. So you can choose 'how much' AI you want in your studies.
Student teams working with AI:
Interested in the ethical aspects of AI? Then mark June 4th in your diary. As part of Dutch Technology Week an online lecture is being held on this date. Using a deep fake demo produced by Serpentine, Jim Stolze will explain why AI is different from previous breakthrough technologies.
What does it mean for you?
The world around us is changing fast, thanks to these technological developments. That might affect your life too. Whether you work, are still studying or maybe teaching the youngest generation, robotics and artificial intelligence are going to cause jobs to change and new ones to be created. They provide new possibilities with which to resolve social challenges or make our lives easier. Are you interested in knowing what influence these ground-breaking technologies have on your future?