---
Close
Close
Flam3D and Brainport Eindhoven show at Formnext that Flanders-Netherlands is the region when it comes to 3D printing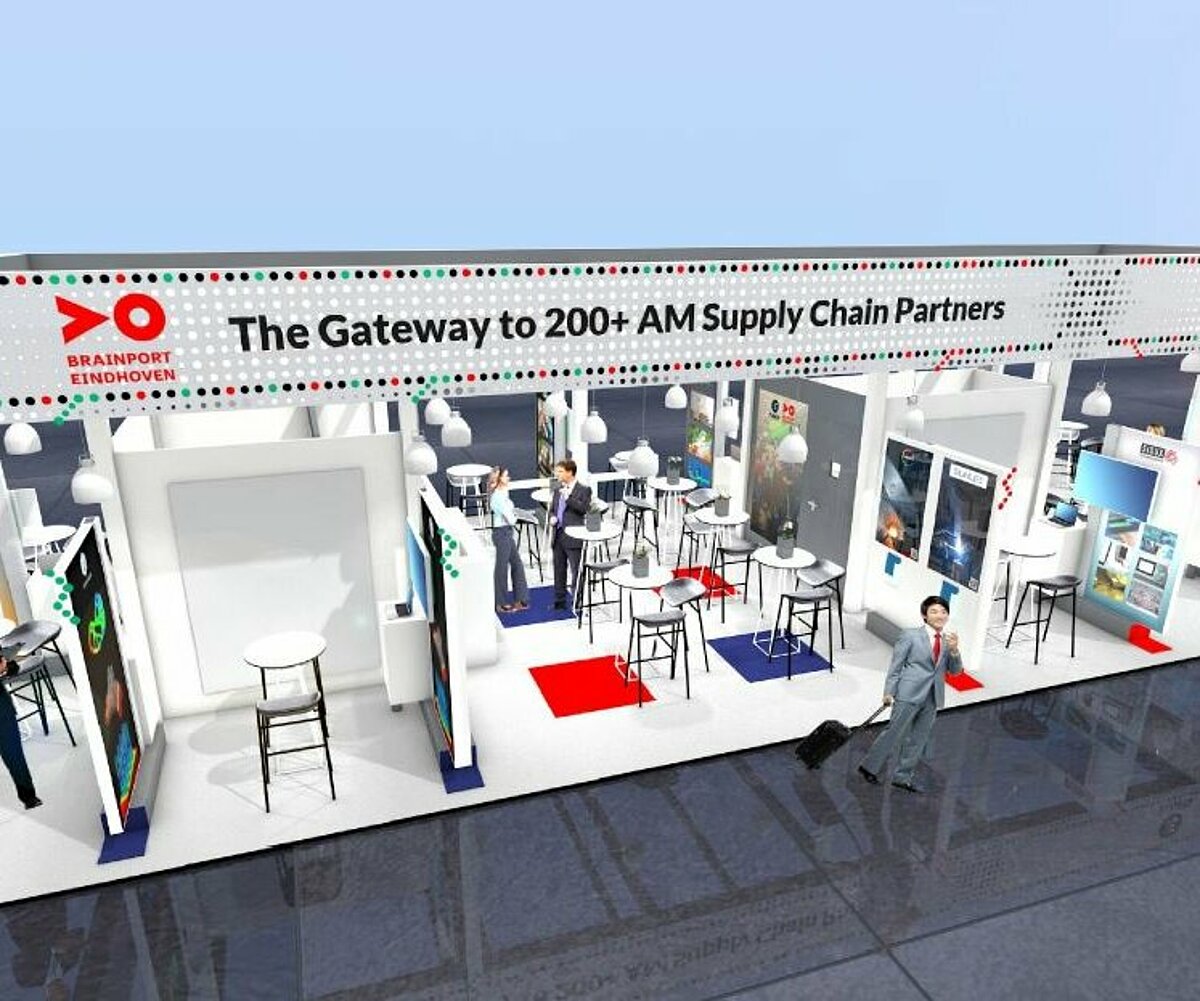 With 126 square meters Flam3D and Brainport Eindhoven have one of the biggest stands at Formnext, the largest additive manufacturing trade fair in Europe. "We are there to tell the world that when it comes to 3D printing, Flanders and the Netherlands are the place to be," says Kris Binon, General Director at Flam3D.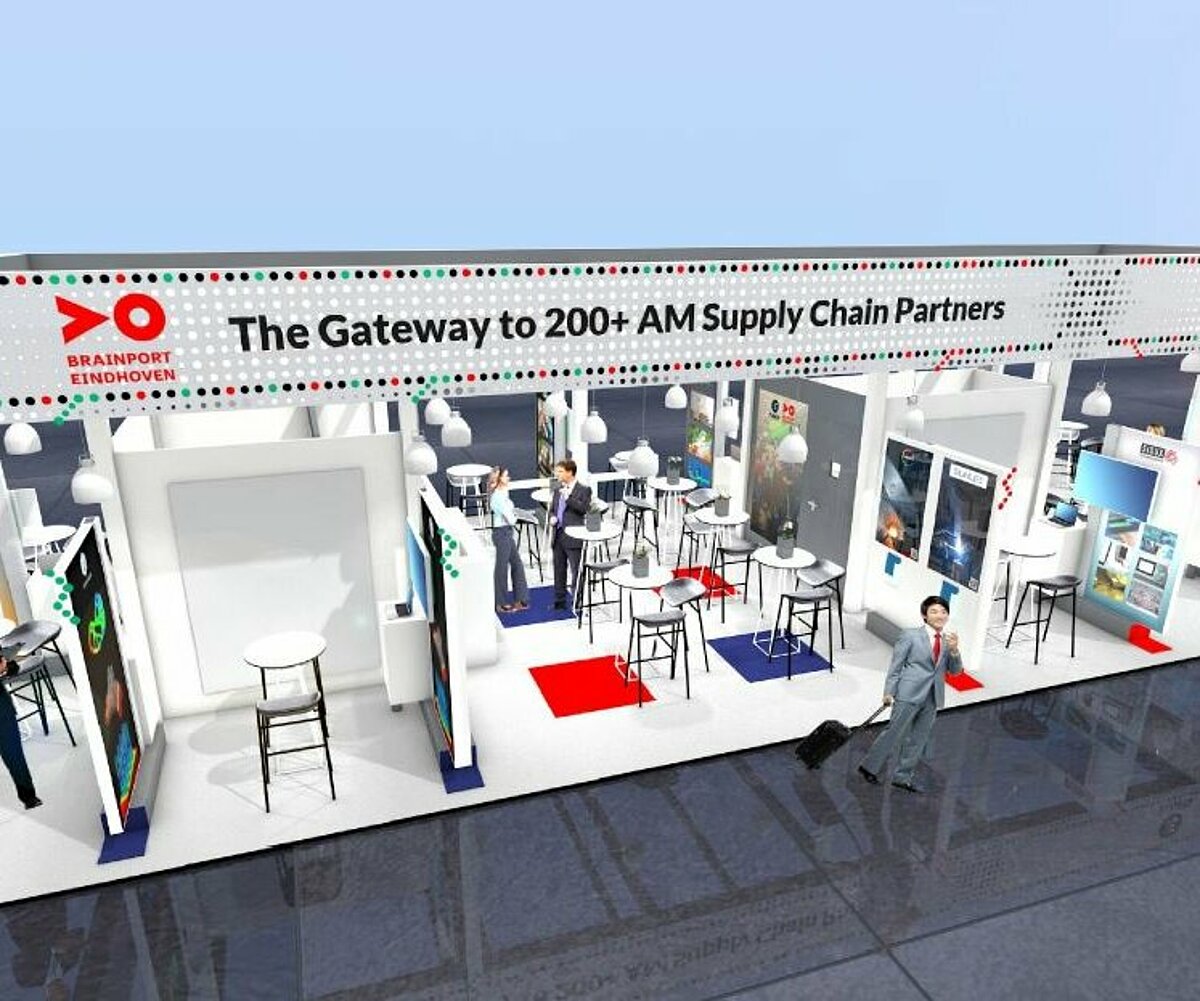 The Netherlands-Flanders region is an Additive Manufacturing hub where suppliers, experts and technologists work together in an integrated supply chain. Flam3D and Brainport Eindhoven will introduce trade fair visitors to a network with more than two hundred companies and organizations from the 3D print sector. The region is in fourth place when it comes to Additive Manufacturing patent applications and the estimated size of the AM industry is around €450 million annually.
According to Ruben Fokkema, International Business Developer at Brainport Development, (the economic development agency for Brainport Eindhoven) there is no place in the world where so much knowledge and suppliers in the field of 3D printing have assembled as in the Netherlands-Flanders region. "Many companies try to develop the 3D market on their own. What we offer as a region, is a hub where companies work together to provide a total solution for a company that wants to start or scale with additive manufacturing. Supplier independent, from advice to the implementation of a complete production line, that fits the need of the customer. We are a leading 3D printing hub." Binon agrees. "At Formnext, we are presenting ourselves as a single entity, a broad ecosystem, in the field of 3D printing."
Formnext
Binon has taken Flam3D to Formnext for five years now; it is the first time for Fokkema. Flam3D is a platform that brings together companies, governments and research institutes that are active in 3D printing. There are 125 parties affiliated with the organization, half of which are from Flanders and the other half from the Netherlands.
Brainport Eindhoven is also working on ecosystems stemming from a particular technology, says Fokkema. "The AM ecosystem in the Brainport region is made up of seventy start-ups and companies, is growing rapidly and is working in close cooperation with each other. This enables manufacturing companies to find a complete solution to their AM problem. From material to design, printing and post-production."
Fokkema believes the two organizations complement each other really well. "Flam3D brings a large network with it, they have plenty of experience with manufacturing suppliers. That is an important asset for us. While Brainport is especially good at quickly organizing a specific application within the supply chain. A good example is that a series production metal printer was developed with multiple companies of the AM ecosystem in the region in just a few years."
Coffee bar
Fokkema and Binon want to achieve two things during the four days in Frankfurt: show potential customers all the possibilities that 3D printing has to offer and also provide the smaller companies in the industry with an international stage. Binon: "Formnext is an expensive, complex trade fair. For a lot of companies, the threshold is too high for them to hire a stand there. We make that possible. What's more, it is also a stepping stone for companies to have their own stand at the next edition."
A quarter of the 126 square meters will be set out as a coffee bar. That may not seem like a logical choice at first, but nothing could be further from the truth. Binon: "At a trade fair like this, people have little opportunity to engage in a real, in-depth conversation, which is precisely where collaborations are created. We facilitate these conversations in our coffee bar. We've seen in previous editions that a lot of connections are made over a cup of coffee."
Campus feeling
3D printing as a technology has been pushed a lot in recent years. It has become a manufacturing technology that is used to develop appliances or other applications, but a printed product that rolls off the assembly line in thousands of copies is usually not the reality yet. The real breakthrough is on the verge. Fokkema: "The market is saying: 'All is well, but I want a total solution where all parts of the production process are optimally aligned with each other. Otherwise, it is not attractive to me.'"
So, it is crucial that cooperation between all the separate links in the chain is organized more in sync. Which is precisely the feeling that the Brainport Industries Campus in Eindhoven exudes. "When big companies like HP or Hexagon come by, they see: 'There's a lot of expertise here and if there's a problem, companies can easily help each other out.' That campus feeling, as a whole region, that's what we want to project at Formnext."
With the largest network stand to be found at the AM trade fair, Brainport Eindhoven and Flam3D are proving that the Netherlands and Flanders count. "In Flanders, we are really looking forward to the trade fair," Binon tells us. "If it's up to us, this is only the beginning and next year we'll be back with a stand twice as big," Fokkema adds.
Formnext will take place from November 16 to 19 at the Portalhaus in Frankfurt. The Flam3D and Brainport Eindhoven stand can be found in hall 11, stand #D11.