---
Close
Close
R&D is in place, patents have been arranged, and production is in the best hands at VDL: byFlow is ready to conquer Europe with their 3D chocolate printer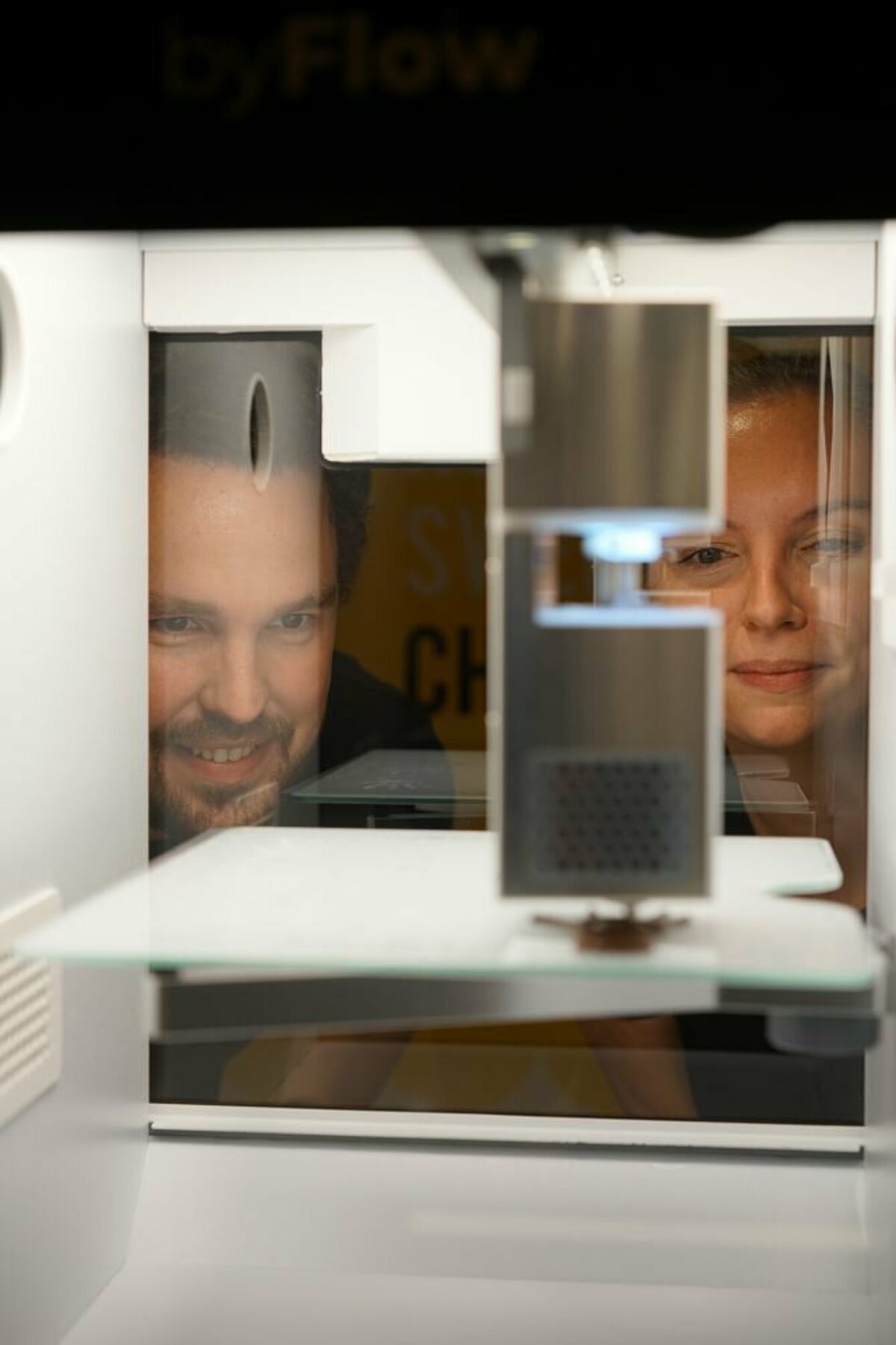 A lack of media attention has never been a problem for byFlow. There was always much admiration for the achievements of the Eindhoven start-up in 3d food printing. And yet the troughs in the company's now six-year existence were at least as numerous as the peaks. Looking back, CEO & Co-Founder Nina Hoff sees that the bad experiences have been just as important as the good ones. And while the corona time provided another pass on her company's development, it also provided clarity.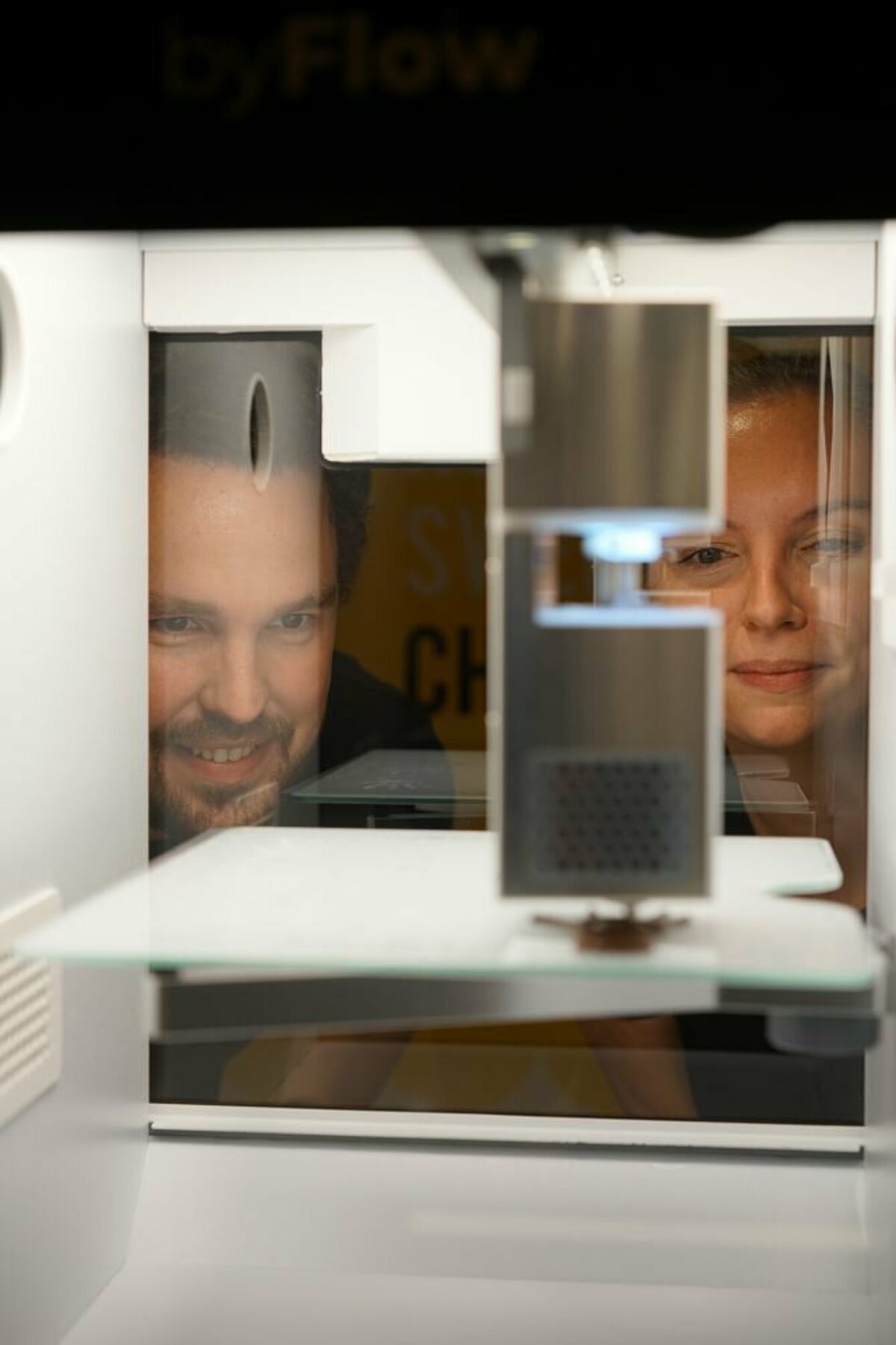 "Because we noticed that the hospitality market did have other things on its mind than trying to find out how to collaborate with us, we put all our energy into perfecting the technology." The result: a prototype developed in-house and built by VDL that is ready to take the European market by storm. Initially, as a chocolate printer.
Where byFlow used to scour trade fairs with a hip light blue case, the new machine has turned out to be a bit sturdier. "But still compact enough to be placed on the counter of a chocolate shop," says Hoff. "Moreover, because of the glass front and back, everyone can see exactly what is going on inside that machine. It's ideal for arousing the interest of customers."
Colleague Tom Jacobs, the '3d food printing specialist' at byFlow, joins in to show how it's done. Just as the coffee beans go into the top of an espresso machine, he sprinkles the 6-millimeter chocolate granules ("in our industry, we call them callets") into the top of the printer. From there, they fall one by one into a small tray in which they are heated while stirring. Jacobs: "That process of tempering is a very precise job: chocolate is a wonderful product, but it is also extremely sensitive to changes in temperature and humidity. If you don't do it right, the chocolate will be too soft or will turn white. But if you do have that process in order, as we do at the moment, then as a user you can focus on more important work."
Full control inside your pocket
With 'important work', the 3d food printing specialist refers to the design of specific end products, which may even vary from person to person. "That's another thing we focused on last year," Hoff adds: "Building an app that allows you as a user to create any design you want." Jacobs grabs his phone and in two clicks arrives at a library of dozens of models for every imaginable occasion. Two more clicks further and he's at a feature to make a chocolate model out of self-created designs as well. "How long has it taken me now? Okay, I may have some experience with it, but in barely a minute your design is ready for our printer."
A few clicks on the display of that printer and the now-tempered chocolate begins to flow very gently from the nozzle. In even swaths, the liquid chocolate is distributed on a tray inside the device. Indeed, perfectly visible for anyone interested. Another two minutes and suddenly there are three lion heads. Just a little cooling and the customer can take the personalized product home. Although they must have witnessed the process hundreds of times by now, Hoff and Jacobs look at the result with pride. "Great, isn't it?"
What they are trying to say: the R&D is in order, the patents have been arranged, the production is in the best hands at VDL, and the app completes the whole thing. "In fact, you have complete control of the process inside your pocket: your smartphone provides access to the most beautiful and delicious end products." Not surprisingly, then, someone who visits byFlow at the High Tech Campus right now will find an organization that is full of 'big expectations'. The foundation has been laid and tested, what remains is scaling things up. For the most attractive market segments in Europe's key countries, Hoff is now looking at chocolatiers, pastry chefs, high-end restaurants, hotel chains, and catering companies. "And with the latter, we are already in talks with the top 10 largest in the world." The big breakthrough has never been closer than now.
Money
But that breakthrough requires money. Money that byFlow wants to invest mainly in sales and marketing. Hoff: "Thanks to the publicity we always received and the invitations to a number of large mediagenic events, byFlow is already a well-known name in the hospitality world. Having contacts in 35 countries already naturally helps us to bring our new product to the attention of the public. But let's be honest: our expertise is mainly in product development and a lot less in sales. In order to get that part up to speed as well, we are looking for investors who will enable us to attract the best sales and marketing people in our industry."
In addition to sales, there is another determining factor for future success: the lead time of the supply chain. Hoff: "VDL can make anything we need, but then of course they need materials. And that's a pretty complicated process these days. To avoid everything coming to a standstill because there are no chips or a ship is stuck in the Suez Canal, we have already built in quite a bit of flexibility, but nevertheless, there are some dependencies there."
Of course, it all starts with the right forecasts: how many machines do you expect to sell in a year? "Based on that estimate, you set the whole chain in motion. This means you have to know enormously well what your markets look like. And I don't just mean the market for your end product, but also the market for all the components and raw materials you need. So the question we constantly ask ourselves: what can we expect and how can we engineer our processes as flexibly as possible to get it all done?"
Big advantage
The big advantage for byFlow is that the user market no longer holds any secrets. "Our most conservative estimates assume the sale of many thousands of machines within Europe over the next five years. But I won't be surprised if that will rise to tens of thousands. And that's not even mentioning the growth markets of Asia and North America. You know, if there's one real frustration that keeps me up at night now and then, it's having to disappoint customers who want to buy a machine right now. We've already received 150 requests, just this morning we got one from Uzbekistan, can you imagine? It may seem like a luxury problem, but it is one that I would very much like to get rid of quickly."
But yes, for that to happen, those investments must first be found.