---
Close
Close
Together we're fans with Jeroen!
In this series, we speak to PSV fans from across the Brainport Region.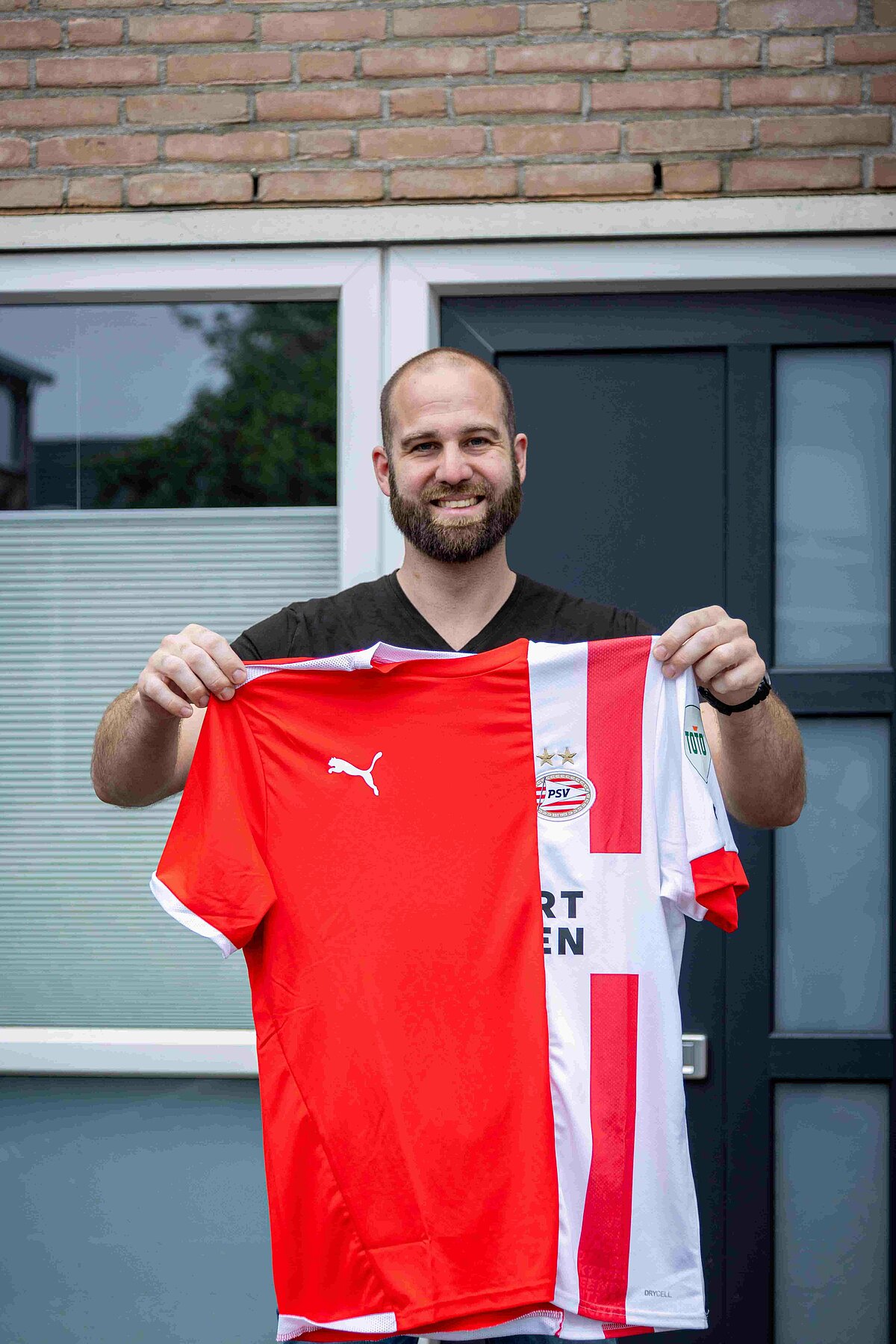 To make money issues a topic of conversation, Brainport Eindhoven launched the campaign "Are you also in red this month?". In the match against Heerenveen on May 21st, the PSV players came out in a shirt that was colored red for 60%. Exactly the percentage of Dutch citizens who sometimes worry about their bills. But the shirt is also a wonderful collector's item for true fans. In this series we speak to the 4 winners of the shirts who explain why they are fans of the club as well as of the region.
Jeroen and his wife moved back to the Eindhoven neighborhood 'Tempel', a little behind the Henri Dunantpark, 2,5 years ago. With two red cats and a 1.5 year old dog, they really enjoy living in the city. And "you are so close to nature" says Jeroen.
Jeroen, what does it mean to you to be a fan?
I've been a PSV fan for as long as I can remember and have been playing soccer since I was six. I also had season tickets for quite a long time, but I cancelled them because of our finances. But I still like to go to the stadium to watch the game or hang out with friends and family and have a barbecue. Sometimes we spontaneously extend it with an evening at Stratumseind. We have a baby on the way and I cannot wait for her to join the Phoxy club. She can of course choose for herself, but we want to give her a good PSV foundation.
For several years now, 'Brainport Eindhoven' has featured on the PSV shirt. What comes to mind when you read that?
I know some people who work at ASML, so I immediately think of that. I'm a concrete technologist and work as a concrete lab technician at a company in Veldhoven that mainly makes prefabricated facade parts, so when we were able to make buildings for ASML I was proud of that. Collectively as a region we are working on new developments. It's a very forward-thinking part of the country and so far it's going really well!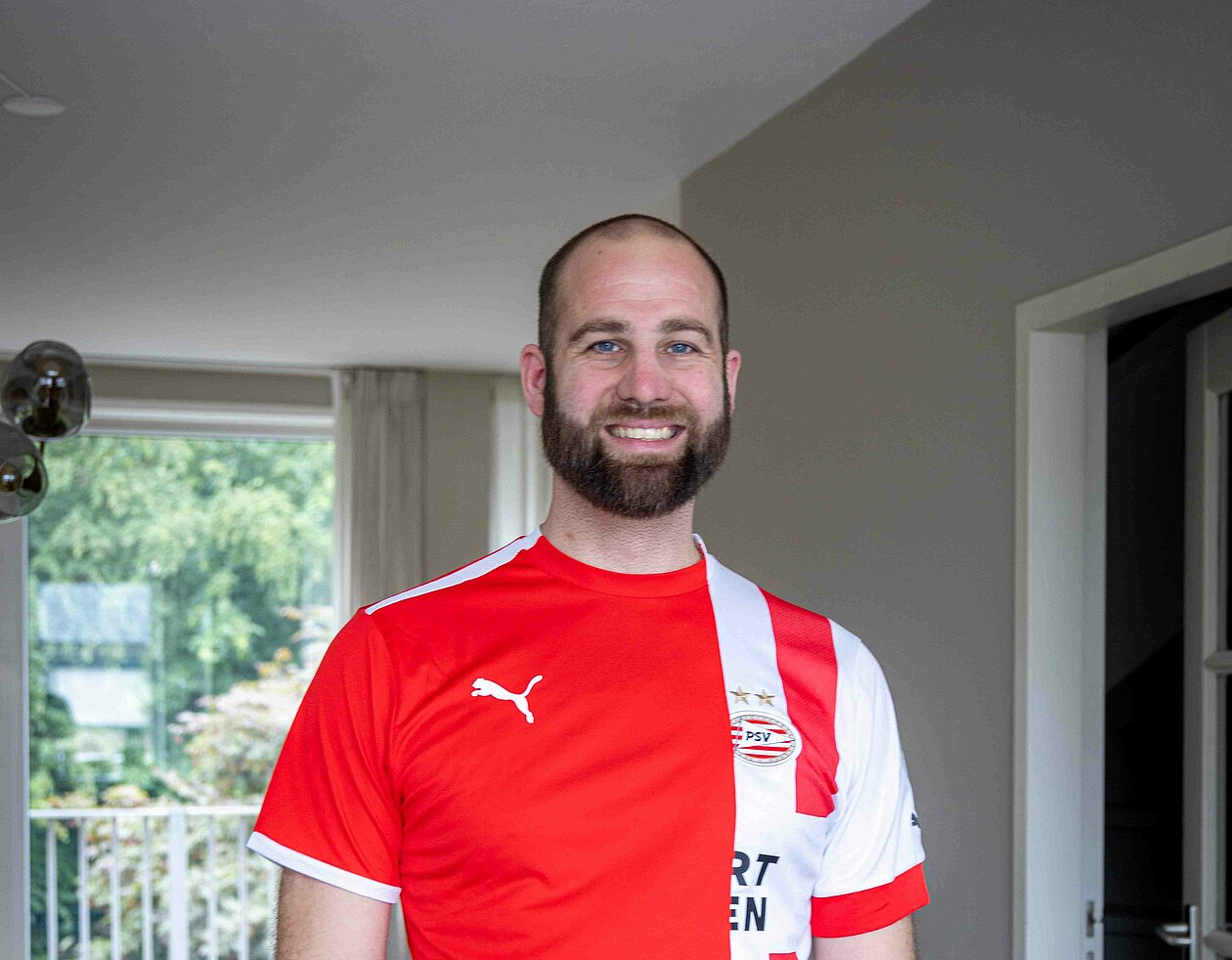 Are you also proud of the region?
I am proud for sure! I think you will be at some level anyway if you grow up here. You know the people, the buildings and you have memories everywhere. Eindhoven is not very beautiful but it is so familiar to me, it is my home. I used to work in the bar and restaurant industry and it's really nice when a city is lively. The high buildings and the new Eindhoven residents from all over the world make it a lively city. I might be a bit of a peasant, but I really like the mix of diversity and I think we need all these people. We can learn a lot from each other and from all the different cultures that have been coming here.
It's a very forward-thinking part of the country and so far it's going really well!
What do you think of Brainport Eindhoven's "Are you in the red this month too?" campaign?
I've had some pretty tough periods myself, financially speaking. So I think it is very important that there is a campaign to discuss financial worries. Sometimes unexpected things happen in life, such as a broken car or certain costs increase, and then you are suddenly in the red. Even if you make thousands of euros a month, you just don't always have a grip on it. I'm grateful that I'm doing well now and that I've grown personally and have been able to get a nice promotion in that way. But I know how it feels and you wouldn't wish it to anyone.
Do you talk about money worries yourself?
I did start talking about money more because of this campaign. Friends asked about the shirt that I won and I explained it to them. I'm not ashamed of my past, but talking about money can be difficult. With your colleagues you just don't talk about your salary, for example. But I would definitely recommend that we keep talking to each other.
Thank you Jeroen! Have fun with the unique shirt!
Read more about help with money concerns
Read more fan stories here