---
Close
Close
Opening of ELEO battery factory: lofty ambitions, infectious enthusiasm and the Dutch King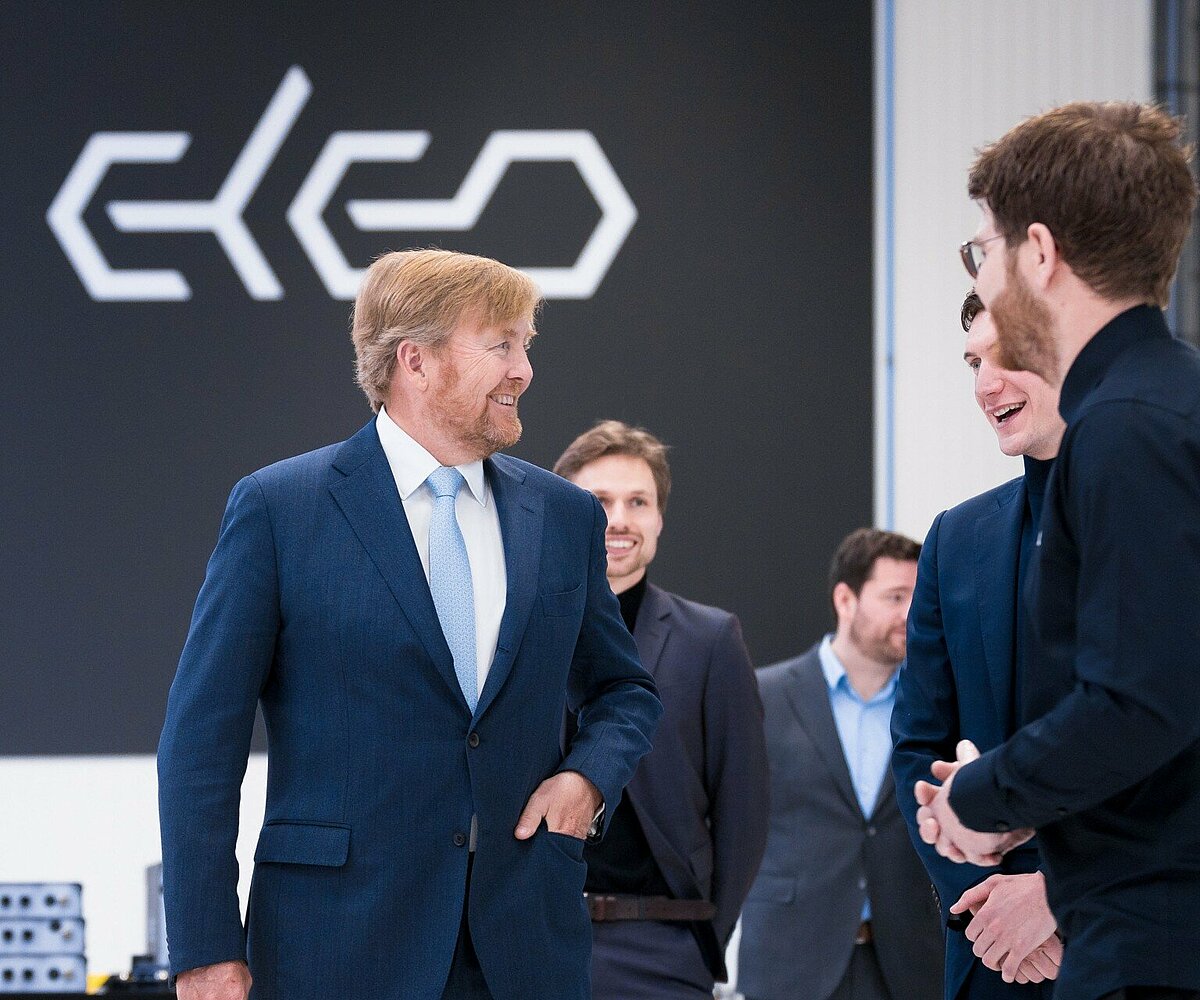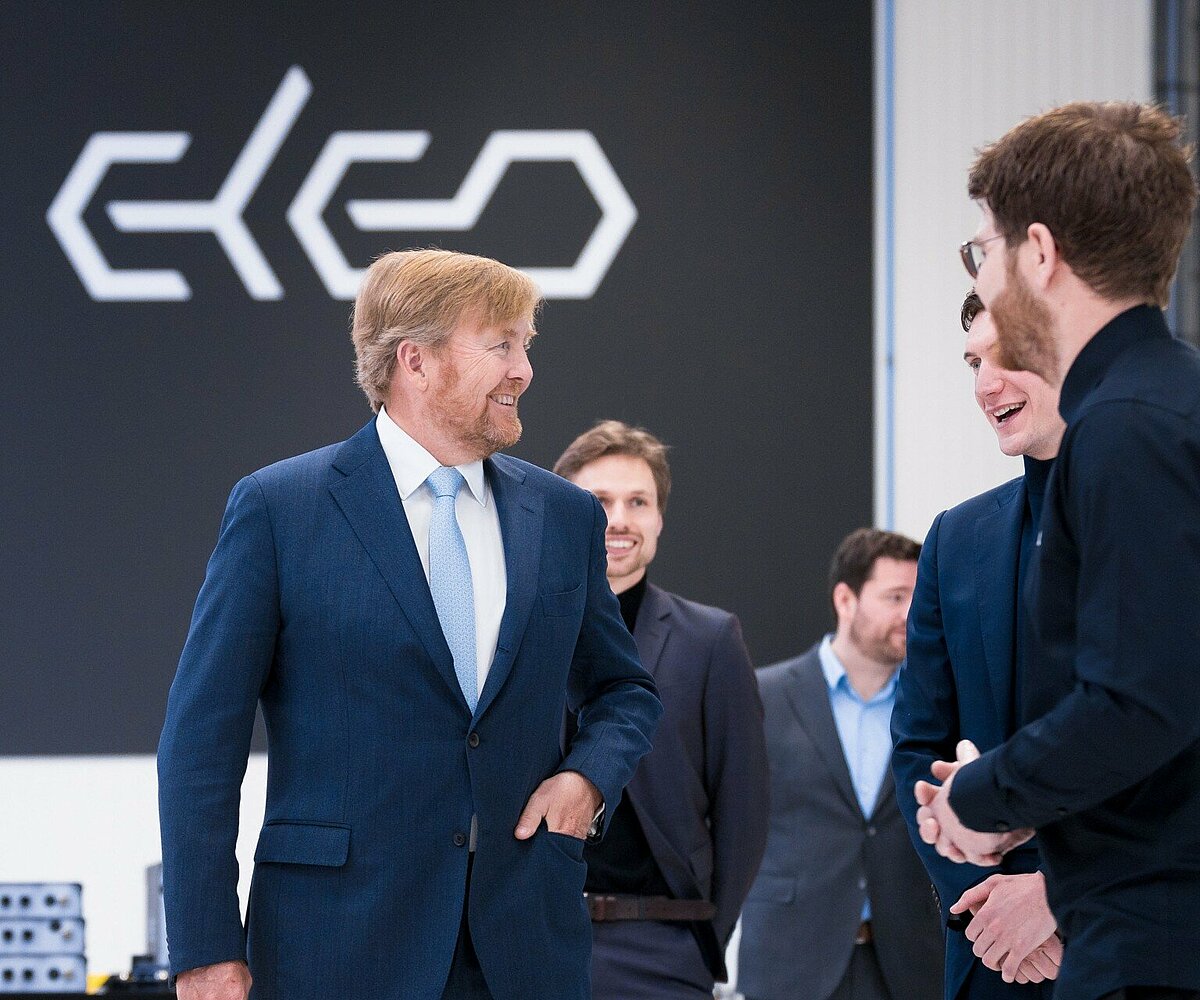 MOBILITY - King Willem Alexander opened ELEO's new battery factory at the Automotive Campus yesterday in Helmond, the Netherlands.
The contrast is stark: next to the brand-new ELEO factory stands Lightyear's ailing factory. The companies have many similarities. Both are spin-offs from the Eindhoven University of Technology (TU/e), both once started out as student teams. Lightyear with electric cars, and ELEO first with an electric motor and now with battery systems for the industrial sector.
A jam-packed room – well, actually a tent – sees "a boy's dream come true," says the day's moderator Isolde Hallensleben. Granted, it is also a greatl story. In 2016, three students – Bas Verkaik, Jeroen Bleker and Bram van Diggelen – built an electric motorcycle. With it, they intended to ride around the world in eighty days. The motorcycle serves as a showcase through which they can demonstrate that riding electric anywhere is possible.
Cleanroom and research labs
Seven years later, they are now founders of ELEO and His Majesty the King just opened their new battery factory. On this 3000 m2 site, if all goes according to plan, ten thousand battery packs should roll off the production line by the end of 2023. The bright, spacious premises include a cleanroom where battery modules are assembled fully automatically. It also houses high-tech research & development labs to develop the technology further.
TU/e president Robert Jan Smits sees ELEO as a role model for young people. "62 percent of start-ups in the Brainport region have a link to the university. Many students want to be entrepreneurs, to start a company. Let it also be a lesson for well-established companies, too: seek contact with these young people." ELEO is developing a modular battery system that differentiates itself through its advanced battery management system (BMS) and an innovative thermal management system. Its modular concept ensures that the batteries are cost-effective for a range of applications
'Just the beginning'
Co-founder Jeroen Bleker assures the crowd that "this is just the beginning." His sense of enthusiasm is palpable, even at the back of the tent. It was already known that the ELEO battery module would enter the European market as a mass-produced product. The entrepreneurs are now daring to also put figures on these ambitions. As early as 2024, they aim to triple their production from ten to thirty thousand battery packs, and in the next two years the number of employees is set to grow from 65 to 200.
By 2030, production should be scaled up to 100,000 modules per year. The factory provides a blueprint for subsequent scaling up; ultimately, replicas of this plant should migrate around the world, Verkaik notes.
Modular battery systems
Since the launch of ELEO in 2017 (then called SPIKE), the focus has been on scalability and flexibility, Bas Verkaik explains. "The electrification of cars is in full swing, but the full range of electric agricultural, mining and construction vehicles is often overlooked. Batteries for cars are relatively easy to develop because all cars need more or less the same thing. Commercial vehicles are much more diverse in terms of size, power but the conditions in which they are used also vary widely." The ELEO battery is a simple black box that comes in five different sizes. The systems are modular and the three parameters – energy, voltage and power – can be easily adjusted to meet the customer's needs. Verkaik adds: "Our system is suitable for a 600 V excavator, as well as a smaller 50 V vehicle."
Yanmar
ELEO had already taken an important step in internationalization last April. Back then, the Japanese multinational Yanmar bought a majority stake in the company. Yanmar is a manufacturer of diesel engines, heavy machinery and agricultural machinery. For its off-road vehicle electrification strategy, the multinational is making use of battery technology from Helmond. It gave ELEO access to a global network and the ability to scale up overnight.
"Machinery manufacturers must also keep up with the transition from fossil fuel combustion engines to electric powertrains, batteries and alternative fuel technologies. Therefore, ELEO's technology is very welcome," according to Samir Laoukili, president of Yanmar Europe.
Brainport, an overlooked forgotten region
The day's moderator Hallensleben asked Klaas Dijkhoff, one of the keynote speakers, about the key to the region's success. The Brainport ambassador briefly mused on this. "I would love to believe that people are born smarter here, but in the past, I never got any closer to technology than cleaning toilets in the offices of Philips. So that can't be the reason. I think it's because we've been an overlooked region for ages. That made us rely on each other, on our neighbors, for quite a long time, and that makes us more resilient."