---
Close
Close
Student team VIRTUe takes second place at Solar Decathlon Europe 21/22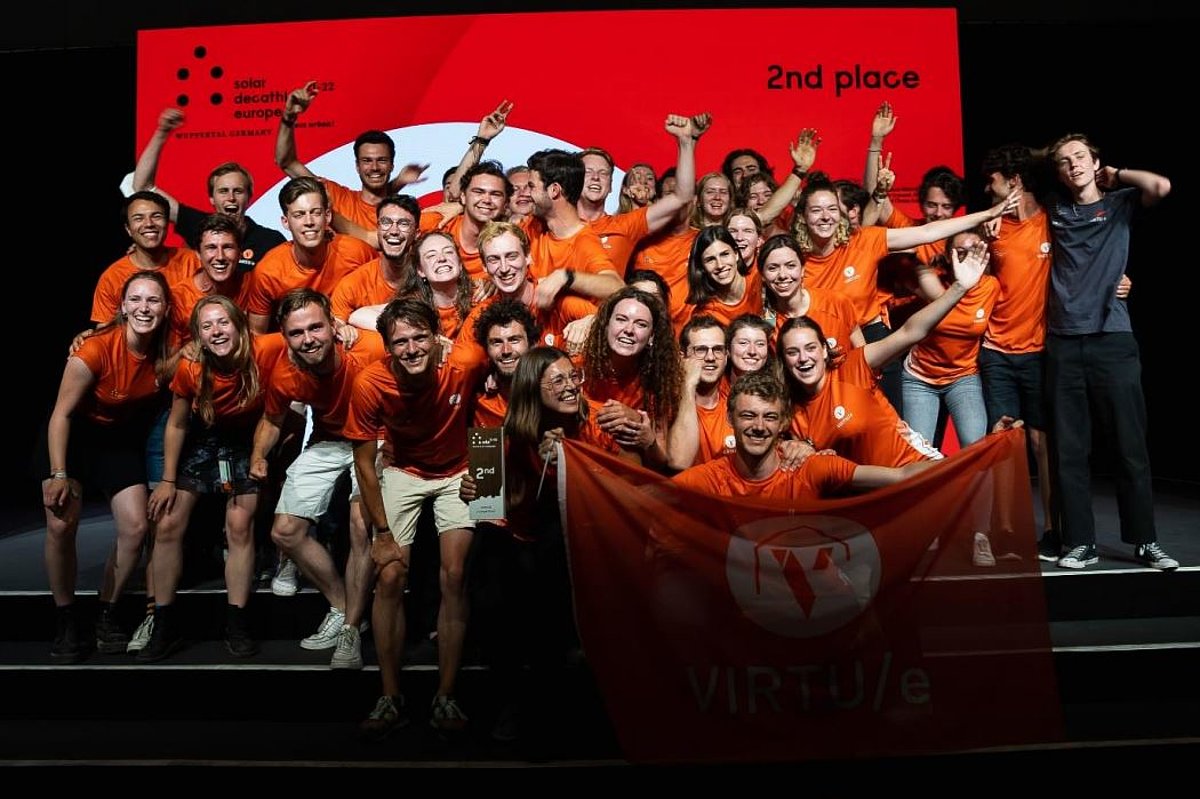 VIRTUe - a student team from TU Eindhoven - on Friday 24 June came in second during world's largest construction competition. They achieved this award with a future plan for the Solar Decathlon Europe 21/22 in Wuppertal, Germany.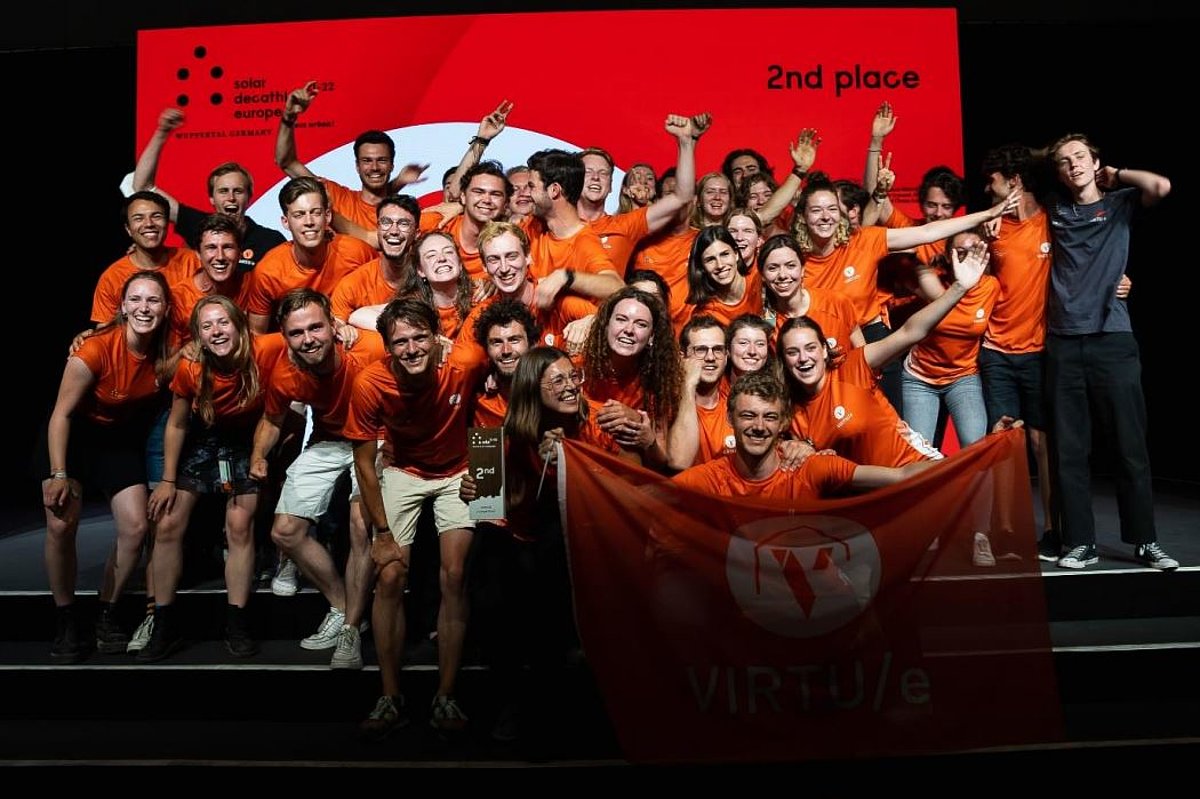 Opening alinea – the introduction
After for the first time participating in the Solar Decathlon Middle East competition in Dubai in 2018, VIRTUe now managed to present the ripple concept in the Wuppertaler Solar Decathlon Europe with the Ripple Demonstration Unit that was previously assembled for performance reading tests, and put on display for all to see at the TU/e's university campus site. During the competition VIRTUe competed on ten different levels against different universities all over the world next to organizing visiting days such as the Netherlands Day. The overall winners were the students from the University of Karlsruhe in Germany. In addition, Eindhoven University of Technology was not the only Dutch winner. The TU Delft student team shared the third prize with the French Grenoble National School of Architecture this Friday.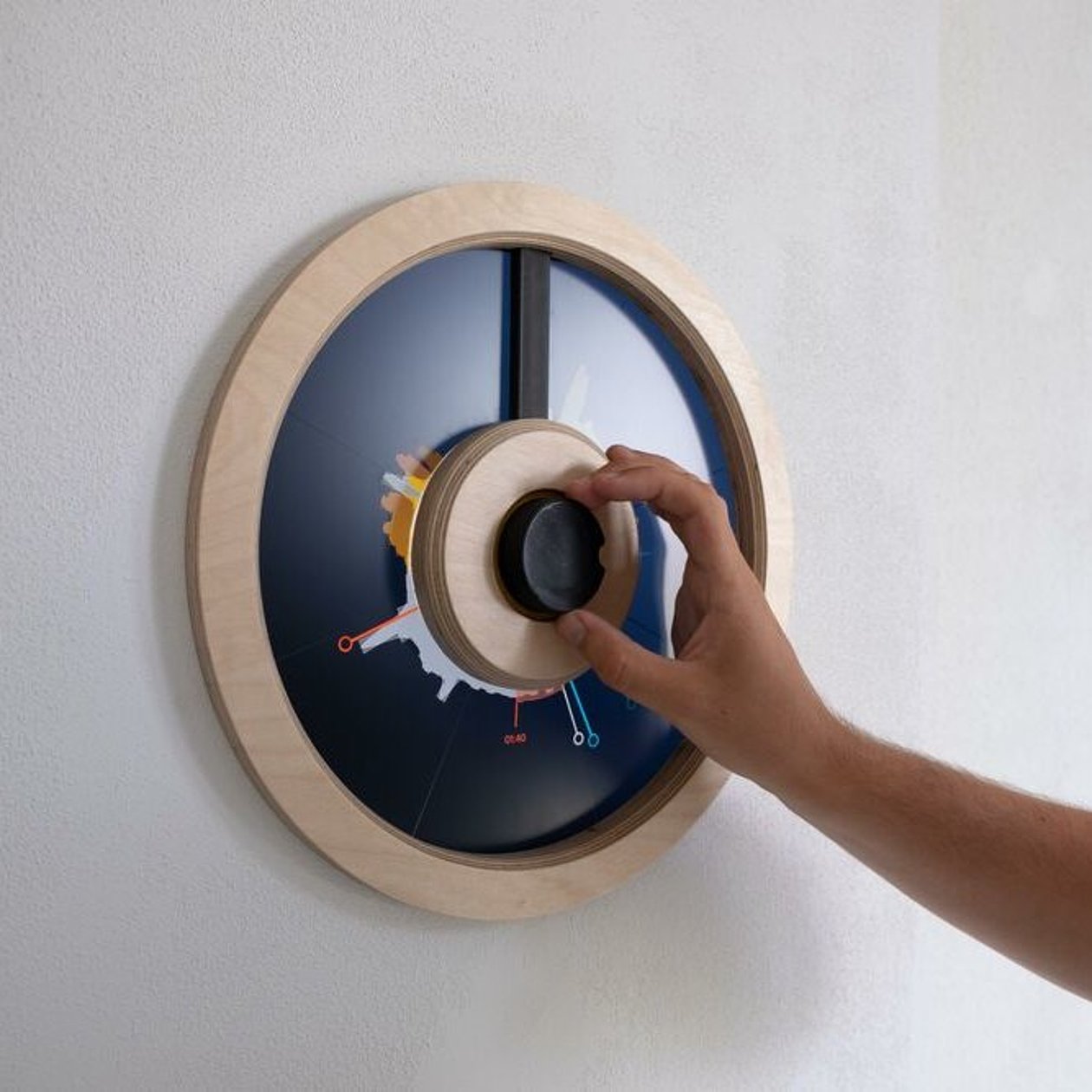 Sustainable living through an app
The aspect that makes VIRTUe's design unique is the focus on sustainable lifestyle. The students focused on smart communities that make it fun and easy to adopt low impact living. This is mainly facilitated in the house by the smart interface EQUI-Libirium, but it also reaches everyone through the app RecApp. The positive Recommendation Application developed by the students of Eindhoven is freely available for everyone to use!
With their project VIRTUe challenges the building industry and people's way of living because the most effective route to make a difference is that sustainable cities are best created with combined efforts of the industry as well as the users in mind.
So next to realizing a sustainable building, the habits of the residents are extremely important because: "What is a sustainable housing solution without the residents aiming to live sustainably?"

The focus on sustainable lifestyle next to the house is what makes VIRTUe stand out from all the other projects at the Solar Decathlon competition. The app is based on Behaviour Change Theory from Psychology and user evaluations. This easily accessible app not only assists in changing the lifestyle of residents of ripple, but it functions as standalone from the house, enabling everyone to live more sustainable.

It provides people with insights and challenges on an evidence-based level to be able to incorporate more sustainable habits in a fun and scientifically based manner as demonstrated in this this video link. The coaching app adapts to people's individuality by personalizing the journey based on the starting point of the user (through a questionnaire), and check-in moments. Every week you can pick two new challenges which are based on your interests and your current habits around sustainability, such as decreasing your water usage and repairing items instead of discarding them.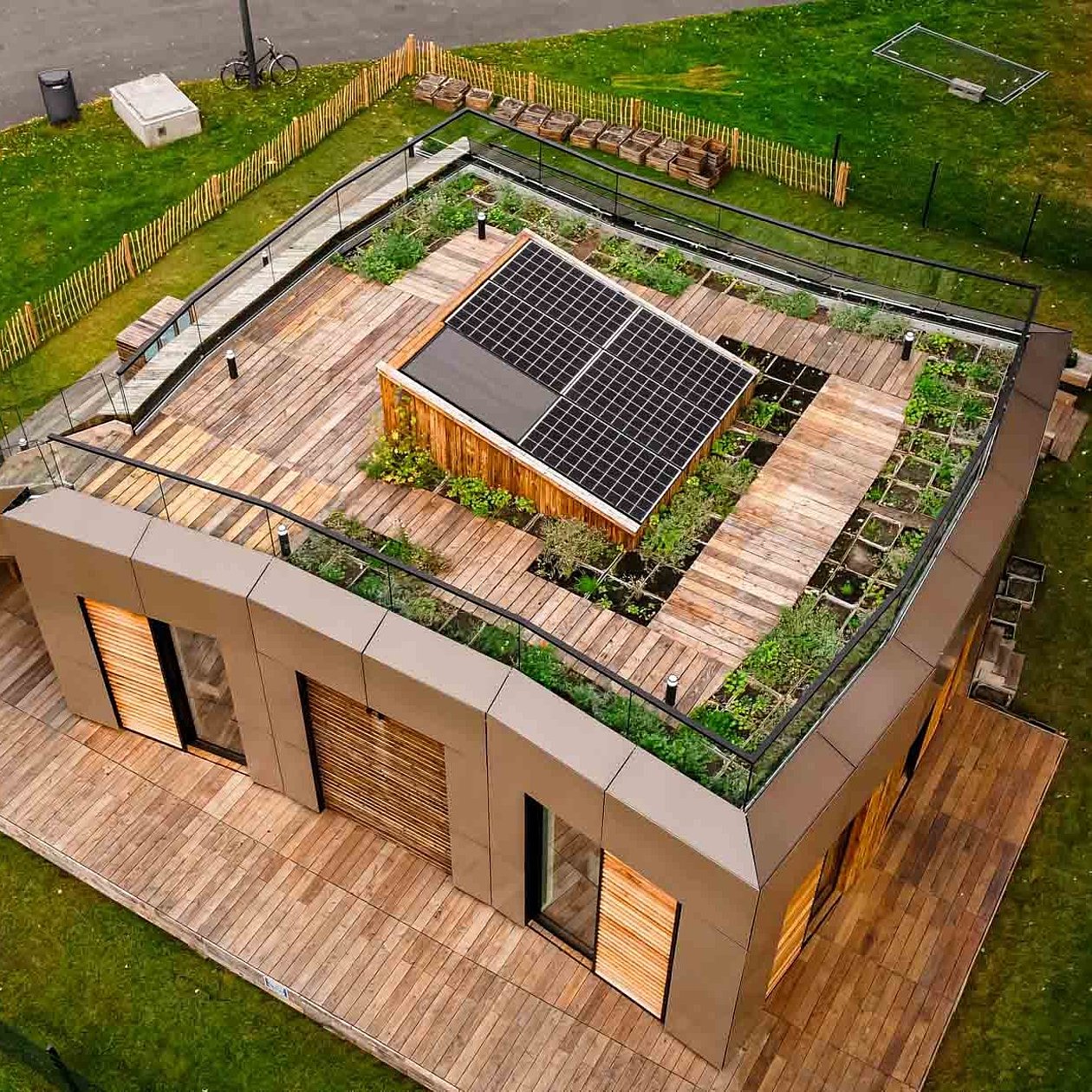 Ripple to the next step: Partnership De Volksbank N.V. and Living LAB 040 B.V.
While this competition comes to an end, ripple will continue because VIRTUe's overarching goal is to enable low impact living for as many people as possible, and its members believe that taking this challenge to another level will create a global solution that is relevant beyond the requirements of the competition. The building will be deconstructed (for the second time) already this Monday and will be transported from Wuppertal to Eindhoven to its final destination: Living LAB 040. Living LAB 040 is a corporation that offers land to VIRTUe's house along with other groundbreaking houses. In Living LAB 040, people will live in the Ripple Demonstration Unit to test the living concept, while companies and students can keep testing innovative systems there.
Living LAB040 is a corporation that offers land to VIRTUe's house along with other groundbreaking houses. In Living LAB 040, people will live in the Ripple Demonstration Unit to test the living concept, while companies and students can keep testing innovative systems there.

Throughout the project VIRTUe has been into contact with many innovative companies that align in ambitions and facilitated new collaborations within this network. Now, a partnership with the sponsoring bank De Volksbank and Living LAB 040 has been set in motion to give the Ripple Demonstration Unit the opportunity to validate its social viability as well as technical improvements. This transferring of knowledge to building companies and future students by encouraging a communal sustainable mindset of people through the building industry is what VIRTUe works towards to make sustainable building and living affordable for everyone.

The concept ripple
From Eindhoven to Wuppertal and beyond, VIRTUe has started a sustainable wave in the heart of cities with the living concept 'ripple', which is an integrated solution for both building and living. It originated conceptually as, like a drop in the water, our project also creates a ripple of influence with growing impact, through the power of collaboration. Small behavioral changes will spread from neighbor to neighbor through social interactions. This is realized by having a living environment that was designed to make it easier and more attractive for people to adopt low impact living. A lifestyle with the overall lowest amount of negative impact possible on the environment – having as starting point the individual, and as a result for entire neighborhoods. The ripple-extended community effort will lead up to making a big impact on our environment, together.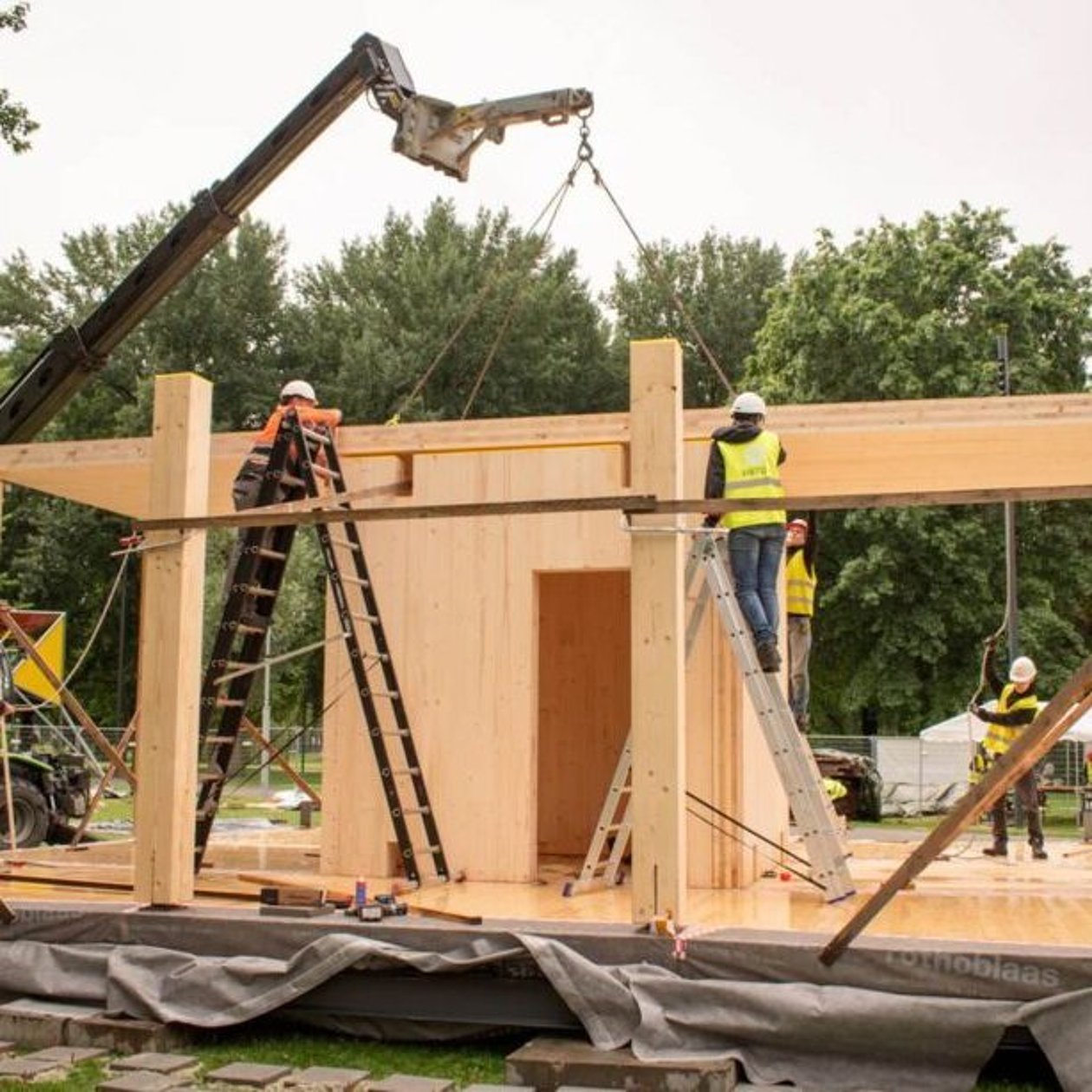 A building for all our cities
VIRTUe adds modular residential blocks as vertical extension of buildings with public functions, making clever use of the available roof space in cities. For the contest a design was prepared for Café Ada, in Wuppertal, an example that suits as a typical European building. To change the way we build, VIRTUe designs with the tessellation shape, which allows to diversify buildings by rotating tessellation units while still be able prefabricate them. Next to housing two separate apartments, communal space is present which extends the livable space of the residents without compromising on comfort, uses space efficiently by replacing corridors, and saves on energy and material usage next to stimulating sharing of appliances, tools, and activities.
In ever-busier cities, less garden space becomes available and with this communal design implementation VIRTUe is making a stand for green cities. The communal roof terraces are also able to connect to the public space through a vertical street, bridging the gap between our homes and the city.

Focusing on the awareness aspect, getting more insights in energy usage is of utmost importance for residents to be get more information about their personal habits. An inventive way to deal with generated solar energy is the EQUI-Librium system VIRTUe developed, a smart system that bridges the gap between energy production and consumption by visualizing the forecasted energy use and by scheduling appliances at the optimal time of the day, thus using the energy when it is best available.

For more information about VIRTUe and the project, please contact Rody Mens (press contact VIRTUe, rody.mens@teamvirtue.nl), 06-2508-2657.
Visit the VIRTUe website!