---
Close
Close
Partnership 5G Hub and Horizon Internet Technologies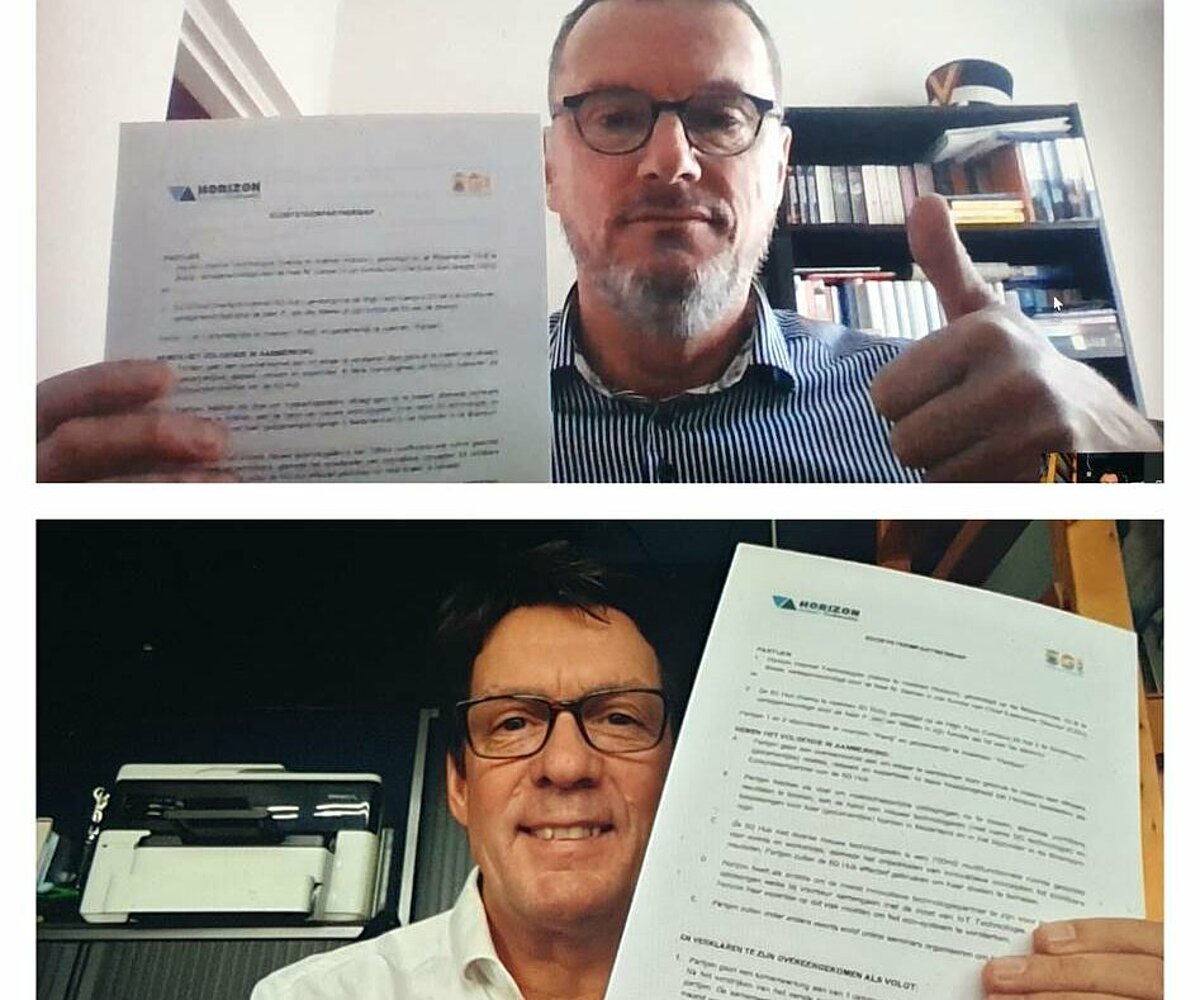 The 5G Hub and Horizon Internet Technologies signed a agreement in November 2020 to partner up in solving global challenges with 5G.
The partnership predicts a partnership between the Blockchain company and the 5G ecosystem promoter. Marcel Damen, Horizon Internet Technologies' founder, and Piet van der Wielen, Business Program Manager at Brainport Development, representing the 5G Hub, give more details regarding the coalition, such as its main goals and expected outcomes from both sides.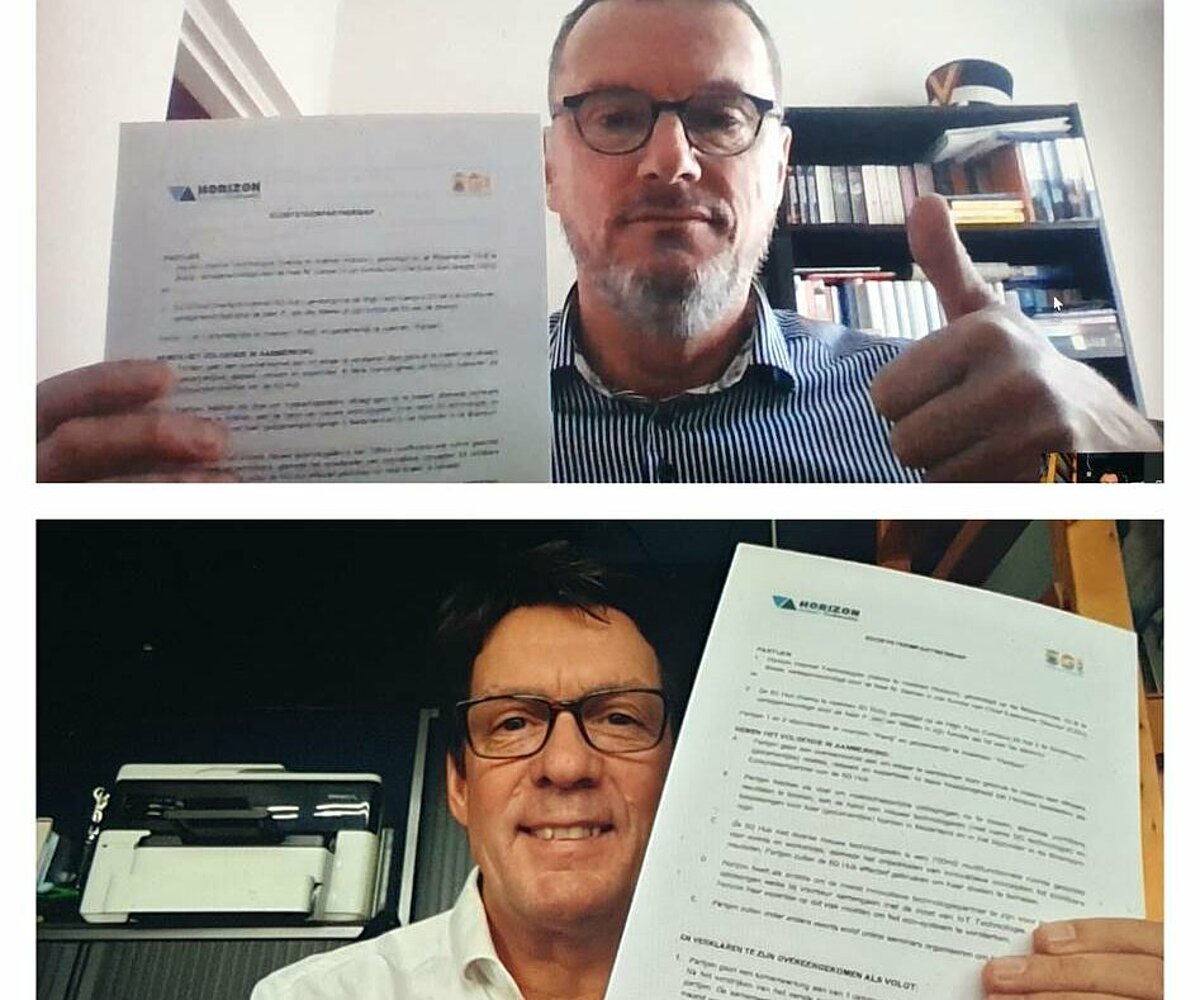 5G Hub is proud to announce its new ecosystem partner: Horizon Internet Technologies. As a company that believes in the strength of combining technologies, Horizon has the ambition of becoming the most innovative technology partner for Blockchain solutions, going hand in hand with the use of IoT. The 5G Hub offers a 700m2 multifunctional space suitable for events and workshops, a broad ecosystem of partners, and amplitude of innovation. The agreement was signed by both parties in a virtual ceremony, and it predicts making use of each other's relationships, networks, and expertise. It also encompasses the use of the 5G Hub facilities and the joint organization of events and seminars.
Horizon Internet Technologies has extensive experience in their area of expertise. When starting it, Marcel Damen wanted to build a company with software architects and developers to bridge the gap between conceptual innovations and actually building solutions. Horizon focuses not only on Blockchain but also on IoT. The company has 5G and 4G infrastructure, as well as broad security knowledge. "In essence, my company is about developing. And that's the kind of role I would like to take in the 5G Hub as well," Damen highlights.
For Damen, the coalition's key aspect is to acquire more knowledge about 5G technology and everything behind it. Furthermore, he values getting inducted in the ecosystem that's behind the 5G Hub. Connecting with the companies that work in collaboration with, or within 5G, which is the key technology to address. Horizon's Fair Care project combines Blockchain with IoT, sensors, and IT apps. As Damen explains, Blockchain itself is usually another generation of sharing data: "One would even call it a database or database structure. But it gets interesting if you combine it with other new technologies. And that's how I want to position my company. Many Blockchain initiatives end in the pilot phase. Fair Care, on the other hand, has been up and running since March 2020. By the end of this year, Fair Care will be live within seven municipalities, with more than 3000 clients, and, as Damen emphasizes, "it demonstrates its added value every day."
Piet van der Wielen explains that Brainport Development got involved in the 5G Hub, helping push the technology forward, because they like to build communities of companies that create new things that defy the challenges we have in the world. He believes that Blockchain is another, new element that many people have a limited understanding of. "When it's possible to combine Blockchain and 5G, it's profitable for both. And it's profitable for the companies that visit the Hub because they see the effects of 5G. Still, they can also see the impacts of Blockchain." Van der Wielen also mentions that the essence of the 5G Hub is to create awareness around 5G. However, that is not enough: "because you have to build products around 5G or work with 5G in a faster or better way." In the case of Blockchain, it is an extract of the dimension that 5G can have and a podium for what is possible with Blockchain.
In terms of the parties' expectations regarding the agreement, speaking for Horizon, Marcel Damen points out that the main goal is getting to known other companies within 5G Hub's ecosystem. The objective is to look into potential new business models and to share knowledge. As he explains, "most of us in Horizon are coming from the telecommunications industry. So, I believe we know 5G and its pros and cons pretty well. And that helps us in building stronger relationships with other companies within this ecosystem." On behalf of the 5G Hub, Piet van der Wielen envisions accelerating Horizon's development, as well as trying to advance the way people and companies think about Blockchain. "As Brainport, we have an economic development purpose in this region. We are always looking for combinations of smart technologies to create a competitive advantage for the region," he says.
In the agreement, the parties aim to solve social challenges, as Van der Wielen remarks, regarding several areas: "you can think security, health, automotive, better working ambulances. All those challenges we want to help with our work at the 5G Hub." Marcel mentions tackling the healthcare chain's inefficiency, one of the Fair Care project's primary goals: "there's a lot of inefficiency and fraud in that area. We are combining these technologies, and we will eventually add new infrastructures like 5G to it, to make sure that the healthcare budgets in the Netherlands are in a good, legitimate shape."
As a means to measure the success of the coalition, Marcel mentions that working on and launching one project together, supporting both parties' business' purposes, would be a fantastic assessment. As he emphasizes, "I've seen many of these kinds of initiatives in my life. Often, it's all about talking and sharing ideas, and there's not really a good way of collaborating with each other so that you both can eventually earn your money with it. So I would like to come up with a proper cooperation project, one we can really benefit from it from a company perspective as well." Agreeing with his partner, Van der Wielen also highlights that initiatives like this one "would lead to this region having the most 5G users and companies in the Netherlands or in Europe."
For van der Wielen, the coalition's best-case scenario would be the no longer necessity of the 5G Hub. With a mission to join parties together to highlight and showcase the possibilities for 5G technology, when 5G is wholly accepted, and business cases evolve around it, the role of the 5G Hub is completed. As Van der Wielen clarifies, "there are a lot of initiatives that have one goal: keeping themselves alive. I think that's the wrong way. When the goal is right, there should be an end." For Marcel, this is the path to be followed, and he adds: "we should create an ecosystem where people can find themselves a part of a new technology to be introduced."