---
Close
Close
Meet our pioneer: Tim de Jong
In Brainport Eindhoven we change the world because here we develop key technologies that change society. We can only do that because of our pioneers. Therefore, we would like you to meet one of our pioneers: Tim de Jong.
Who are you?
My name is Tim de Jong. I'm 22 years old and I'm originally from Almere. I have lived in Eindhoven since the start of my studies and recently I moved to the city centre.
What do you study?
I completed the Bachelor of Applied Physics at TU/e​ ​in early 2021. At the moment I'm not sure which master I'm going to do. I'm now doing a premaster for Industrial Design, but Physics and Applied Physics are also options. Maybe I'll do both if the university can find a way to make that work.
The reason I want to do physics is that I've been involved with it from an early age and it suits me. I've always realized that it's not something I want to work in. I chose that bachelor's degree because the study program is so broad and you learn to think constructively.
I'm also very interested in the interface between design and technology. That is why I chose this premaster. Industrial Design is set up in a completely different way. You can put together your package there: what do you want to do and how will the faculty facilitate you to do that? I have a lot of room to develop myself in the direction I currently see for myself. I find that very attractive about Industrial Design.
In what direction do you want to develop yourself?
I don't quite know yet. The great thing is that the faculty guides me very well in that process. You must first write down your professional identity and a vision. I haven't quite got around to that yet, but it slowly develops during your studies and changes all the time.
Why did you choose TU/e?
It was fairly simple for me. I had gone to walk-in days in Delft and Eindhoven. They are both very nice cities. I did not make my choice on a very concrete basis, except that my parents also studied at TU/e. They also met here. On my follow-up day, I also heard stories from my father about what is happening in the city and that was just a little more tempting. That's how I ended up here. In retrospect, that was a very nice choice.
What student team are you in?
I have been a team lead at Team Ignite since September 2020. In my big 'what do I want to study' adventure, I also found out that I also really like to do other things than I do during my studies. Physics could sometimes be too abstract. I have always enjoyed doing extracurricular activities. I can't sit still very well. So when I heard that Team Ignite was rebooting, I went to the first meeting and ended up being team lead. That is also a huge learning process and super interesting.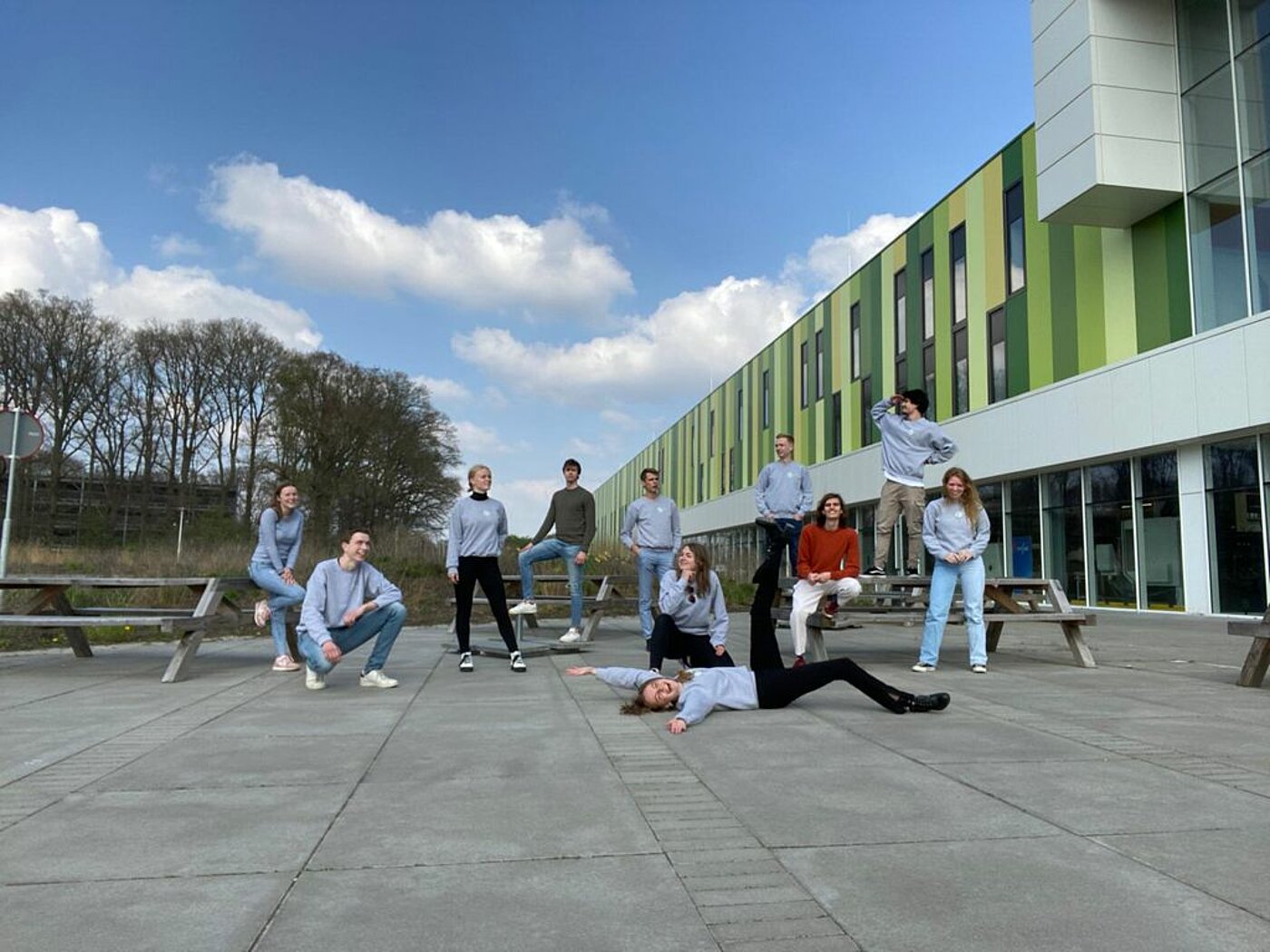 Why did you choose Team Ignite?
I chose Team Ignite because they combine physics and Industrial Design beautifully. It manifests itself in interactive light: how can you use light to influence people? It has fallen through a bit because I now have a lot more things with light in my room. I even recently bought a disco ball. It's showing itself in a bit of an extreme way in the meantime. But I find that very interesting.
There's no other student team involved in the design. Other student teams are mainly very problem-solving, but we are very creative. That is sometimes also the reason that we sometimes encounter resistance when we want to develop. I do see some more development in the region that there's more and more crossover between design and the hard technical directions. For example, the university has just opened a new institute, the Pi Lab, in which scientists and artists are brought together. I get very excited about that. It just means that I feel more at home in Eindhoven.
What do you do as a team lead?
As a team lead I try to keep everything on track. That's part of project management, that's talking with your members and seeing where they need help. I try to let as many people as possible work individually and then put in where I can offer help. Because Team Ignite has been around for a year, it's now also a major role to look at what we are, who we are and where we are going in the coming years and how that fits into the climate of Eindhoven. Previously, our vision to be a student team that, like Solar Team Eindhoven, is known at the university, was that we can wear the TU/e ​​logo on our chest because then they are an important stakeholder for us. But actually, we now see that that role may not quite suit us there, because we are not solving a specific problem in the world, but want to improve the quality of public space. So now I'm looking at what our identity is. Why did you become a team lead?
In the corona time, I had already done a student team, called Team VERO. That was a corona initiative that researched how to reduce the risk of transmission of COVID in the lung ward of a children's hospital. There I had already gained my first experience in a student team. I enjoyed working together. From that flow, I have shown so much enthusiasm and initiative that a team leader role suited me. Initially, I went to Team Ignite with the idea of ​​'super cool', but not to become a team lead there.
Why did you join Team VERO?
At the end of my bachelor's degree in physics, I became interested in medical physics. I have people in my environment who have a background in that. I wanted to do a bachelor's final project there. I had arranged that and I would go to the Antoni van Leeuwenhoek Hospital in Amsterdam, to do a nice assignment in the radiotherapy department. But unfortunately, it was not allowed due to corona. I then thought carefully about what I could and want to do with my time because I can't sit still very well. That is the danger that can lurk in corona time. This is how Team VERO was created. I'm not an initiator of Team VERO, but I was there from the start.
"I have learned how beautiful working together can be. It's something to enjoy."
What have you learned from the student teams?
I have a cliché answer to this: I have learned how beautiful working together can be. It's something to enjoy. It's also a lot of fun to watch what's happening. At VERO everyone was excited to contribute in the coronat time and then really beautiful things come out. Such as collaborations, where we as a student team were allowed to borrow a professor's lab. I enjoyed that and that's why I know that these kinds of extracurricular things in groups give me a lot of energy.
To what extent is working together in student teams different than in project groups during your studies?
It's a difference between must and want. The physics projects went less smoothly for me. That can also be because of the way you work together in such a group. Physics people often work together differently than people from Industrial Design, for example. In my new study, I also notice that I enjoy group work again. That could be partly because it's better decorated, partly because it's a different fabric. But there is a difference between people. Especially in student teams, because everyone is inherently motivated there. Then it's not about credits. If you do something because you enjoy it, it's more fun for everyone and you have a very positive vibe.
What did you do as a bachelor's final project?
That was the stepping stone for the GLOW project that Ignite is now doing. That wasn't the plan at first, but it was the case of 'I've got something here that's nice for GLOW and I've got Ignite; is that something fun together?". The group eventually agreed.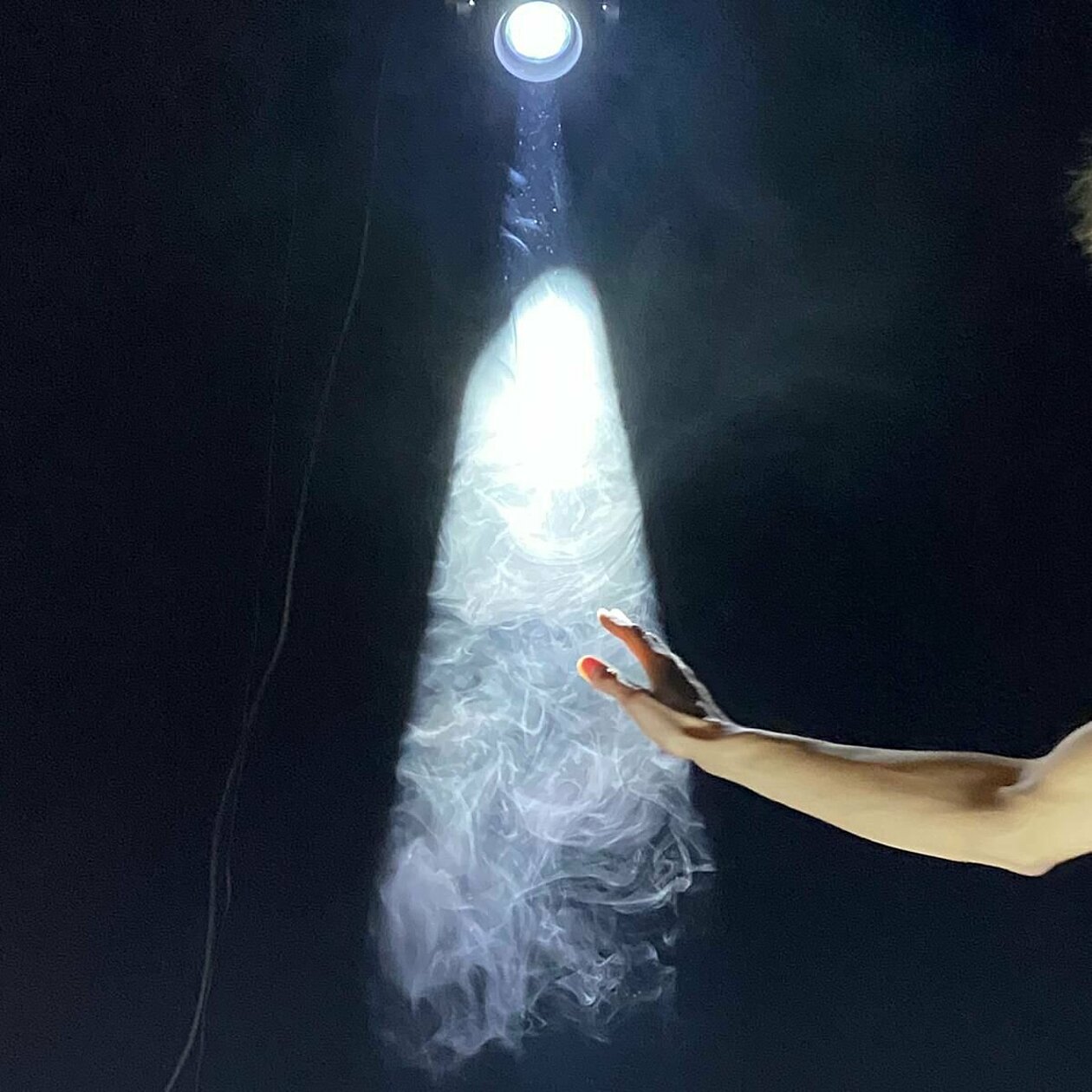 I graduated from the Crowdflow research group under the good guidance of Federico Toschi and Alessandro Corbetta from the Applied Physics faculty of the TU/e. They are investigating how people move in groups. They use physical models to describe that. For that, I use a specific lamp that can move in all directions and is motorized. I then looked to see if I could follow pedestrians with that lamp. That went well because of all the support from the faculty and supervisors. I also had a light artist as an accompanist, Philip Ross, from studio Philip Ross. All of this was made possible with help from the Intelligent Lighting Institute of the TU/e, which organizes GLOW on campus. Together we adjusted some values ​​in the algorithms and then the lamp did not follow the people but swerved around it. Then if you stand there and you look and you see the lamp moving when you move too. That's very magical.
Your work is often focused on giving people a special moment.
That's true. I think that's also the most interesting project. They are also freer than just problem-solving thinking. A lot of people think things like that are less valuable and think it's much cooler if you solve a concrete problem. But I often find it very valuable to just add something small, something magical in your environment.
I have a good example of that. I think the Dommeltunnel, the 'silly walk tunnel', is a pathetic event. The tunnel connects the campus with the city centre and must therefore be used very well. I tried to make it something beautiful, by making it just a bit more magical:
I've tried to make the tunnel a bit more fun and cosy, without it getting in the way of anyone or being harmful. In the physics course Optics, I discovered a foil that can change colour depending on the incidence of light. So I bought some foil o I had to tinker with it myself and that's how the idea was born to make the tunnel more fun.
I did not ask permission from the municipality in advance, but I have now received many positive reactions about it. I did inform them afterwards because I didn't want to hide behind anonymity. There are some ideas behind why I didn't ask for permission beforehand. To start with, Eindhoven is a hip city. There's also a history with light. But street art with light is missing. I haven't seen that happen at all. Convinced that this is an original idea, which fits in Eindhoven, which does no harm and is good for the connection between the city and the campus, I decided to do it. Afterwards, I also noticed that it has something to do with making a stubborn statement. I learned a lot from it. Such as developing a concept, finding the right people to help you and having contact with various stakeholders, such as the municipality.
The municipality was so enthusiastic that my project can now remain. I even got some money for it.
What do you want to do next?
I don't know exactly what I want to do yet. But what I know above all is that, for example, I don't want to become a researcher. In any case, the academic world may not be for me, I learned from my graduation project. But that still leaves a lot of things open.
I like how we work together in Eindhoven and I can see myself joining a research group that tries to realize major collaborations between universities, companies and municipalities. But I still like to let it happen to me how that will shape itself.
I might see myself doing something creative. Having my design studio seems very cool to me, but I don't know yet whether that is for me. I hope to find out soon. But with what I do now, I notice that I also find project management very interesting. And so there are all kinds of things that can be super cool, that I'm excited about, and that I want to try out or explore further. If I keep doing what I like and what gives me energy, eventually I will end up where I do.
"A lot of people think it's much cooler if you solve a concrete problem. But I often find it very valuable to just add something small, something magical in your environment."
What do you find important about a later job?
I think collaboration is very important. I'm also very fond of freedom, in all sorts of ways. I like movement and change. I think I would like to work project-based. I also think it's important to be appreciated.
What do you think about studying and living in Brainport Eindhoven?
I'm a bit of an Eindhoven fanboy. What I like about Eindhoven is the way we can all work together. During my physics studies I worked for an electronics manufacturer and I have the idea that these kinds of possibilities mainly exist because we are here in Brainport Eindhoven.
I also hear more and more plans from Eindhoven about the city, the inner city, the campus and the Brainport Industries and that makes me enthusiastic. That's why I don't think I'll be leaving here any time soon. I want to see how the story of Eindhoven continues.
At the start of my studies, I lived in a large student house on Strijp. It was a very cosy house. We knew each other very well and the ties were pretty close. That was a very nice experience to have during your student days. I now live anti-squat in the centre, together with about 40 people in the house.
"During my physics studies I worked for an electronics manufacturer and I have the idea that these kinds of possibilities mainly exist because we are here in Brainport Eindhoven."
What else would you like to tell (future) students in Brainport Eindhoven?
When I realized that maybe physics wasn't quite the study that gave me the satisfaction I was looking for, I started looking further. So my advice is: stop thinking about what you want to do later and look at what you want to do now and do it. That works very well for me because the things I do now are very good for my study path and career. I have abandoned the idea of ​​'later when I have finished my studies, I can do fun things. I'm going to do them all now!