---
Close
Close
'High tech also means replacing something that isn't circular enough' according to Lawrence Batenburg and Harry Verbakel of Materials Factory.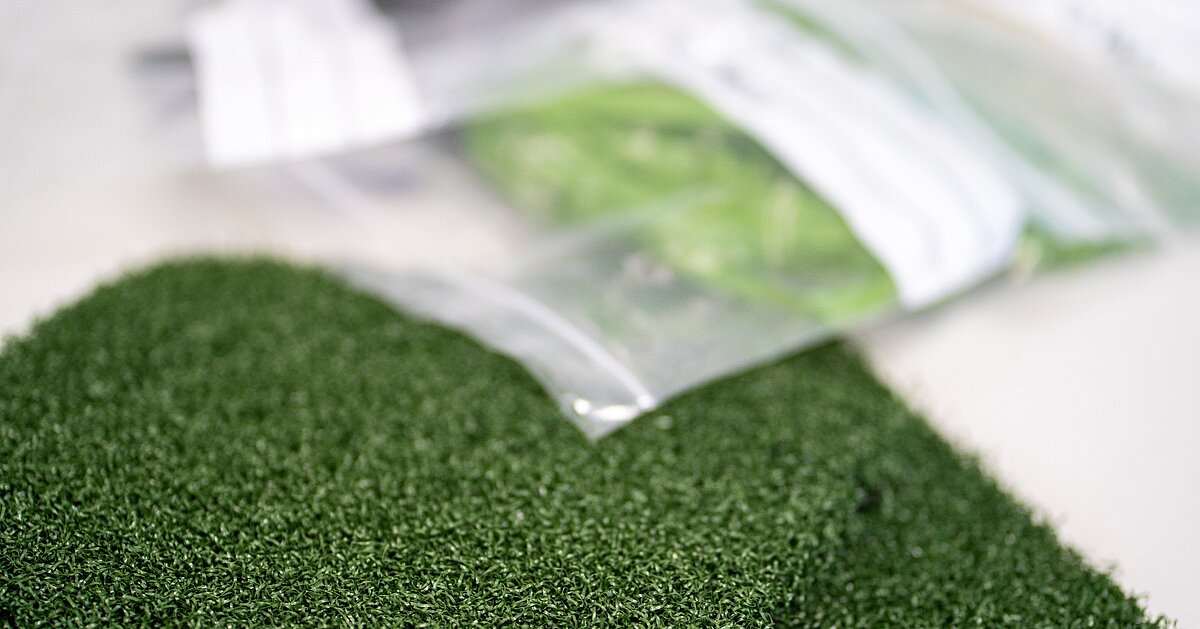 What does Materials Factory do?
Materials Factory is developing innovative and sustainable end products for the plastic converter industry. We tailor the properties of the material to the applicability of the end product based on the premise that the end product should be biodegradable or recyclable. We use our expertise to help other companies, but also to develop our own projects.
For example, we developed an alternative for lead flashings for a company in Wapenveld. Lead flashings are used to seal window frames, roofs and chimneys. Because particles of the lead will end up in the groundwater, the use of lead-containing products will soon be prohibited. We have developed an alternative made from PVB, a polymer residue resulting from the recycling of car windows. The properties of these PVB flashings are even better than those of the traditional ones made of lead without the nasty side-effects. Moreover, they have a life span of thirty years after which they are fully recyclable.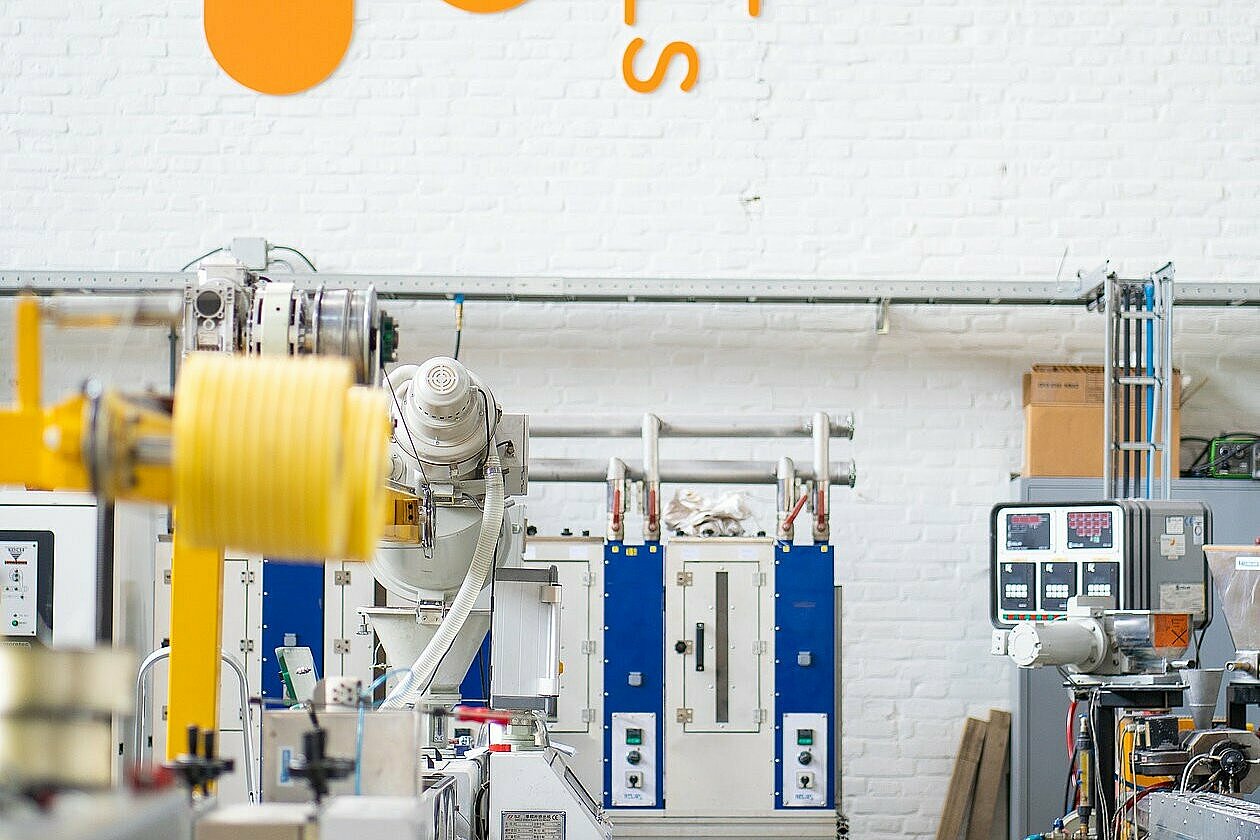 In addition, we develop many products and new applications. Such as the environmentally friendly fire extinguishing agent we are currently developing. The agent can be used to fight class A fires, but tests, carried out by the fire brigade, show that these fire extinguishing agents are also very effective when it comes to extinguishing combustible liquids. We will soon be testing their effectiveness when extinguishing fires caused by lithium batteries and fat or cooking oil. We are convinced the results will be excellent.
We are even the first company worldwide to introduce biodegradable textiles. The properties of the textile are very special; it feels cool and is extremely soft. We are currently talking to parties to further develop this technology. A biodegradable textile, which can be used as compost, constitutes a breakthrough for both the carpet industry and the funeral industry, the latter currently focusing on natural burials. Up till now, only the clothes remained after the natural burial, whereas with our invention the clothes will also be broken down.
These are of course wonderful projects. The tricky thing is that we are sometimes ahead of the market, which is not yet ready for the products we are developing.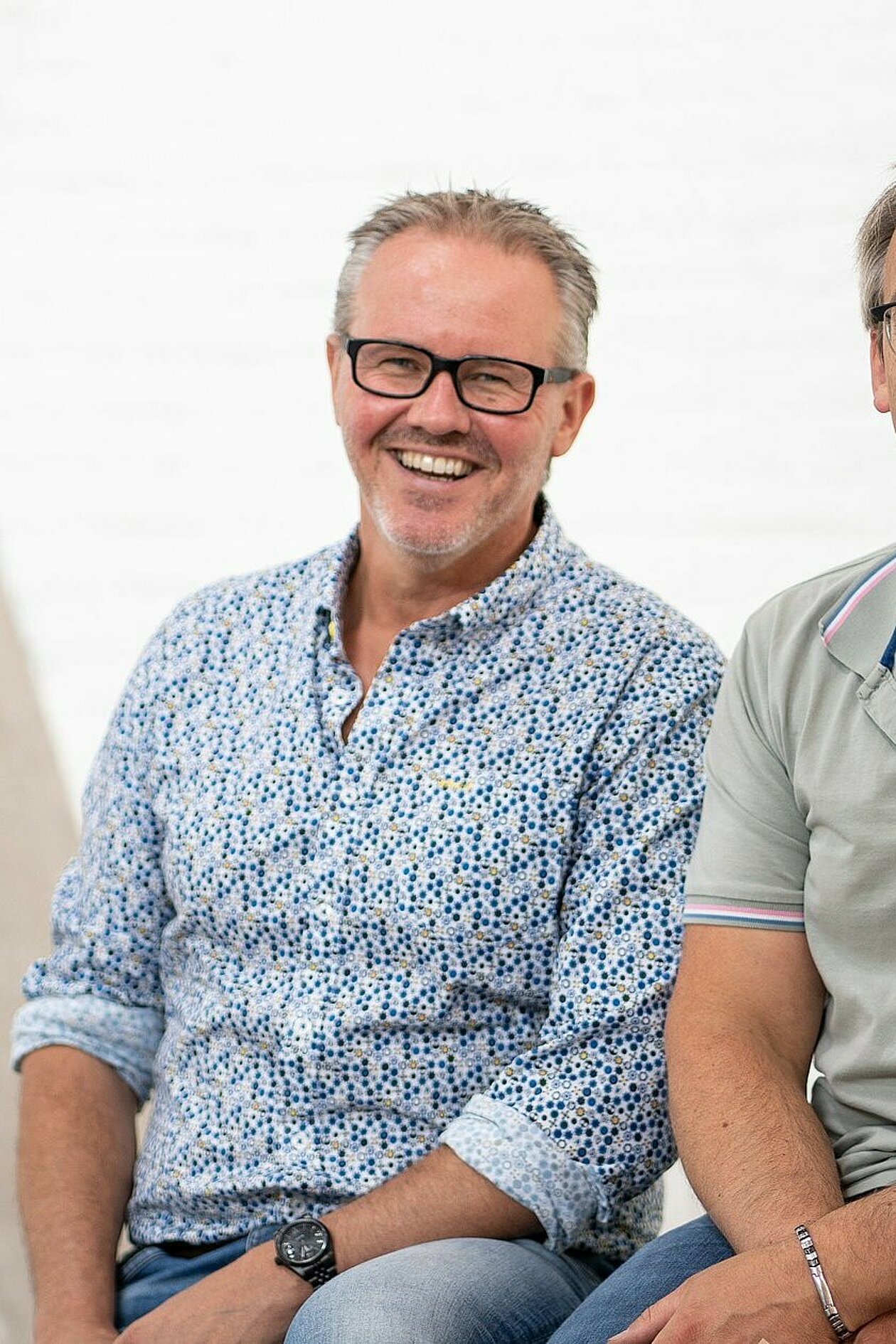 Who are you and what is your role within Materials Factory?
My name is Lawrence Batenburg and I am the founder and owner of Materials Factory. I studied inorganic chemistry and polymer chemistry. After graduation, I first worked at TNO and then started as an independent consultant. During that time, I started to buy test and analysis equipment to be able to work more efficiently. Three years ago, we moved to a building at StrijpT, which is now fully equipped with the latest equipment to be able also develop our own products. Materials Factory currently employs five people.

My name is Harry Verbakel. I studied mechanical engineering and after graduation, I started working for Akzo Engineering. After I finished an evening course in business administration, I ended up in the commercial sector. I loved looking for real innovations and that's where I met Lawrence. We immediately hit it off and in 2016 we started working together. We complement one another perfectly: I take care of the commercial aspect of the business and Lawrence is the innovative brain.

In what way are you helping to solve the global challenges?
We focus on developing solutions that are fully biodegradable or recyclable. Also taking into account the way we are treating our environment. Think of hockey fields that need no watering, or synthetic turf pitches that feel ten to twenty degrees cooler than they usually do. Reducing the amount of water needed for maintenance, because such pitches don't need any cooling. And what about the rubber granules we use on our football fields? By grinding old car tyres into small particles, you only worsen the impact on the environment; the granules are divided over a very large surface and end up in football socks, laundry and groundwater. They are not decomposed, remaining in the environment for hundreds of years. To respond to the microplastics ban, we have developed an alternative for the rubber granules used in synthetic turf pitches.
What impact will Materials Factory have achieved by 2030?
It would be great if at least half of the products we are developing now will find its way to the market. Of course, we are currently doing great things. However, we are frustrated about one thing; it takes a long time before our products are commercially viable. We are pretty much ahead of our time. We start a trial concept or a pilot and then someone else should take over. We only focus on devising and developing innovations. The market should do the rest. And we ensure that are products are ready to hit that market.
What parties do you want to jointly realize this ambition with?
We are looking for a partner who can firmly establish our innovations in the market and help make them successful. That is why we are busy setting up a new business to help us bring our own products to market. Our environmentally friendly fire extinguishing agent is one of those great products that should be well established in the market. The right party does not necessarily have to be located here in the region. The Botlek area in particular has a lot of petrochemical industry, so we might find the right partner there. Moreover, we are looking forward to the results of the tests with respect to the effectiveness of the extinguishing agent when extinguishing fires caused by lithium batteries. If the results are positive, our product will provide the solution to a very big problem.
What do you hope the Brainport region has accomplished by 2030 regarding innovation and sustainability?
There is a reason why we have established our company in this region. Brainport Eindhoven is one of the most innovative hubs in the world. We very much believe in the philosophy of Brainport; make sure to attract many innovative companies and start-ups and combine this with well-trained people, colleges and universities. And ensure this mixture of parties starts working together. The region has an open-door culture; people can easily find one another. A perfect breeding ground for a very innovative environment.
Long ago, the Eindhoven region was known as the plastics region of the Netherlands. Injection molders, processors; they were all located here. However, this sector is not properly reflected in the current educational offering in the region. We are currently transitioning into a more circular world. Students of universities and colleges however still have little knowledge of what is needed to actually make everything circular. Education and research need to focus more on biodegradable biopolymers to allow us to make faster steps towards replacing everything made of plastic. Companies and organizations may still focus too much on material interests, but high tech is also about replacing something that is not circular enough. This requires a lot of innovation.
Source: Timeframe Project Eindhoven