---
Close
Close
Spatial Atomic Layer Deposition makes large scale production of flexible solar panels, OLED-lighting, sensors and monitors possible.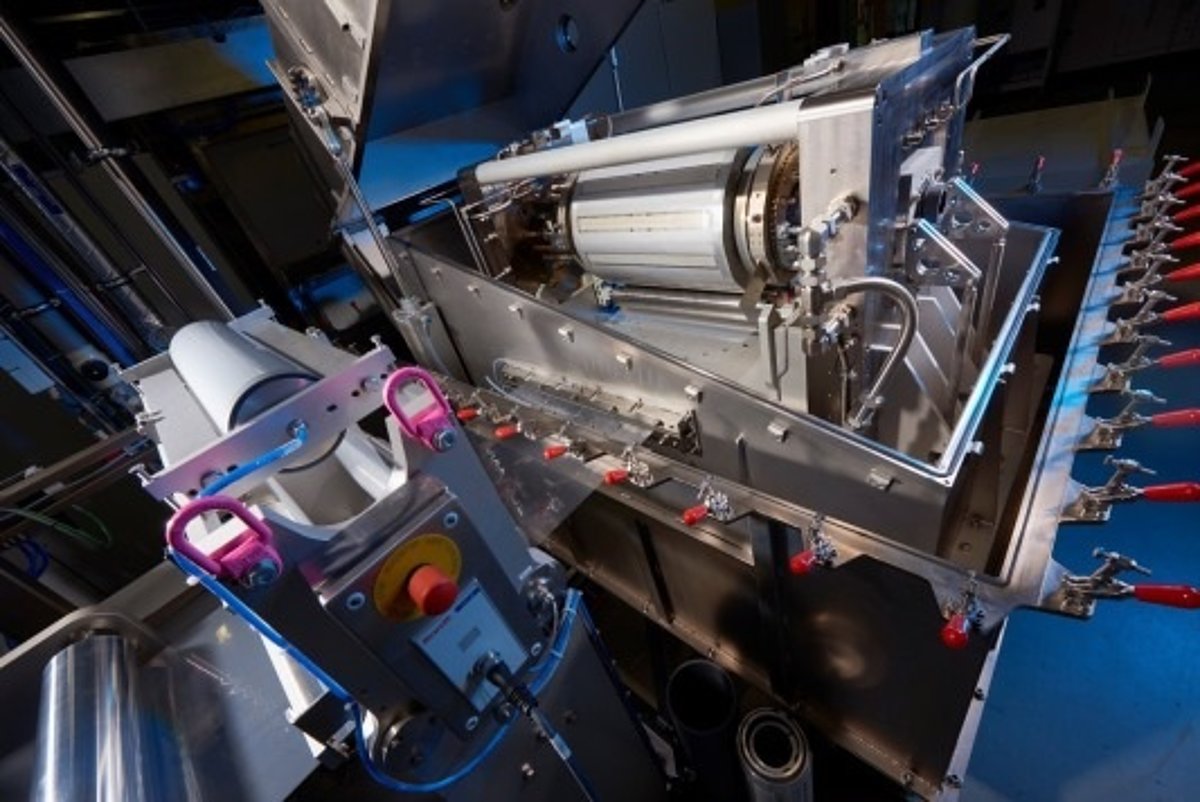 Global manufacturers of solar panels and batteries as well as their customers such as the automotive industry aim for higher returns of the energy conversion, more efficient power consumption, higher energy storage capacity combined with shorter charging times and a longer product lifespan. In all these growth markets short production times against the lowest possible costs are essential for success. Scientific testing has shown that sALD, a Holst Centre (TNO) invention, can play a decisive role in achieving this success.
Cooperation provides opportunities for a sALD revolution. Based on the sALD technology, VDL Enabling Technologies Group (VDL ETG) currently designs and builds machines that enable companies such as SALD and SALDtech to market their products. In this respect, SALD has taken up the role of equipment OEM of R2R and S2S sALD machines while SALDtech delivers OEM solutions particularly aiming at OLED applications. By doing so, four Dutch companies have created an enormous potential by completely embracing an advanced core technology, developing it and positioning it in emerging markets. The cooperation between scientific organisations, investors, regional governments and enterprises from the Brainport region enables large-scale production, increasing the opportunities for the Netherlands in today's growing industrial sectors worldwide.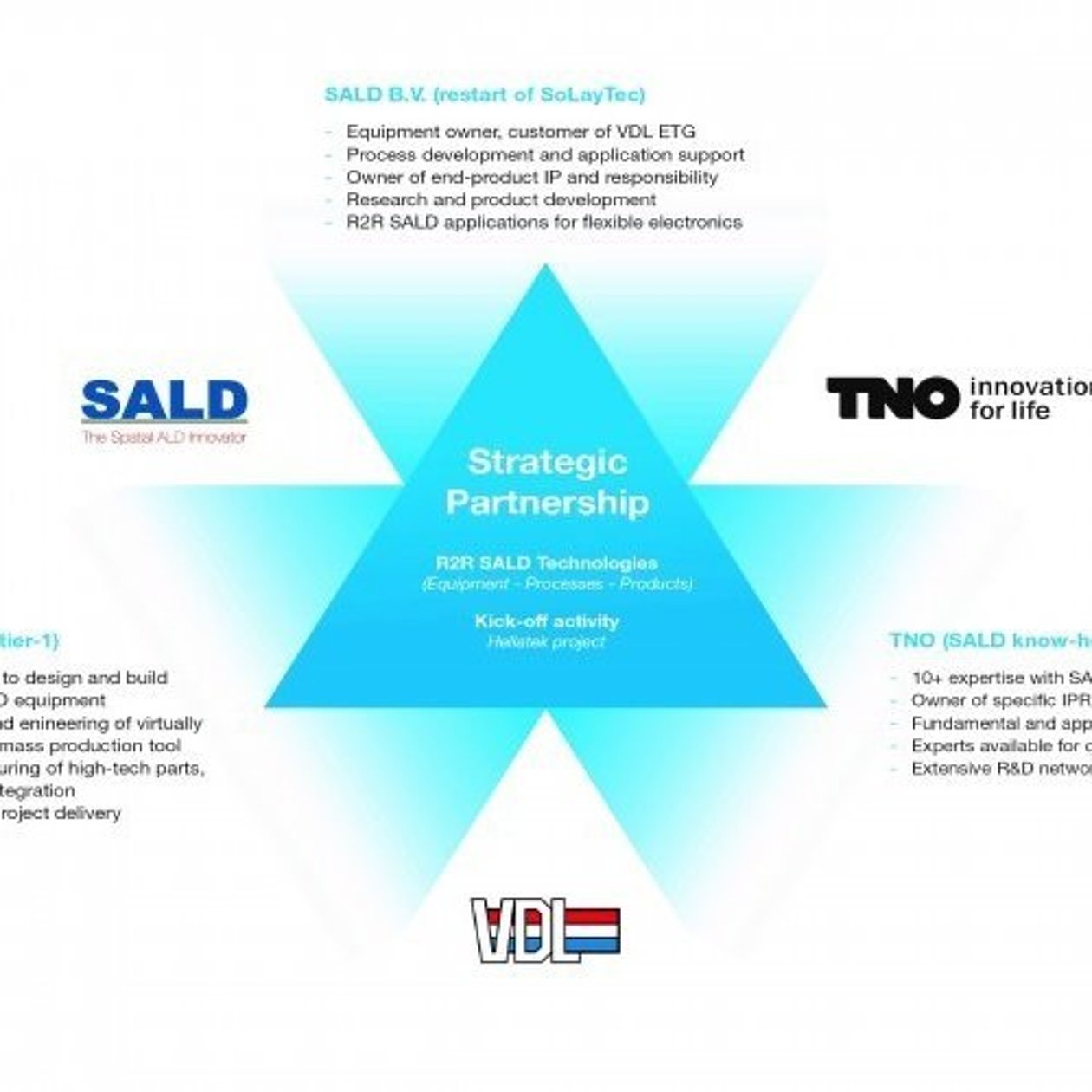 ALD versus sALD technology
Atomic Layer Deposition (ALD) is mainly known from the production of integrated circuits in the semiconductor industry. Using this technology, a substrate is consecutively exposed to precursors in a vacuum chamber. Ultra thin layers are deposited with high compositional control, greatly improving the characteristics of the end product. However, this process is slow as one layer has to be completed before the deposition of the next layer can start. In order to achieve a high-volume production, multiple machines are used simultaneously, each producing its own batch of products. This leads to long production cycles and requires large footprints in expensive cleanrooms.
The partners

SALD, the innovator in spatial ALD applications
SALD is a SoLayTec spin-off that has been developing and selling advanced spatial ALD equipment for the mass production of solar panels since 2010. With its extensive knowledge of spatial ALD-technology and its unique ability to transfer it from the lab to the factory, SALD sees great potential in today's growth markets. The technology was incorporated in a compact machine that can be used for both research and small-scale production. The end product and the substrate on which the deposition takes place are irrelevant as the technology can be applied to batteries, solar panels or OLED lamps, either on a rigid substrate like glass or on plastic and metallic foils. In addition, SALD is the only company in the world that has accumulated the necessary in-field expertise to scale up the industrialisation of the spatial ALD technology rapidly and reliably. As a frontrunner in these promising applications, SALD has the ambition to provide both roll-to-roll and sheet-to-sheet spatial ALD solutions.
SALDtech: production of flexible displays
The development of spatial ALD technology resulted in the establishment of SALDtech B.V.in 2018. At their Eindhoven site, SALDtech develops dedicated tools that can be used to apply this innovative production method for flexible displays. TNO is one of SALDtech's shareholders and closely involved in the development of the technology. A joint investment of € 3 million funded by Innovation Industries and the Brabant Development Organisation (Brabantse OntwikkelingsMaatschappij - BOM) made it possible for the Holst Centre (TNO) spin-off to focus on the integration of the sALD technology in the production lines of display manufacturers for mobile phones, tablets, TVs and self-driving cars. In 2019 SALDtech was awarded a second financial injection by BOM and Innovation Industries, boosting the development of mass production tools to manufacture next-generation, flexible, foldable and rollable OLED displays.
VDL Enabling Technologies Group (VDL ETG)
VDL Enabling Technologies Group (VDL ETG) is a tier-1 contract manufacturing partner operating worldwide. The main customers of VDL ETG are leading original equipment manufacturers (OEMs) and users of advanced production lines in many high-tech markets: semiconductors, thin-film photovoltaics, analytical instruments, medical systems, aerospace, defence. VDL ETG manufactures complex parts, subsystems and fully-integrated equipment in 6 factories located in The Netherlands, Switzerland, Suzhou (China) and Singapore, and has strong design and engineering capabilities to support its customers throughout the entire lifetime of their products. VDL ETG offers a wide range of services to support the manufacturing of equipment in both small and large series. A dedicated business line, VDL ETG Projects, has a recognized track record in the design, realization and turnkey delivery of prototypes, R&D equipment and first-of-a-kind production lines. VDL ETG is part of VDL Groep, an international conglomerate headquartered in Eindhoven, The Netherlands, with 104 subsidiaries active in the development, production and sales of semi-finished and finished products, buses and coaches, and assembly of cars, and with a turnover of €5.8 billion.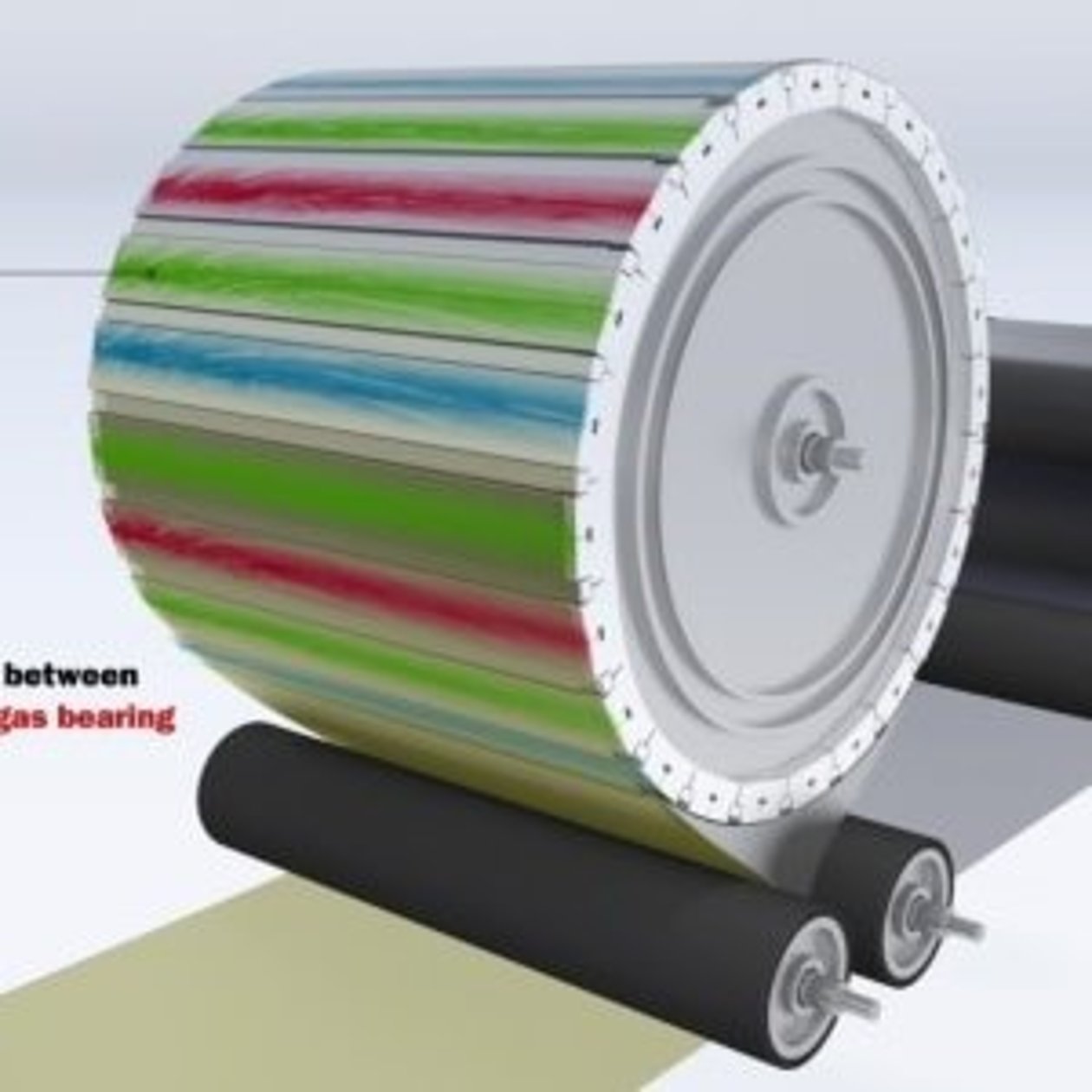 Holst Centre
At Holst Centre we develop, innovate and connect. We are an independent research and innovation centre, jointly operated by imec and TNO. We develop technology that responds to the global societal challenges of tomorrow and contributes to a healthier and more sustainable world. Our innovations are aimed at improving the vitality and wellbeing of people, and ensuring sustainable environments. We strengthen the economic power of our industry partners by developing world class, breakthrough technology solutions that they can bring to their markets. To help solve global challenges, we connect the Dutch Brainport region with a global ecosystem of industry partners and academia, enabling them to take advantage of each other's profound expertise.