---
Close
Close
BeefyGreen makes a mushroom-based meat substitute from local by-product streams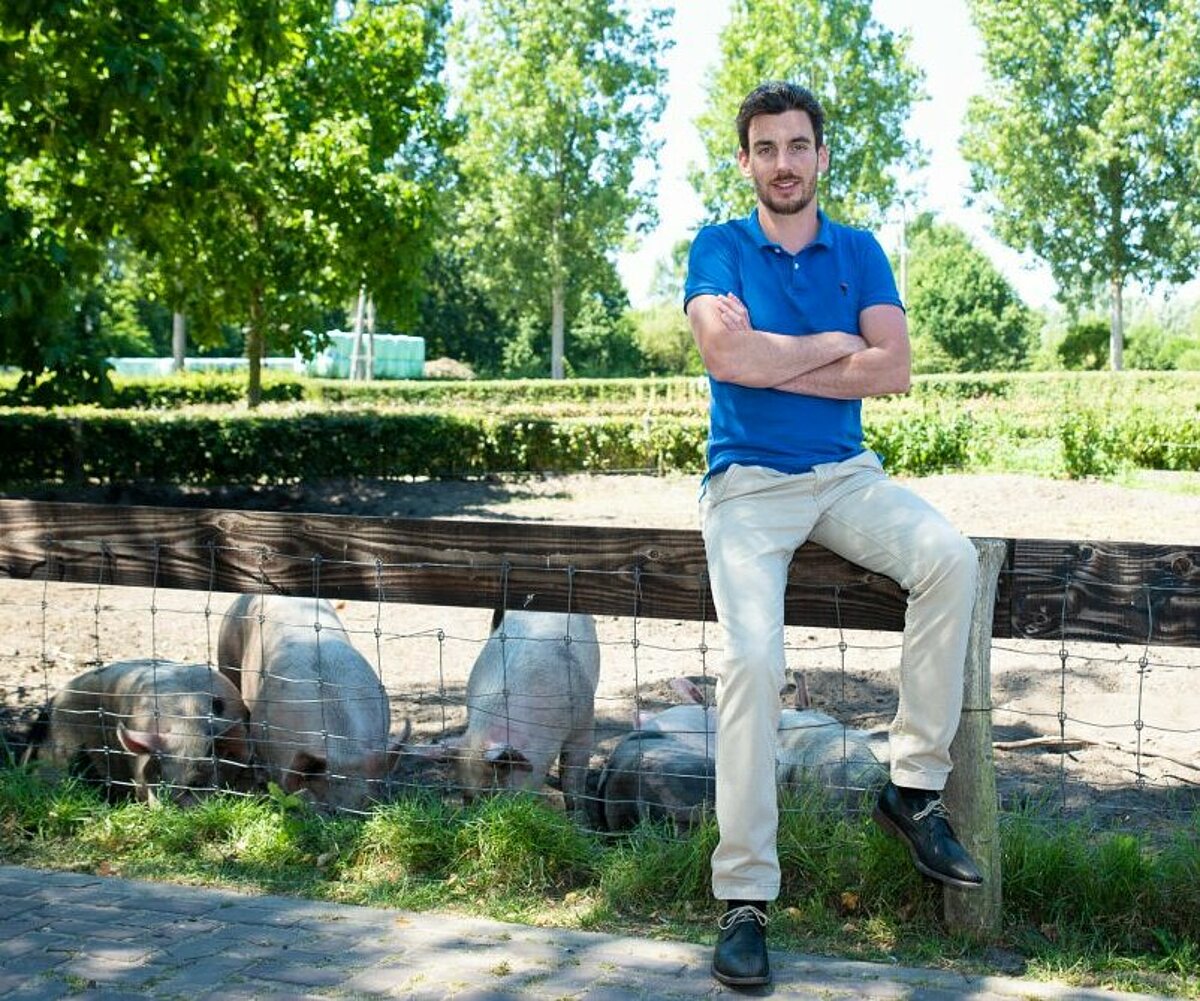 The stem of the oyster mushroom was basically suited for use as cattle feed. But now it has also proved ideal in meat substitutes.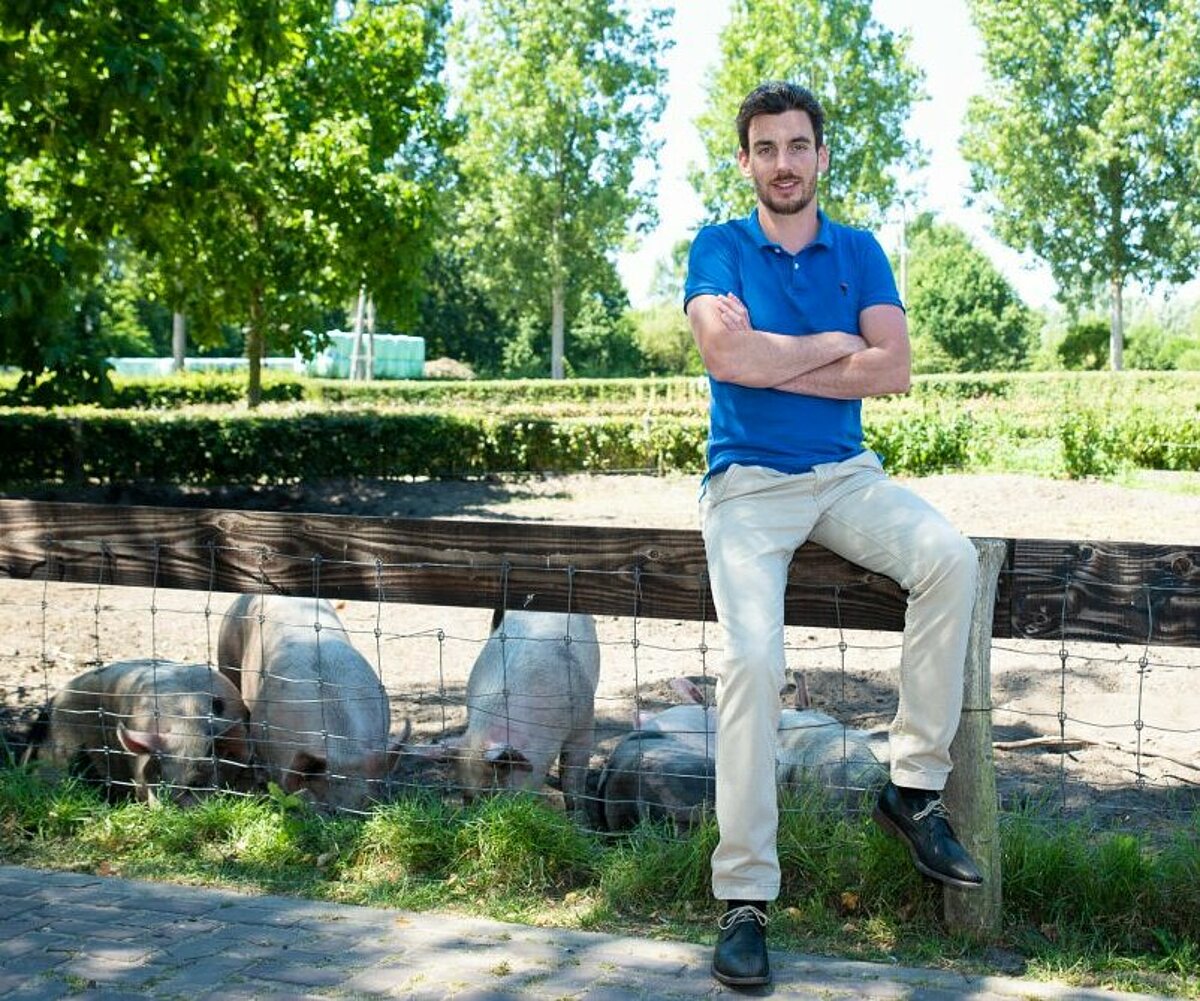 They were basically a by-product stream, left-overs from food production: oyster mushroom stems. This kind of food is often used as animal feed. The stems are too expensive for livestock farmers, says Frank Nouwens, owner of start-up BeefyGreen. "But it's a shame to throw them away too because there's still a lot of nutritional value in them." Together with the Dutch Verbruggen Paddestoelen BV mushroom farm in Erp, he developed a vegetarian meat alternative that ultimately ends up in some form on the shelves of supermarkets. "Because of its chewy texture, it feels a lot like meat."
Georgia
Nouwens fell into the oyster mushroom world when he did an internship at the Dutch embassy in Georgia. As a marketing and export student at the Fontys University of Applied Sciences in the Dutch city of Eindhoven, he advised Dutch companies that wanted to do business in Georgia. A Georgian entrepreneur asked Nouwens to help him cultivate mushrooms. "I don't have an agricultural background and didn't know anything about mushrooms. His 'kameraad' (comrade in English), as Nouwens calls him, also approached him because the Netherlands is known for its mushroom cultivation techniques. Nouwens then looked for know-how and help for him: "Who the technology suppliers are, who knows how to construct a mushroom farm, and who can supply the associated climate control technology? At that time, it was still unclear if it was going to be about mushrooms or oyster mushrooms."
Oyster mushrooms are very different from, for example, carrots, broccoli, or button mushrooms that are sometimes mixed into meat, says Nouwens. "An oyster mushroom and a button mushroom may both come from the same genus, but they are two totally different families. The button mushroom is a soft and beautiful mushroom; the oyster mushroom is a tough little guy." Only the tops of oyster mushrooms are found in the veggie section of a store. The stems are really too tough just like that," Nouwens explains.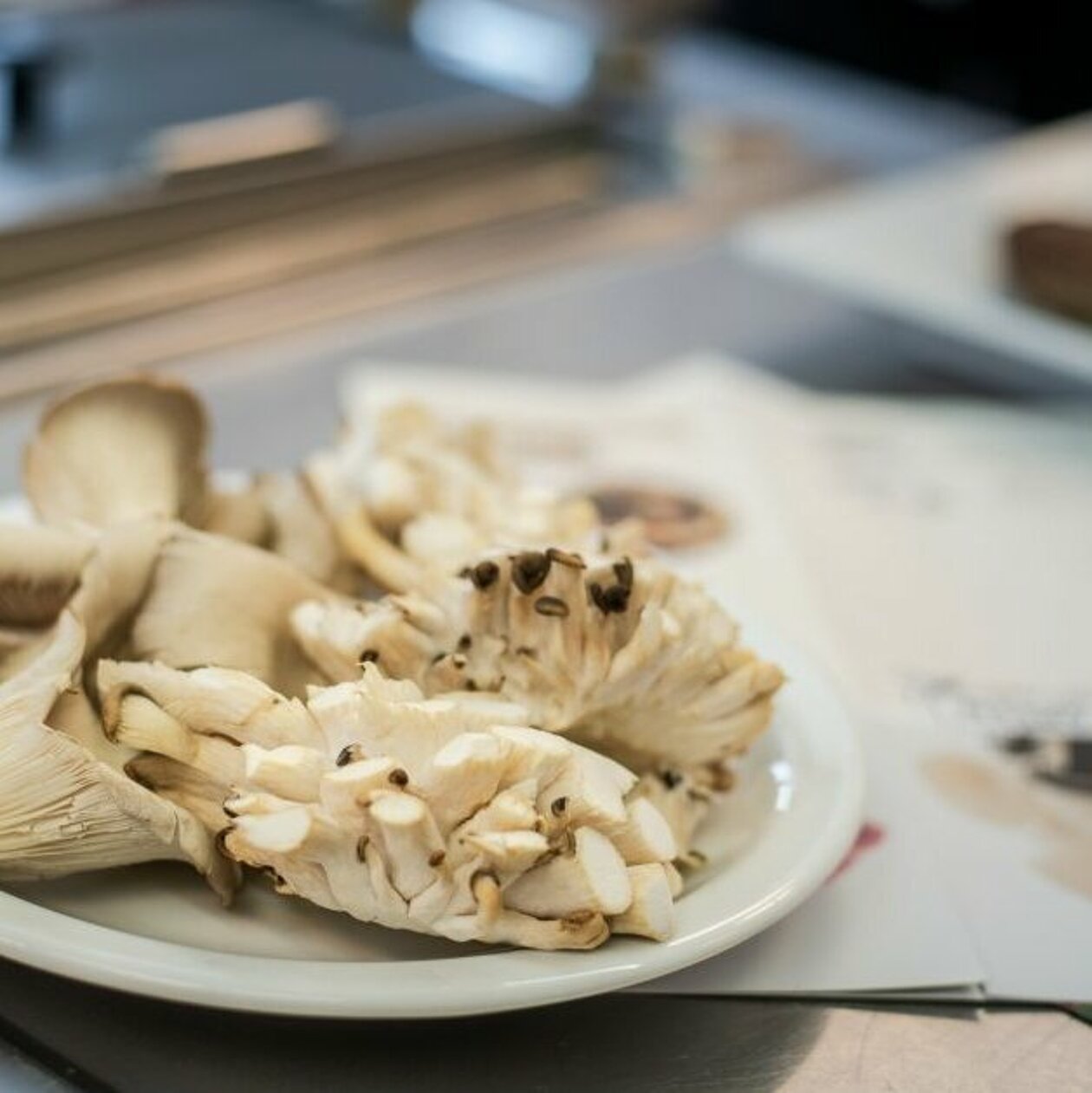 Fleshy
"But they're very fleshy." Once they've been minced, they have the texture of meat. As the stem is white, it can be colored in a natural way like pork or beef. "It also has a subtle mushroom flavor. Which opens up a lot of possibilities. I sometimes say: 'Adding 50% means enriching your product 100%.' If you mix half an onion or carrot or tofu into your meat, that's more likely to spoil your lovely slice of beef or pork."
This Georgian has been growing oyster mushrooms for a number of years since then and Nouwens has found a new 'project.' Because, as he himself says: "I like to explore new things and see how you can bring them to the market." A grower from Erp, who had helped the Georgian to set up the mushroom farm, asked if Nouwens wanted to work together to do something worthwhile with the oyster mushroom stems. "What was left over was the waste that was thrown away which actually cost money. "
Products for human consumption
Cattle feed is frequently made from food by-products. "That's just like candy for a cow. But farmers don't have the money to buy it. And farmers find it too expensive anyway. Hay or pellets, for example, are much cheaper." That's why the idea arose to turn it into a product for human consumption.
The butcher from around the corner
Nouwens first met this mushroom grower from Erp in 2017. This meeting led to the birth of BeefyGreen. Nouwens worked on the idea at the farm in Erp. "We didn't know very much back then." Nouwens did some market research and approached food technologists, vegetarian food producers and the butcher from around the corner. "Then I took one of those blue crates of oyster mushroom stems to the Beerens butcher's shop and they then used them to make a hamburger."
"Beerens thought it was an interesting product. That's how the ball started rolling. At a certain point, there were regular customers and a steady turnover. Those customers wanted more and other companies signed up as customers too." Things grew so fast that it started to take up too much of the mushroom grower's time. "As far as he was concerned, the goal had been accomplished – value was added to a by-product. He did not want to start another new business. He asked me if I minded going it alone."
That wasn't a problem for Nouwens. He runs BeefyGreen on his own. Initially from the farm in Erp, but since June 1st from Food Tech Brainport in Helmond, also in the Netherlands. An ideal location, according to Nouwens.
"The focus in Eindhoven is mainly on high tech, design, robots, that sort of thing. Here in Helmond, the focus is more on food and the automotive sector. Food Tech Brainport is seriously invested in food. Not only do I get support here in developing the product, but I also get financial support through subsidies." From a logistical angle, it's very practical as well. "I can park a truck at a bay here. I can also use certified coolers for storage."
Nouwens is also exploring what other types of work he can do at the Food Tech Campus, "maybe quality measurement or product development." BeefyGreen is also working on new processing techniques for oyster mushrooms as part of the Europea Interreg's Cotemaco project.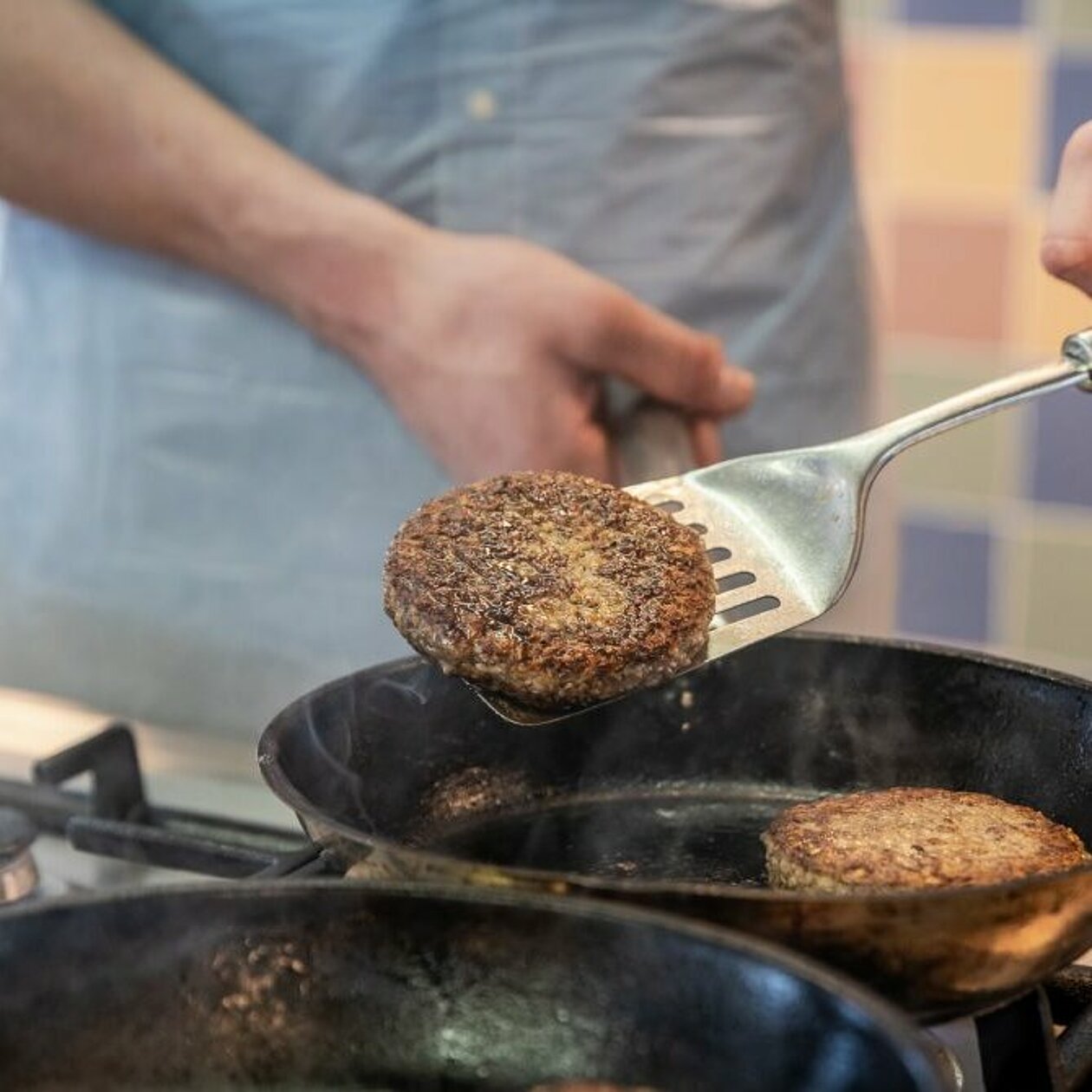 Oyster mushroom tartare
BeefyGreen products are not available in supermarkets as such. "BeefyGreen supplies the foodstuffs industry. BeefyGreen's raw ingredients are in the recipes of products that we buy in the supermarket." Sometimes a food producer puts it explicitly on the packaging, but sometimes it only says in the small print next to the ingredients that the product contains oyster mushrooms, says Nouwens. "Many of our clients appreciate the fact that they have a more sustainable product thanks to this ingredient. Whether they communicate this to the outside world is up to them."
Recently, a new partner – VAVdivers – joined BeefyGreen's client base. The company is launching a new product "oyster mushroom tartare" which allows artisanal butchers to prepare homemade vega or hybrid burgers.
Nouwens may be running BeefyGreen on his own, but he tends to work closely with local entrepreneurs. "BeefyGreen is surrounded by several suppliers and I myself am a client of a food technologist, salesman, marketing agency, quality manager. I basically bring people together. Like a grower, a supplier, and a transporter who brings the mushrooms from Erp to here, for example."
The hobby meat grinder
Even though it wasn't per se the main incentive for him to bring the mushroom stems onto the market, Nouwens also thinks it's important that he is contributing to a better future this way. "At least a future in which we eat less animal protein. He likes to eat lean meat and meat on the bone. Once a week he mixes oyster mushrooms with meat using a mincer. "I'm not going to be asking people just to eat oyster mushrooms. All you have to do is put at least 25% oyster mushrooms in your meat dish, that's it. You won't taste or smell it. Your product is still the same, just with less saturated fat, maybe even richer in nutrients."
What Nouwens likes most is that it isn't mass production that ends up disappearing in bulk overseas. "Here, we are growing a new product locally using a by-product stream, which we then supply to Dutch and Flemish food companies."
Article by Innovation Origins.
Photos by Frans Claassen.