---
Close
Close
Test location for 'life saving' 5G network
The mobile 5G network can save lives. That is the important message of the 5G Hub on High Tech Campus Eindhoven. During its opening in January 2020, Philips, GGZ and the Catharina Hospital in Eindhoven demonstrated the connected ambulance. The extremely fast and very reliable 5G network can provide a real-time connection between ambulance staff and doctors. Enabling doctors to make a faster diagnosis and thus providing better treatment.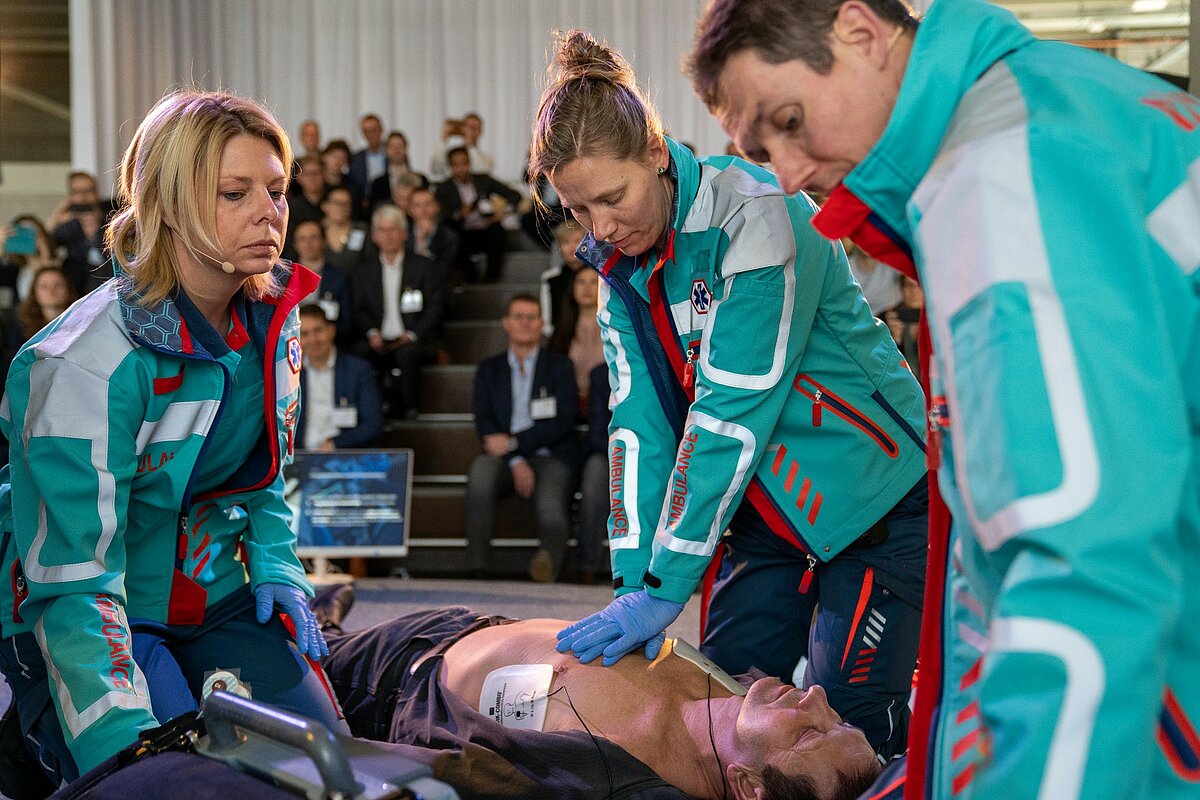 Currently, the patient is often first brought to the hospital, where doctors will examine him or her to be able to make a diagnosis. Only then treatment, such as administering the right medicine, can start. In some cases, where large equipment is needed for example, this process cannot be changed. But most hospital equipment is becoming ever smaller and easier to carry. Allowing paramedics to make an ultrasound on the spot or en route to the hospital for example. Via the 5G network, a doctor can watch the ultrasound in real time and give instructions to the paramedics on site. Allowing for an immediate diagnosis so the patient can immediately start with the right treatment and take appropriate medication.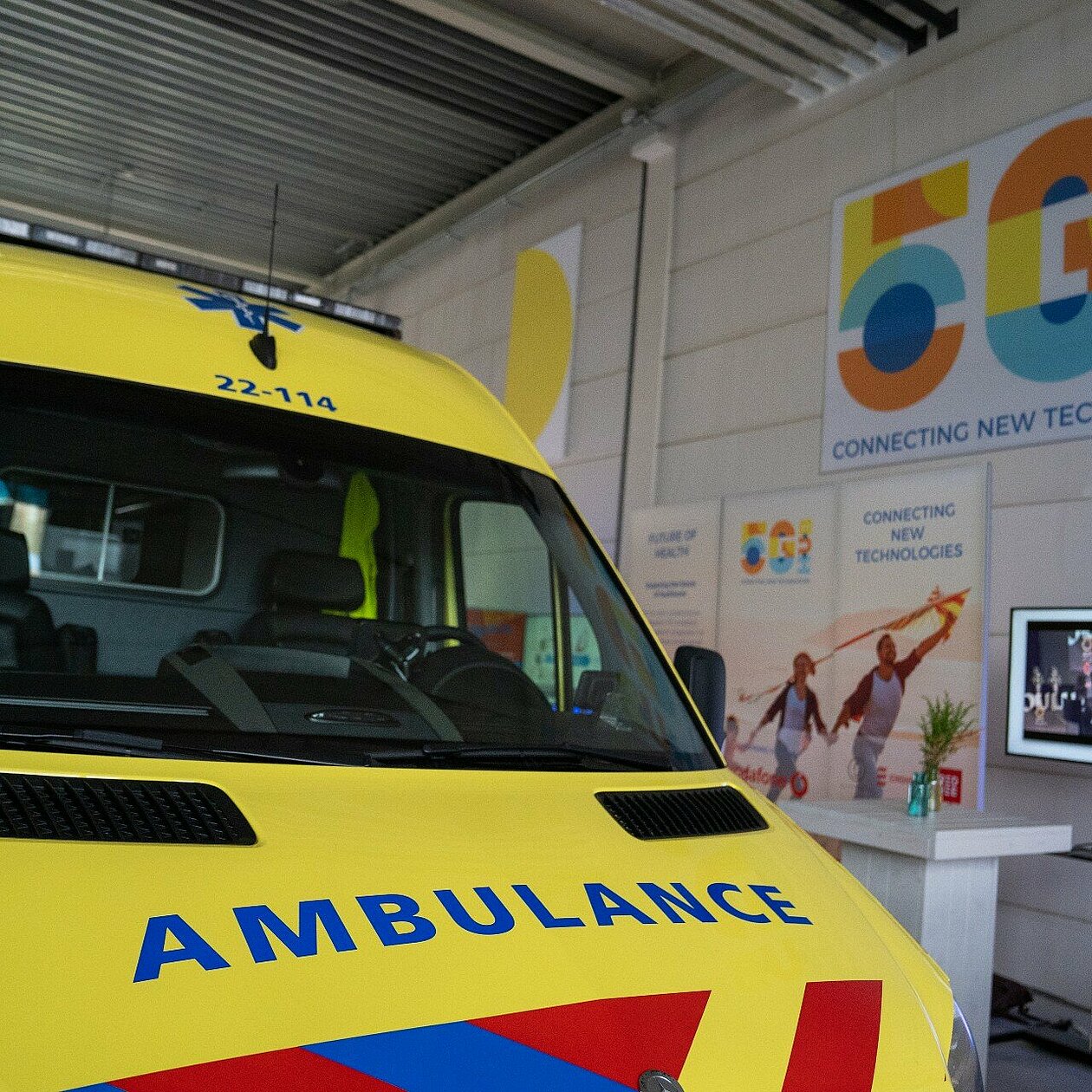 Fast and reliable
This is only possible via 5G, since it is faster and more reliable than the current network. In situations like these, it is paramount that the connection works properly and doesn't malfunction. Moreover, more devices can be connected via 5G than via the current network. The 5G network doesn't only connect ambulances with hospitals, but also hospitals with other hospitals. Allowing top doctors to communicate with each other in a faster and better way.
Using drones as an ambulance
The ability to make faster diagnoses and to consult with one another in a faster way allows medical staff to provide better healthcare. But Avular, a startup based in Eindhoven, is even thinking further ahead. The time it takes for the ambulance to arrive after 112 has been called, can also be used to provide care. Those minutes are especially important when someone is having a cardiac arrest. That is why Avular is developing an AED carrying drone that will immediately fly to the scene of the emergency. "The drone only needs the coordinates of the scene of the emergency, which will be provided by the control room", Yuri Steinbuch, head of operations at Avular, explains. Nowadays, AEDs can 'talk' to the user, instructing him or her on how to use the device. "This way, bystanders can already start resuscitating before the ambulance arrives." Swedish research shows that the chances of someone surviving a cardiac arrest will increase from 8 to 80% if such a drone is used.
Use tech for good
That is why High Tech Campus Eindhoven and the 5G Hub are using the slogan 'use tech for good'. The future 5G network can be used for endless applications. The ultimate goal is to help society in any way whatsoever. Knowledge organizations, students and companies, from startups to multinationals, are working together in the Hub. They are using the extremely fast network to develop and test new applications.

The network is provided by VodafoneZiggo and the equipment is from Ericsson. These two companies founded the Hub together with Brainport Development and High Tech Campus Eindhoven. To develop and test applications, but also to inspire companies and public authorities to use the 5G technology. They want to build a community in which people can help each other. "5G is only a technology. The true value is in the use cases jointly developed by universities and companies", says John Zijlmans, General Director at Ericsson.
5G can be used for medical applications, but it can also play a major role in industry and agriculture. For example, processes can be optimized, because 5G enables machines to communicate with one another. Drones can be used to inspect crops and transfer data to ensure that any diseases are readily detected. Furthermore, it can be used for very practical applications.
Digitization is gaining momentum
Sentors, for example, is developing a smart camera that recognizes the numbers of sea containers. Each sea container has its own unique code, a kind of license plate. "Now, truck drivers and logistics companies need a lot of time to complete the administrative processing of a load. A lot of paperwork is involved. We think that can be done in a much more efficient and modern way. The camera will scan the container and the number is immediately stored", Sander Maas, co-founder of Sentors, explains. Both existing software, like license plate recognition, and proprietary software is integrated in the camera. "It provides a unique solution to a problem many small and medium-sized companies are faced with."
In almost all sectors, 5G is contributing to innovation. In the coming period, several entrepreneurs and scientists are working hard in the new Hub in Eindhoven to develop applications that make the world a more beautiful, easier or better place to live in.
Source: Innovation Origins
Last updated at 22-10-2020