---
Close
Close
Start-up that will turn the trucking industry on its head
Start-up that will turn the trucking industry on its head: Smesh is a boyhood dream come true!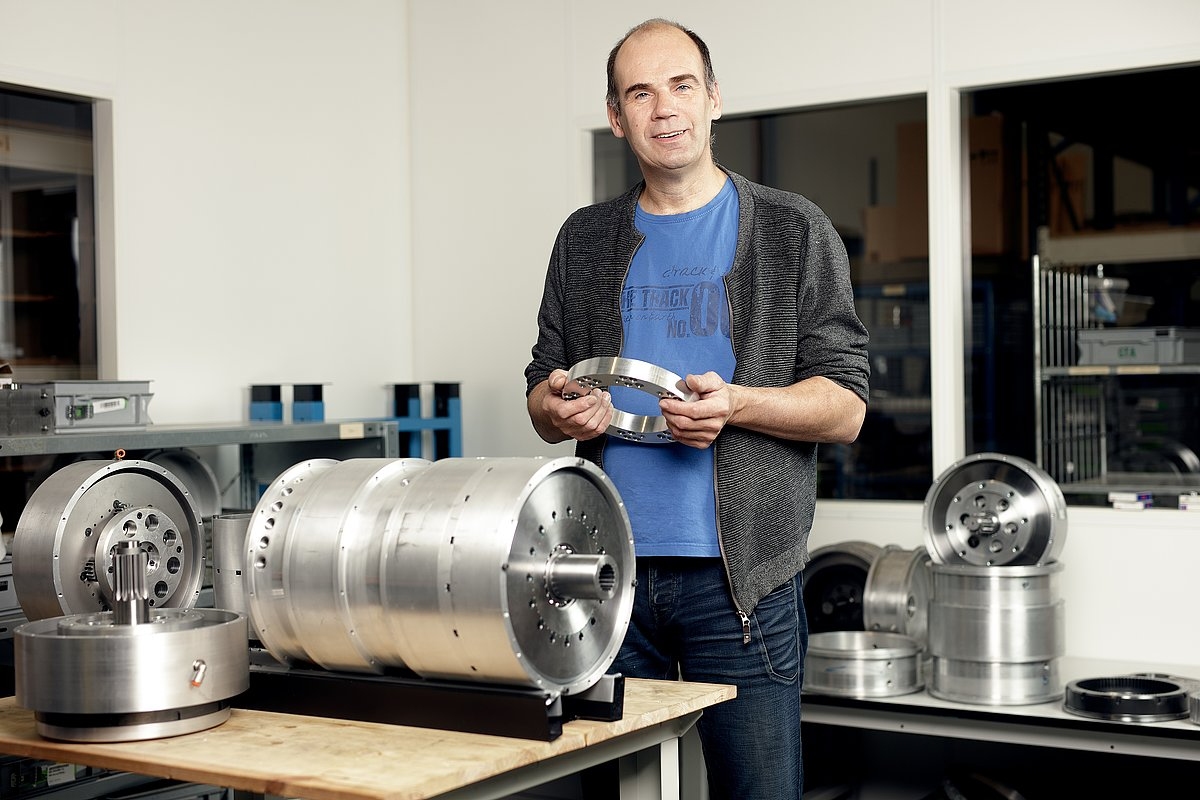 Lauwers remembers all too well the moment he got that flash of inspiration. "I saw a rusty, ventilated brake disc. When you brake with that, you almost push the brake discs together and the blades get crushed. It took me a while, but out of that hunch was born the idea as it is now being put into practice. An operating system for a planetary gear system with an efficiency of one hundred percent."
''Smesh' is an acronym of 'smart, easy shift'. Lauwers: "Gears may not be as sexy as electricity at the moment, but my invention is proving to be indispensable."
Battle between starting power, speed and efficiency
An efficiency of one hundred percent sounds almost too good to be true. Rino Both, Marketing Manager at Smesh-E Axle, explains that the technology basically does nothing more than switch the gears on when they are needed and off when they are not. "As soon as you switch to one-to-one, you don't need the gears anymore, whereas in a traditional gearbox, the gears are still spinning. You lose energy doing that. Smesh Gear disables the gears so that they no longer provide any resistance and the energy from the battery can be used much more efficiently."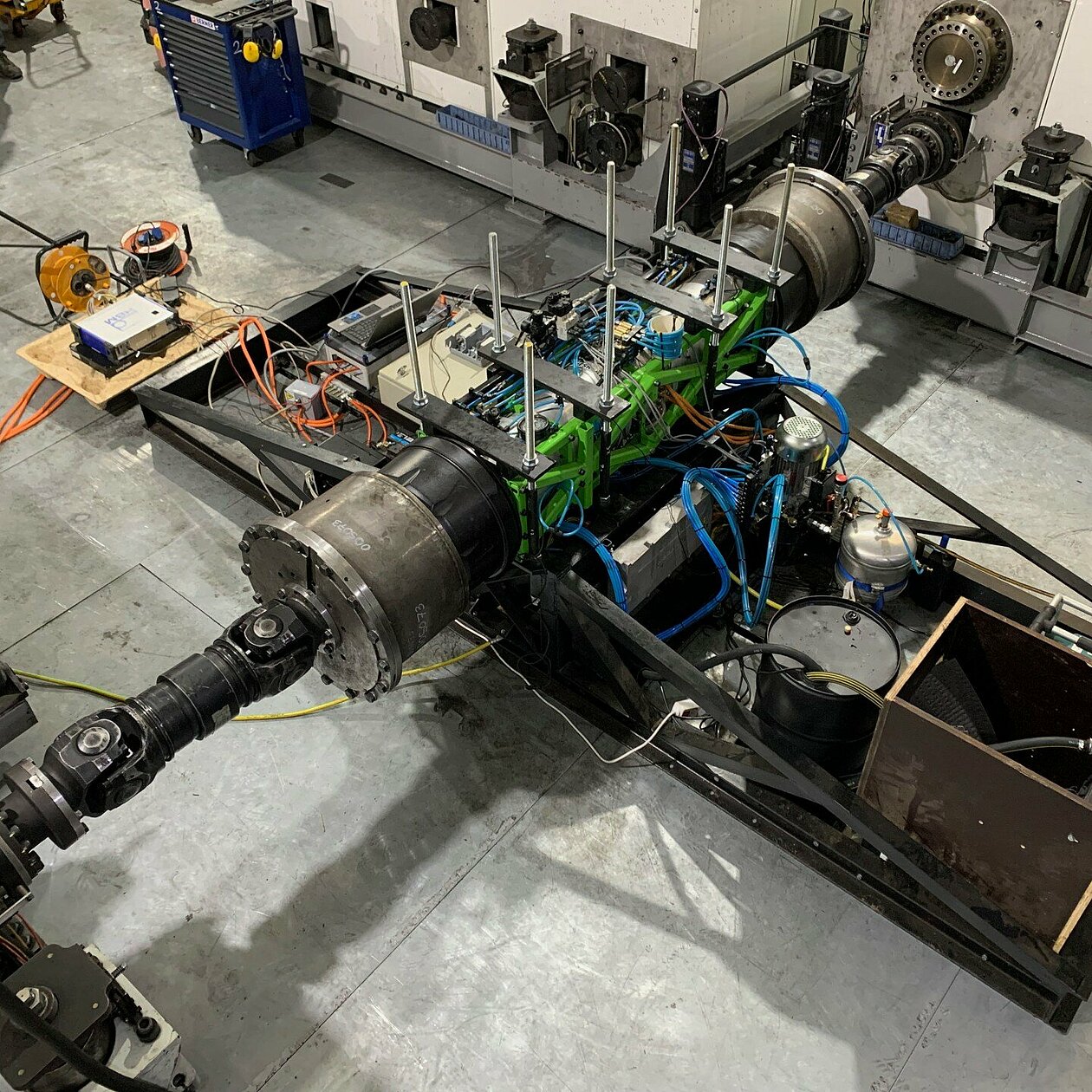 Lauwers explains why gears are also needed in electric vehicles: "Virtually all machines and vehicles operate at different speeds. Every engine - whether it' s a combustion or electric one - has an 'ideal' rev range. That's where the engine is at its most powerful and efficient."
Smesh's inventor compares a gear to a rotating lever that can turn a small rotational force into a large rotational force. "When a car drives off, it needs the greatest amount of power on wheels. An electric motor is powerful when it starts to pull away, but not strong enough. Consequently, a mechanical deceleration is needed. The downside of that deceleration is that the top speed drops, and the high-efficiency range suffers even more from that deceleration."
SmeshGear sees to it that the two different areas of operation - starting and speed - are each assigned a separate delay; switching between these makes a vehicle powerful and efficient. "Wherever starting power and speed do battle, that is, anywhere where there is a wheel, you can apply our control system, e.g. to a drivetrain, in an electric bicycle or car, or in a wind turbine. I don't want to say that I have reinvented the wheel, but anywhere there is a wheel, there can be a SmeshGear," Lauwers smiles.
Application in trucks
Smesh is focusing on the application of this technology in electric trucks together with a number of companies from the Brainport Region, including GTA from Someren. This partnership is called Smesh-E Axle.
Heavy electric trucks are almost non-existent. Yet the adoption of them can be accelerated with Smesh-E Axle. Lauwers: "We are going to make sure that the energy consumption of a truck is halved, which will double the range of an electric truck. Moreover, our powertrain is so compact that it fits in with the motors and transmission in the rear axle. As a result, the truck has twice the amount of installation space. For example, you can carry up to 50% more batteries or hydrogen. That only increases the range."
"We are at the dawn of a new era."
Both sees the technology as a catalyst that gives electric driving for heavy transport at an edge. "Research by Interact Analysis, a research agency in England, shows that heavy transport [above seventeen tons, ed.] in Europe could make the switch to electric between 2030 and 2035. They estimate that our technology can accelerate this process by five years."
Smesh-E Axle's goal is to make an electric truck competitive - economically and technically - with a fossil-fueled truck. "We are at the dawn of a new era. The European Union has stipulated that industry must emit a net 55 percent reduction in greenhouse gases by 2030 compared to 1990. By 2050, CO2 emissions must be reduced to zero. More and more cities will close their centers to polluting trucks and there is also enormous pressure from consumers to drive greener. It has got to happen," Both states.
"I never dreamed I would be having conversations like that."
Independent validation
In order to move on to the next step towards production, an independent test must take place so that the company can prove that the technology works. That test is due to be completed this year at the automotive testing laboratory Greenmot in France. "We did conduct our own tests. We see that the tractive force of a truck equipped with SmeshGear is greater than that of a diesel truck. In fact, compared to current electric trucks, our tractive force is three times greater," says Both.
From a flash of inspiration to a company on the verge of changing the trucking industry; for Lauwers, it is a boyhood dream come true. "We are now at the stage where we will prove in practice that our idea works. The other day we had a conversation with an innovation manager of a company that has 25,000 vehicles driving around Europe. He is interested in our application. I never dreamed I would be having conversations like that."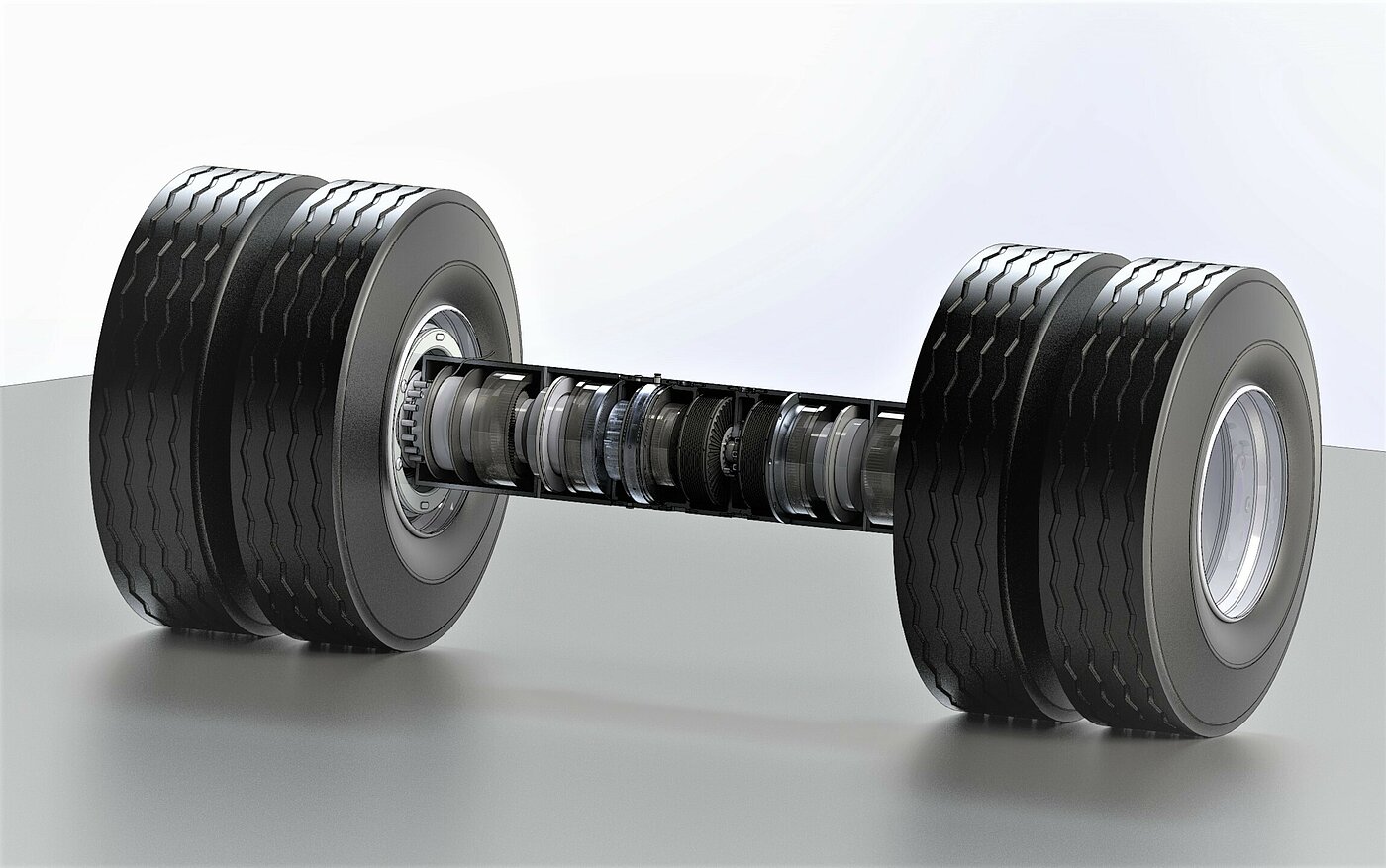 Help from the ecosystem
The Brainport ecosystem is playing an important role for Smesh-E Axle. Both: "Coming up with a good product is one thing. Proving how it works in practice is another. But turning it into a business is one more step. You do not do that alone, we are doing it together with companies and knowledge institutions from the Brainport region."
After the independent testing, the start-up wants to manufacture and sell axles for ten trucks so that transporters can test them in actual practice. Tricky, because customers want to try first and buy later. "So, it's a chicken-and-egg story. Transporters only buy once the end product is there, but the end product is not there until it is bought," says Lauwers. From the ecosystem's point of view, it would help Smesh-E Axle if they were given financial support. "Specialist knowledge and partners who can help move the innovation forward are also welcome," adds Both.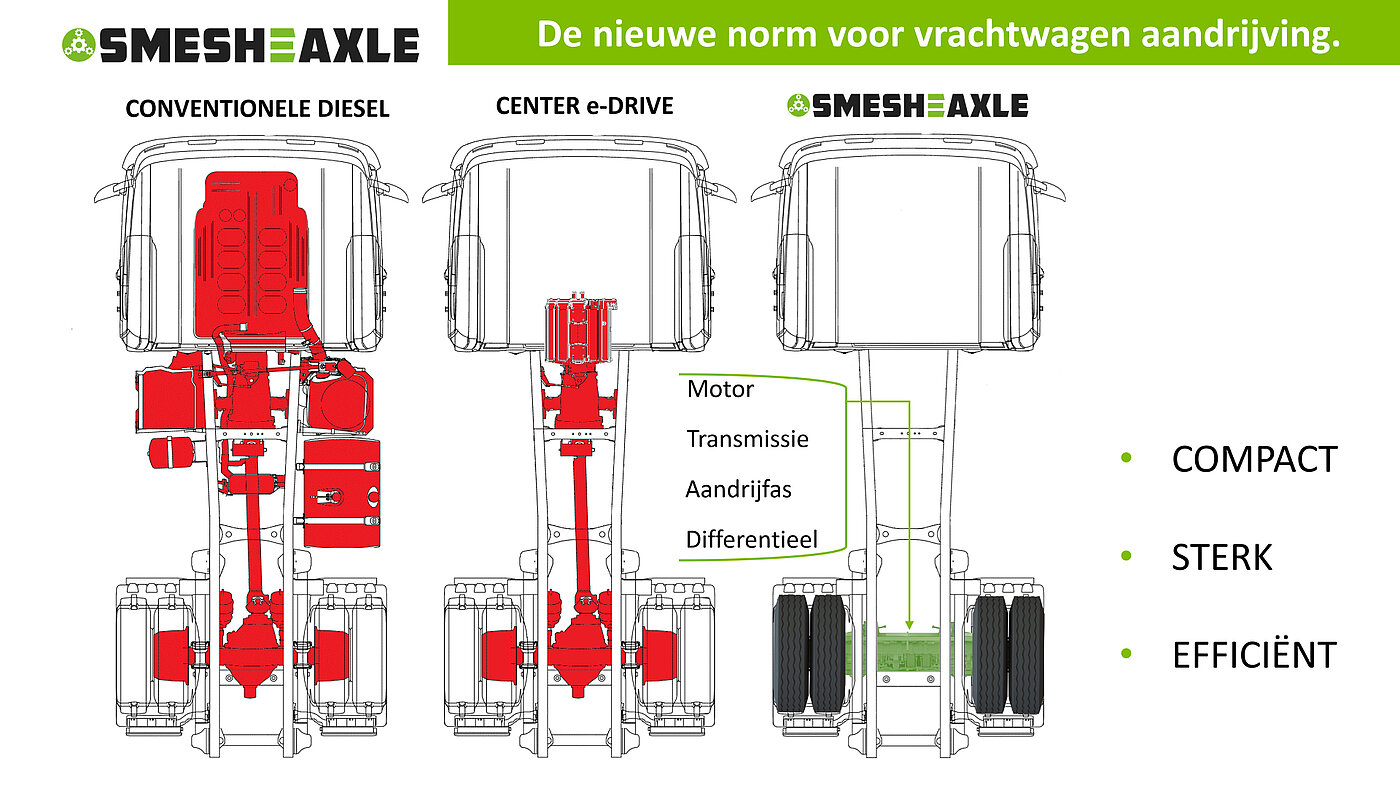 Mobility Lab
The startup has been participating in the Mobility Lab, a program of Brainport Development in which innovative start-ups are coached. Lauwers: "This is how we came into contact with A. Jansen BV from Son, for example. They are active in the field of infrastructure, recycling and concrete and do that based on a sustainable vision. We plan to look at the possibilities together - that allows A. Jansen BV to gain experience and for us it is an opportunity to prove Smesh-E Axle under difficult conditions in the field."
"We are leaving the phase that we are pioneering," adds Both. "We are going to have our technology tested professionally, so we can prove that it works. Once that is done, we will suddenly become a real company. Mobility Lab is supporting us in that process."