---
Close
Close
AI is a profession on its own that still needs to mature
Remco Schoenmakers is Director Digital Science at Thermo Fisher Scientific's electron microscope division in Eindhoven and is responsible for the company's global AI Center of Excellence. To the multinational, Artificial Intelligence is the key to next level automation aimed at controlling hardware such as electron microscopes, keeping machines in optimal condition and improving software. The possibilities are endless and collaboration with industry and knowledge institutes is very important. "As a profession AI is still in its infancy, only by collaborating you can make it grow into adulthood."
"I started my career at Philips Medical Systems where I worked on 3D visualization for MR and CT," says Remco. "I transferred to the division that became FEI and I contributed to the first electron microscopes that were automated. There, I used the expertise in the field of image processing that I acquired during my PhD in astrophysics for the development of smart algorithms for 3D reconstruction. "
Thermo Fisher Scientific's AI Center of Excellence
"After having been group leader of the application software group and researching cloud computing, I became group leader of the Digital Science research team. There I did research into new algorithms and that eventually became AI. At that time, FEI was acquired by Thermo Fisher Scientific, a global company that is huge and diverse. As a result, my role shifted in a more strategic direction. Additionally,I am now coordinator of the AI ​​Center of Excellence for the entire company."
Ensuring knowledge sharing AI within the organization
"In my role as leader of the Center of Excellence I make sure that people talk to each other, that a network is created of people who are all working on this subject and that they share knowledge with each other. The center deals with all kinds of subjects, it is not only about electron microscopes but also, for example, chemical analysis, mass spectrometry, specialty diagnostics and so on."
AI in electron microscope Metrios AX
"In my role as Director Digital Science for the electron microscope division, I give guidance on the digital strategy. My team looks at what developments will become relevant, what we should learn more about and what we should add to our baggage. We already have a number of products on the market that contain AI algorithms. An example of this is our Metrios AX; an electron microscope that is used in the semiconductor industry for metrology and determining critical dimensions."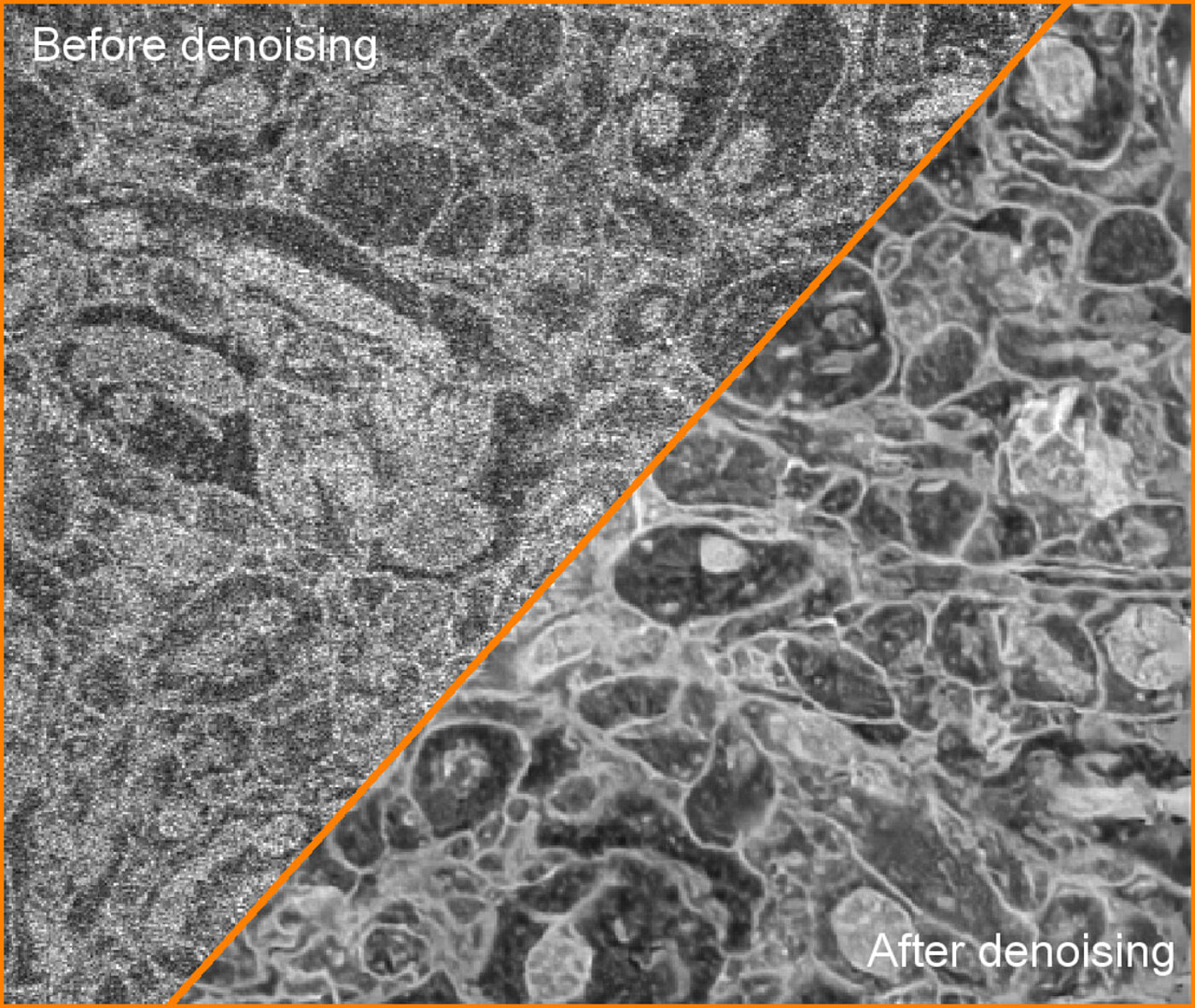 No longer dependent on operator's actions to zoom in on images
"First you have to take a sort of biopsy from a wafer. You do that about ten times, then you put the biopsies on a specimen carrier and that goes into the electron microscopes. You first have to retrace those biopsies, or lamella as they are called. When you have found one, you have to orient it neatly, zoom in on it and zoom in again, only then can you acquire the images before searching for the next lamella. It is kind of like Google Earth, but on a nanoscale. In the past the work was done by operators, but if you run 24/7, you really shouldn't be dependent on people."
Mechanism that enables customers to train AI themselves
"We have now developed an AI that can recognize lamella and interesting features. These will be different for every customer and, moreover, in the semicon industry you have to deal with company-sensitive information. This means that the AI ​​must be able to be trained by the customers themselves. We have therefore developed a mechanism that enables the customer to train the AI."
"AI should essentially be seen as a tool, just like software really, but AI is not software."
AI in software package Amira
"Another example is the more general training and visualization software Thermo Fisher Scientific develops. We do not only produce electron microscopes but also provide software. Amira is one of the best-known scientific 3D visualization packages on the planet. For decades, it has been used by researchers in the field of microscopy or materials science, for example, to visualize images.. AI is also part of this software."
AI algorithm that recognizes organelles
"If researchers are constantly setting up the same settings, they eventually wonder: 'why am I doing this?'. The AI ​​component in the Amira software enables that when a customer shows a number of the same objects, the software recognizes, adjusts and segments them. An example of an application for which this is useful is when you want to view organelles in cells. For example, a well-known type are mitochondria, which are the energy transformers of the cells. As a person you recognize them immediately, if you have seen three you recognize them all. It has a very clear structure but takes different forms. It's impossible for a classic algorithm, but an AI can figure it out."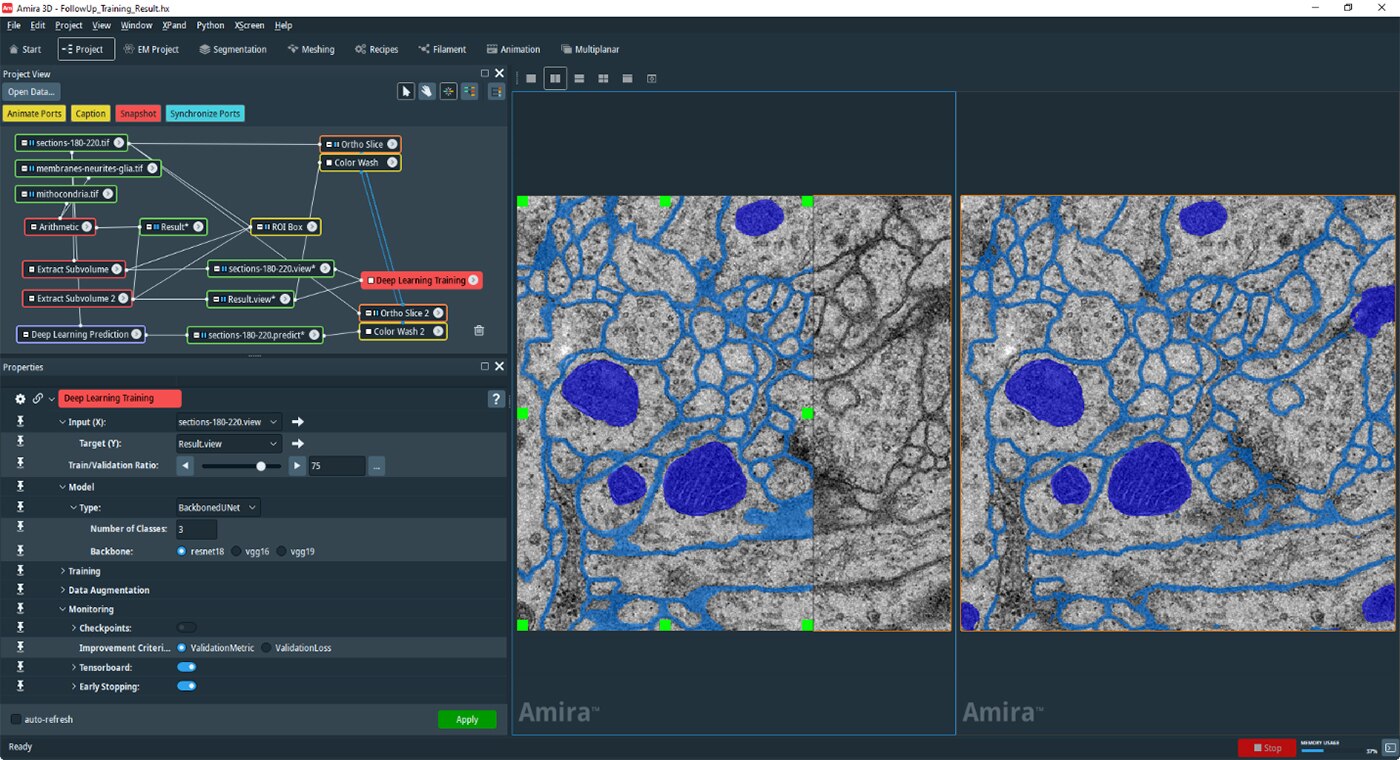 AI profession still needs to develop in terms of maturity
"AI should essentially be seen as a tool, just like software really, but AI is not software. If it contains a learning aspect, then you are talking about AI. AI is really a profession in its own because of the data aspect and the required domain knowledge. A profession that, when you compare it to software engineering, is still in its infancy and has to grow in terms of maturity. For example, you should be able to train an algorithm with much less data. Why do I have to show an AI fifty photos when a human only needs two? This maturation applies to the technology, processes and methods as well as to a generation of AI experts that must be educated."
European ASIMOV project nicest example so far
"I think the nicest example of an AI project at Thermo Fisher Scientific in Eindhoven is a project that is about to start. It concerns the ASIMOV project, a European project in which eighteen parties are involved and of which Thermo Fisher Scientific is the initiator and consortium lead. Four of the parties involved come from Brainport Eindhoven: TU/e(EAISI), TNO, CQM andus."
Keeping high-tech systems in optimal condition through AI
"What we want to investigate is whether AI's can keep high-tech cyber-physical systems such as our electron microscopes in optimal operating condition. These systems are very sensitive. We make images on an atomic scale. Deviating environmental conditions or minimal changes already cause disruption. The device must therefore always be calibrated. This is now done by operators who are trained to do so. It takes them many days of training to master that."
"The electron microscope branch of Thermo Fisher Scientific is one of the most advanced high-tech branches of our company, in that respect we are in the right place here in the region."
Training AI using Digital Twin
"The project involves training AI algorithms to calibrate the microscopes. Theoretically, this can be done by making a Digital Twin of the parts and processes that it must be able to control. We do this to make sure the model shows the right behavior, and we make it in such a way that it responds correctly. Then we can train the AI ​​on that. This is much faster and more efficient than on the real instrument. If it works well on the Digital Twin, we can train it a few more times on the real instrument to verify it works on the real tool too."
Created through collaboration in Brainport
"The concept also resonated very well with other companies, such as a company in Germany that deals with autonomous vehicles and a company in Finland that operates in the paper and pulp industry. We were recently told that this project is being subsidized. Thanks to the good contacts we have in Brainport Eindhoven, we have succeeded in making this project concrete"
Ingredients needed to take AI to the next level
"In addition to this partnership, we also work together in many other settings, such as the Efficient Deep Learning association. For me, the power of collaboration lies in obtaining fresh, new insights. The electron microscope branch of Thermo Fisher Scientific is one of the most advanced high-tech branches of our company, in that respect we are in the right place here in the region. There is a lot of cross-pollination here. In order to take AI further together, it is important to have a clear idea of ​​what AI means for the customer. In addition, fundamental research must be properly secured and the industry must be helped with the distribution of AI, the professionalization and control of AI. The Netherlands has enormous potential at our universities. It is important to invest in relationship, time, attention and money."