---
Close
Close
Working on high-level multi-disciplinary projects for leading companies
Lazaros Kefalidis moved to the Netherlands in 2015 for a professional doctorate in automotive systems design at Eindhoven University of Technology. During the program he worked on a variety of multinational projects for various leading companies in the Brainport region. As the multi-disciplinary way of working and the great diversity suited him perfectly, he looked for an employer that could offer him a similar way of working. That is what he found at Sioux Technologies, where he now works as a System Designer in the Mechanical Department.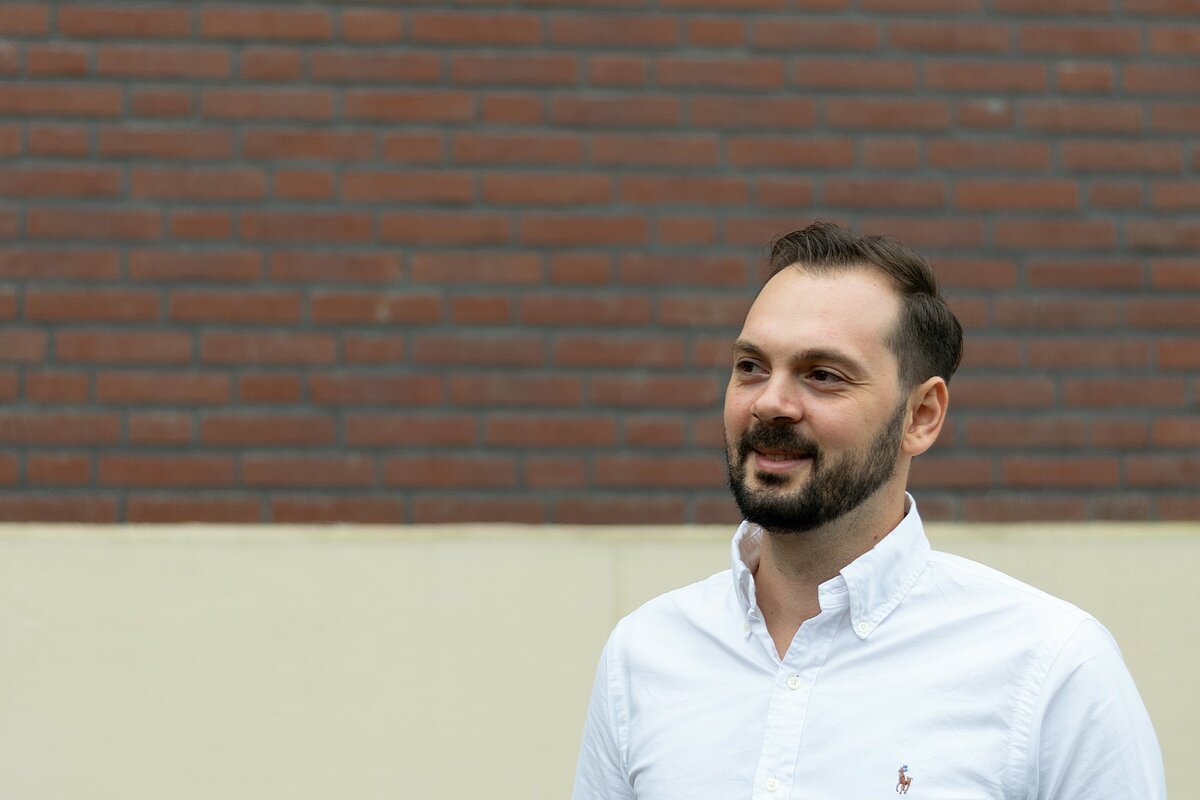 "My professional background started in mechanical engineering," says Lazaros; "I obtained my master's degree in mechanical engineering in Greece, and when I moved to the Netherlands I pursued a professional doctorate at Eindhoven University of Technology in automotive systems design. The program is called PDEng and during the program I worked with multiple leading companies in the region on multi-disciplinary projects on a higher level. I now combine my mechanical background and the systematic approach for concepts and projects at Sioux where I mainly work on semicon projects. I am a member of the Flow and Thermal Knowledge Group of the company, therefore my focus is on the semicon industry where thermal issues have to be solved."
Great diversity and lots of chances for personal development
"After my PDEng I was looking for a similar way of working as I did during the program. That is what I found at Sioux. What I really like about working here are the interactions with different people, different companies and different disciplines. This, in combination with all the challenging projects we have, and the fact that Sioux works on developing both the company and the people makes it very appealing and attractive."
Technological challenges and different disciplines attract people from all over the world
"The Netherlands and more specific, the Brainport Eindhoven region is an ideal place for me when it comes to living and working because of two aspects. The first aspect concerns the technological challenges and the different disciplines that you experience in your work environment. This leads to the second aspect: all these opportunities attract people from all over the world and these people bring together different cultures, different ways of thinking and different techniques."
Interdisciplinary approach called Systems Engineering typical for Brainport
What also characterizes the Brainport Eindhoven region is a methodology called Systems Engineering. It is a way of working in which different disciplines come together, that is unique in the world. I find this very appealing. An approach during which you work with building blocks in your work, optimize them and combine the different disciplines that you might need to apply in your project in single units. It also has to do with the reusability of the knowledge that you gain and applying it for different companies and different projects at the same time. This at the end minimizes the amount of work that a company needs to spend on the different aspects and enables better communication between the disciplines and the projects coming together.
Open, friendly culture and easy to integrate
"All of the aspects I mentioned before make it an excellent region to develop yourself and for working and living. Before I moved to the Netherlands for my PDEng I did research into different cultures. The Dutch culture matched my mentality best. People are very open, friendly, and keen to work with you. They help you integrate. Moreover, there is not a real language barrier, everyone speaks English. I still try to integrate as much as possible and learn Dutch but it is not really necessary to work and live here."

This is an interview with three international talents who work at Sioux Technologies. You can also read the full interviews with Tatiana Ungureanu and Xi Luo.