---
Close
Close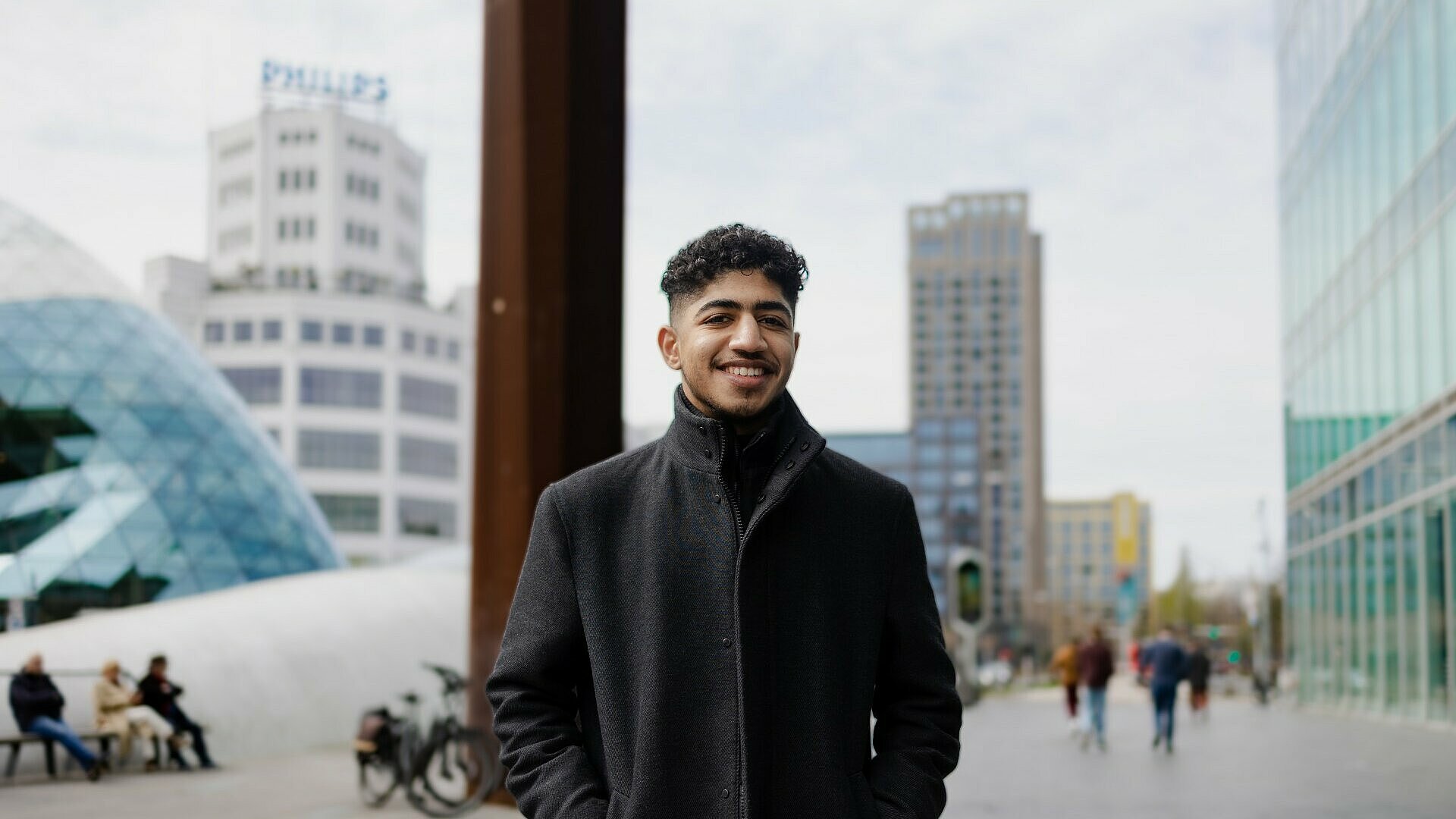 Khalid: Home is aspirations
Home is where the heart is
Meet Khalid, a 23-year-old mechatronics student from Oman doing his bachelor's at Fontys University of Applied Sciences and his minor with Fontys Pulsed. Khalid came to the region thanks to a scholarship, but it's here to stay. Khalid finds Brainport Eindhoven the best place to develop himself and his new home away from home. Keep reading to discover more of his story and why Brainport Eindhoven is more than just one of the biggest tech regions in the world.
What is home to you?
Home, for me, is not the place you were born or where you are originally from. That's basically, I think, the old mindset of some people. And I don't think that's true because what really matters for me in my home is to have peace of mind and comfort and that the values of the environment I am in align with mine.
Do you feel at home in the Netherlands?
I am very ambitious and have dreams and aspirations that I want to achieve, and the best environment for me is in the Netherlands and in Eindhoven. As a student doing my bachelor's in mechatronics engineering, I am in one of the world's biggest technological places, and my country does not offer me the same opportunities.
I also notice that people here are really supportive. They really support you with your dreams, or when you have an idea, they are open to discussion. They would like to know more. I appreciate actually making an effort and doing it out of passion. And that's really obvious in the environment of Eindhoven. It's really sustainable for the mind, for the dreams, and for the goals.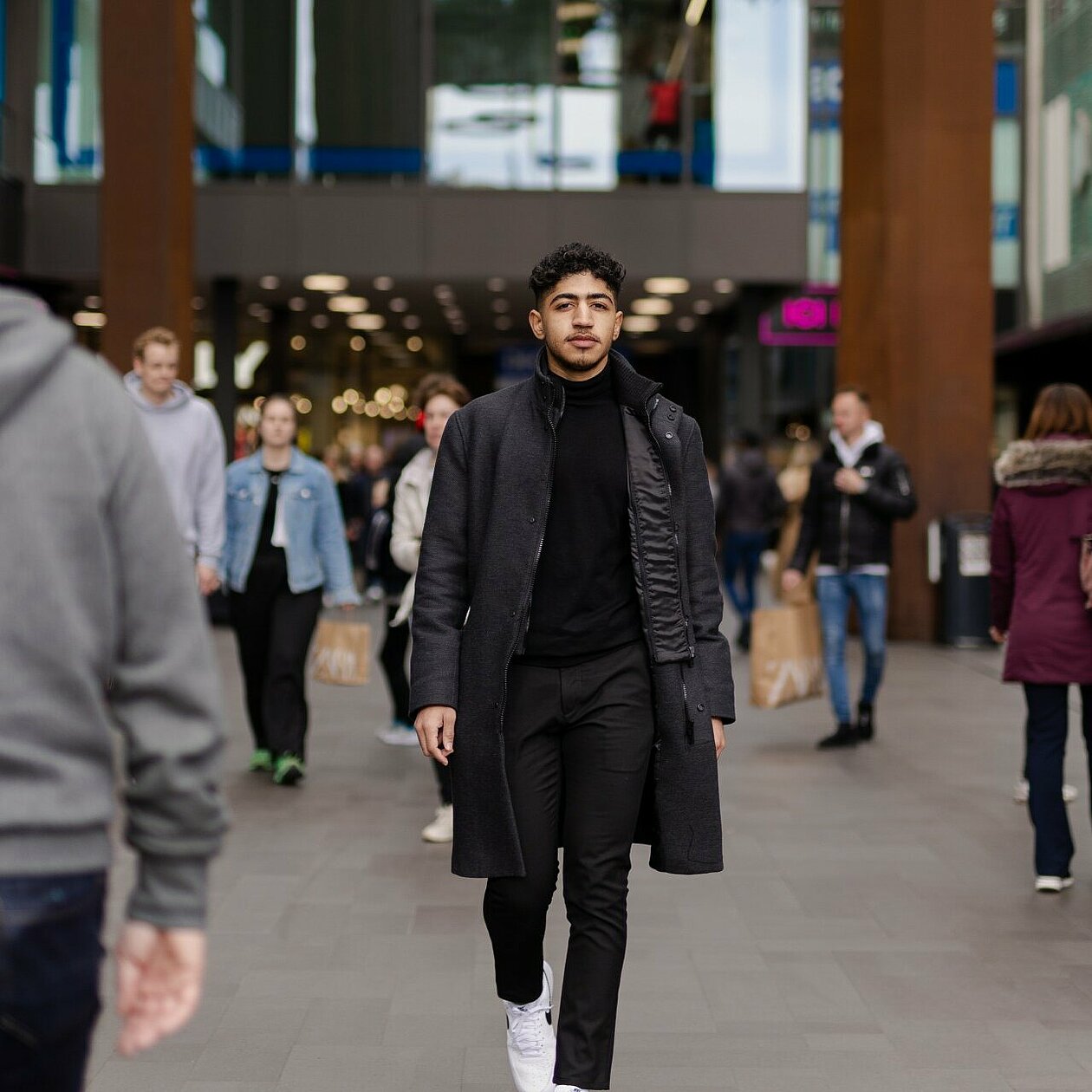 How long did it take for you to feel at home in Brainport Eindhoven?
It took me around five months, but there is a good reason behind it: I was limiting my social circle. I was focusing on school, and that's how my father raised me with the mentality of work, then home, work, home, and nothing more. So, I was just trapped within that mindset, which prolonged me from settling in the Netherlands and having that inner peace that this is a very good place to stay in and be in.
What makes you feel at home in the region?
Everything, to be honest. I really love the center of Eindhoven because I love shopping, I love design, and photography, and the center of Eindhoven has all of those components. That makes me feel comfortable and have peace, and that's what means home to me.
Also, my friends make me feel at home here, and the food, like shawarma in the Turkish street (Kruistraat) because it, kind of reminds me of back home. Basically, the environment of Eindhoven. Eindhoven's environment encompasses many cultures; it has everything you need. Whether you are from India or Arabic, you're going to find whatever you want, and it's multicultural, it's very mixed.
Have you met other people with a similar journey to yours?
The scholarship I came with was given to multiple people, and I met someone from the same country with the same major starting the same year as me. And I met my best friend who has a similar journey. He's Jordanian, doing the same major as me, he's really smart, and really loves the region as well, and he would also like to stay here.
What is one of your first memories that showed you how life is different here?
I have a story with the police that I think will give people an idea of the environment here. Basically, it was one of my first days here, and I was cycling, trying to navigate to a restaurant to meet a friend. And it was night, and I was using Google Maps on my bicycle. Suddenly someone told me to stop, and I turned my back. It's 2 police officers on bicycles wearing blue. I was kind of scared, but they looked friendly. They started talking to me in Dutch, and I said, "I don't speak Dutch. I speak English." Then they started explaining in English that I was not supposed to be on my phone while cycling, and I told them that I was sorry and didn't know. And they let it slide because they could see I don't speak Dutch. And I was like, WOW! the police are friendly here. Looking back, it's funny, but I learned my lesson.
How did you meet your friends here?
At school. We didn't really connect for the first 1-2 years because we were just seeing each other from afar and weren't talking to each other. But then we had a project last semester and were working on the same thing. And we discovered we have good chemistry and energy and also school brings us together. Now I also have more friends from the minor as well. It's all about connection. If you are willing to start small talks, you will have a very big circle. But in the beginning, I was trying to avoid that, which is why it took me longer to expand my social circle.
Do you feel you can be yourself in Brainport Eindhoven?
Yes, definitely. 100% in this region. You can do whatever you want, talk about whatever you want, and be whoever you want. Sometimes, I wear my slippers outside because I don't feel like changing to go to the supermarket. Yes, people might look at me, but they don't make a big deal out of it. In my country, people make a big deal about the image you portray but not here. I mean, who really cares about that? I don't.
"People here are really welcoming; even without you asking, they really want to help."
If you could give any advice to someone that just moved here, what would you tell them so they can feel more at home?
Try to find a social circle but don't forget your goals. It's important to have a balance between your social life and your studies or your job. Try to feel like your most comfortable self and try to not treat your life here as if it's just temporary. Try to live it and make the most out of your experience, and then you'll see that it's, maybe, even better than in your hometown.
Would you encourage other internationals to move to Brainport Eindhoven?
It would be the best decision you could ever make in your whole life. Because this is one of the biggest regions, especially if they're in the tech field. This is one of the biggest tech regions in Europe, if not the world. And I knew that from the beginning, that was one of the reasons why I came to Eindhoven and the Netherlands to do my bachelors because this is the best environment for technical people to grow and have an impact in the world.
And another reason, in the Netherlands, they work to live, not the other way around. In other parts of the world, it's all about work, and companies take advantage of that, but in the Netherlands is pretty sustainable. There's a very nice balance between your profession and your social life, and you can actually live comfortably.
And could Brainport Eindhoven be your forever home?
Yeah, definitely 100%. I'm aiming to stay here forever.
I noticed that whenever I go back home for a while, I kind of lose myself, and I don't understand it. It's purely psychological. But when I am back in Eindhoven, everything with me goes back to normal. I know now for sure, 100%, that I want to stay in Eindhoven forever if I can. That's my desire, but I don't know if that's what the future has in store for me.
"I know now for sure, 100%, that I want to stay in Eindhoven forever if I can."
Tips for further exploration
Discover more of this European tech hub.
Check out the other stories