---
Close
Close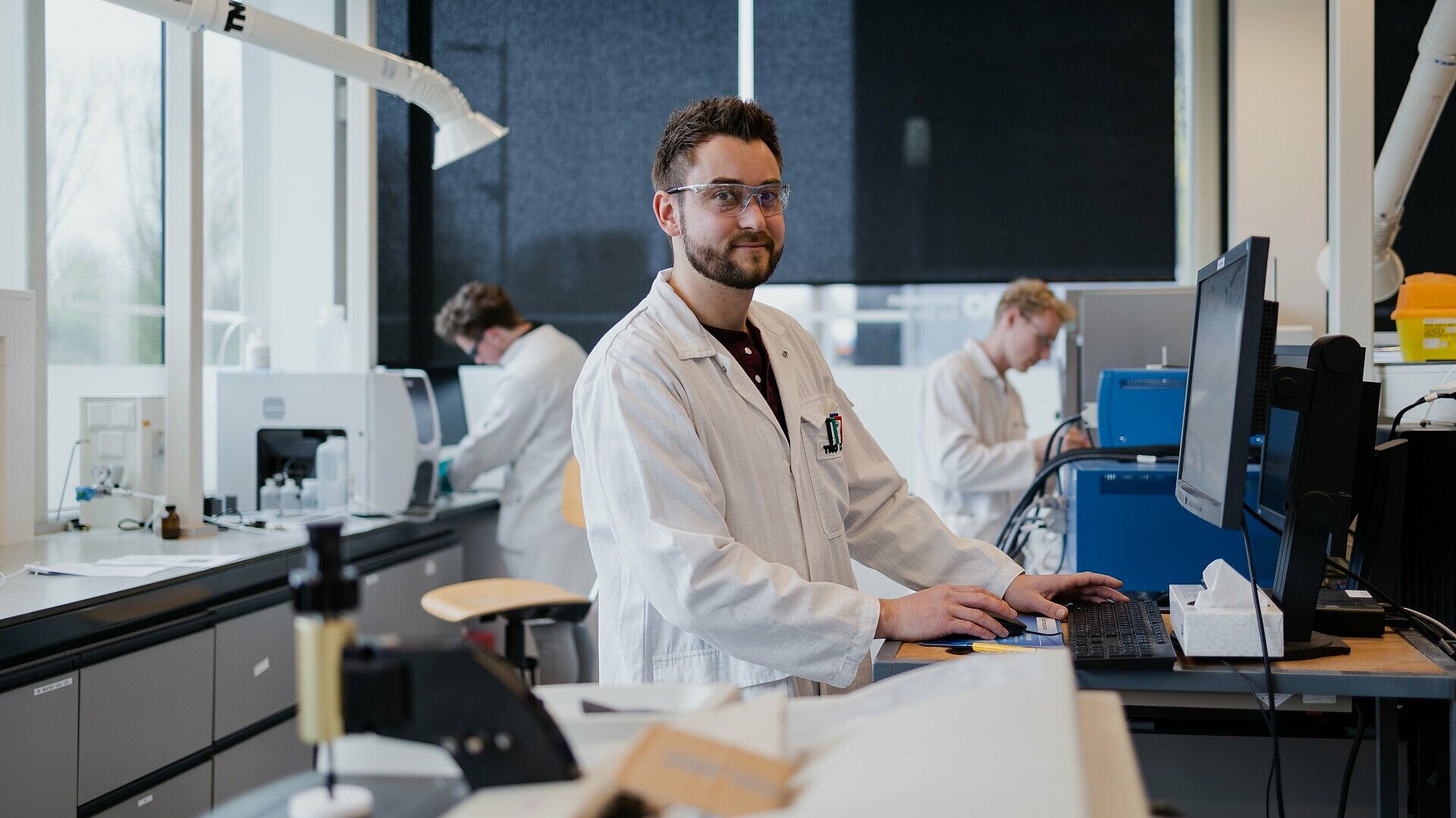 Benjamin: Home is the lab
Home is where the heart is
Meet Benjamin, a 33-year-old from Germany who has lived in the Netherlands for 13 years. And while Benjamin's story in the Netherlands is not new, he is new when it comes to Brainport Eindhoven, but he has found a job that he can call home in the region at TNO in the Materials Solutions department. Keep reading to discover more about how home can be your workplace because it's so much more than just a job in tech.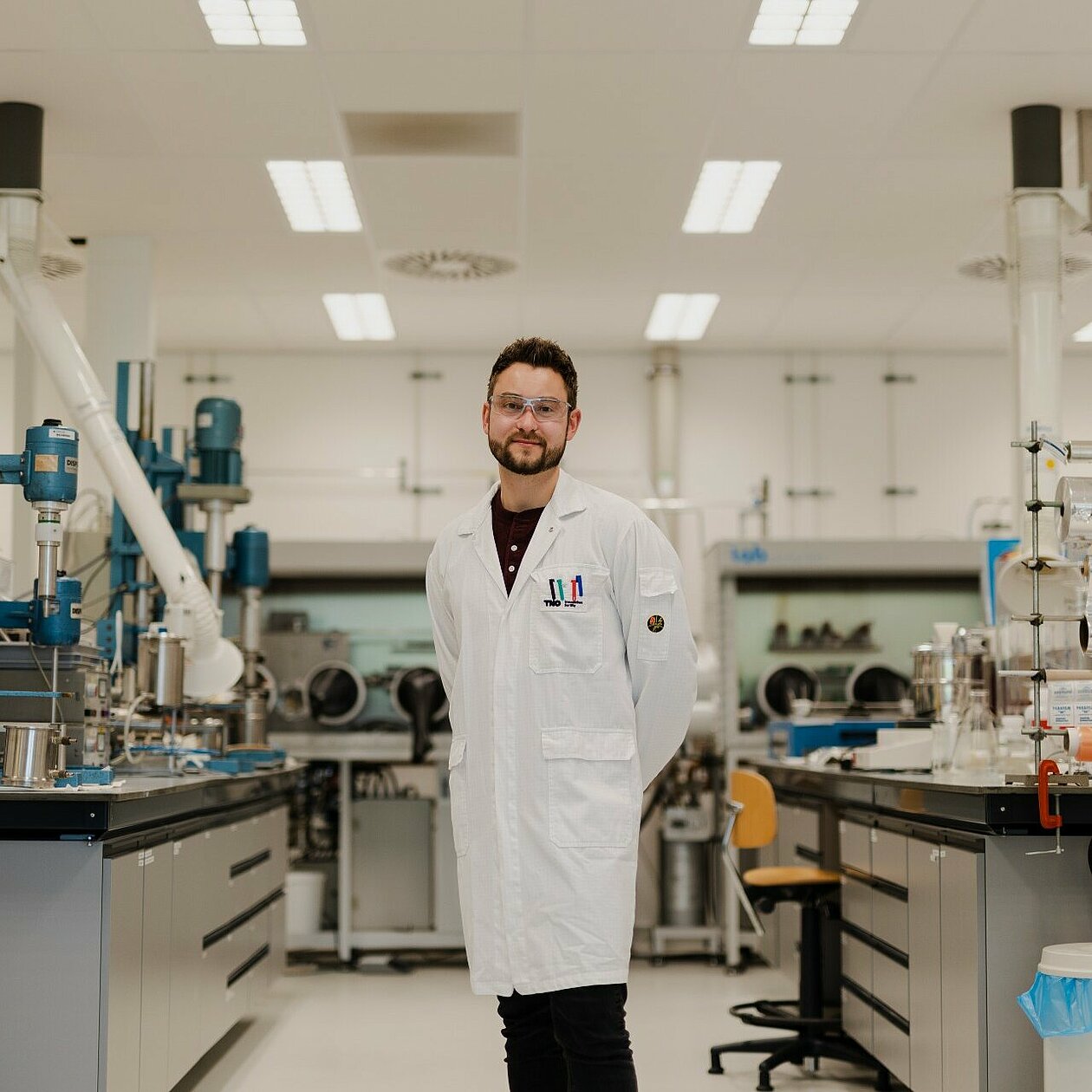 What is home?
Home, for me, is more like an environment. If it is at my actual home, I always look for things rooted in how I grew up. For example, I grew up in Germany, and we love barbeques, so I look for places where that's possible with green areas. I also grew up in a place with a lot of light, so my home needs light. And every time I look for a place, I take my phone, put in the compass, and see if the windows face East or West. Seriously this is extremely important to me.
And at work, what makes me feel at home is an environment where I can express myself and do what I always wanted to do; that's why I became a scientist and ended up working at TNO.
How long have you been working at TNO? And tell us about your journey before getting hired.
I started working around 5 months, so actually still very fresh. TNO has a Materials Solutions department in Eindhoven dedicated to innovative chemistry on a material level, which I am very interested in. When I was there for the interview, I saw the labs and instantly felt right at home, and it was no question for me that that's where I wanted to work. I get satisfaction when I can apply my knowledge and research to something that can hopefully help or make the life of people better, and I have the tools and environment for that at TNO.
"...the lab at TNO because I feel quite comfortable there. The day basically flies by if you really enjoy what you're doing, and that's exactly the case for me here."
What makes you feel at home in Brainport Eindhoven?
First and foremost, it's really the lab at TNO because I feel quite comfortable there. The day basically flies by if you really enjoy what you're doing, and that's exactly the case for me here. On the other hand, I really enjoy the High Tech Campus because of the offers; it has so many food places! It might be funny, but eating is quite important for me. And if the sun is out, it's even better because you go outside for a little walk and find a restaurant, and your lunch becomes much better.
I also feel at home at the office, which is also very nice. The offices at TNO have an open layout and can be flex spaces, which I like, and also the colleagues. You know, you get into a routine you like thanks to a nice environment.
How long did it take for you to feel at home at work?
It's not instant, but it took me a little bit of time. You need to get used or get to know how certain things work. It took some time for me to get acquainted with my surroundings, but once you settle in, you get surprised by how much this place has to offer, and that's great. Now I don't have to worry about making lunch because I know where to go. Next on my list is to go to the ramen place at the High Tech Campus.
How did you speed up the process to make yourself feel at home at work?
I brought my own coffee cup with a lot of chemical structures. I now have my desk, and I have all my utilities. I met other people who put plants and stuff like this. I'm not at that stage yet, but maybe I will be in the future. I will get there. Also, I have my workstation in the lab, and I have a table there completely equipped how I like it. You have the standard tables, but I have my table with all my materials there. I made it mine, which made me feel more at home.
There's a saying that goes, "Home is where the heart is." Where is your heart here in the region?
If you take it from the perspective of where you spend most of your time, you are 8 hours of the day at work, and I work here in the region. So, for me, my heart is at my workplace. And then, coming back to my profession, I love to do innovative chemistry, and Brainport Eindhoven is the best place to do it. I get satisfaction from the work I do for others, and the company helps by providing me with the right tools. I am part of something bigger here that I can see come to fruition from beginning to end.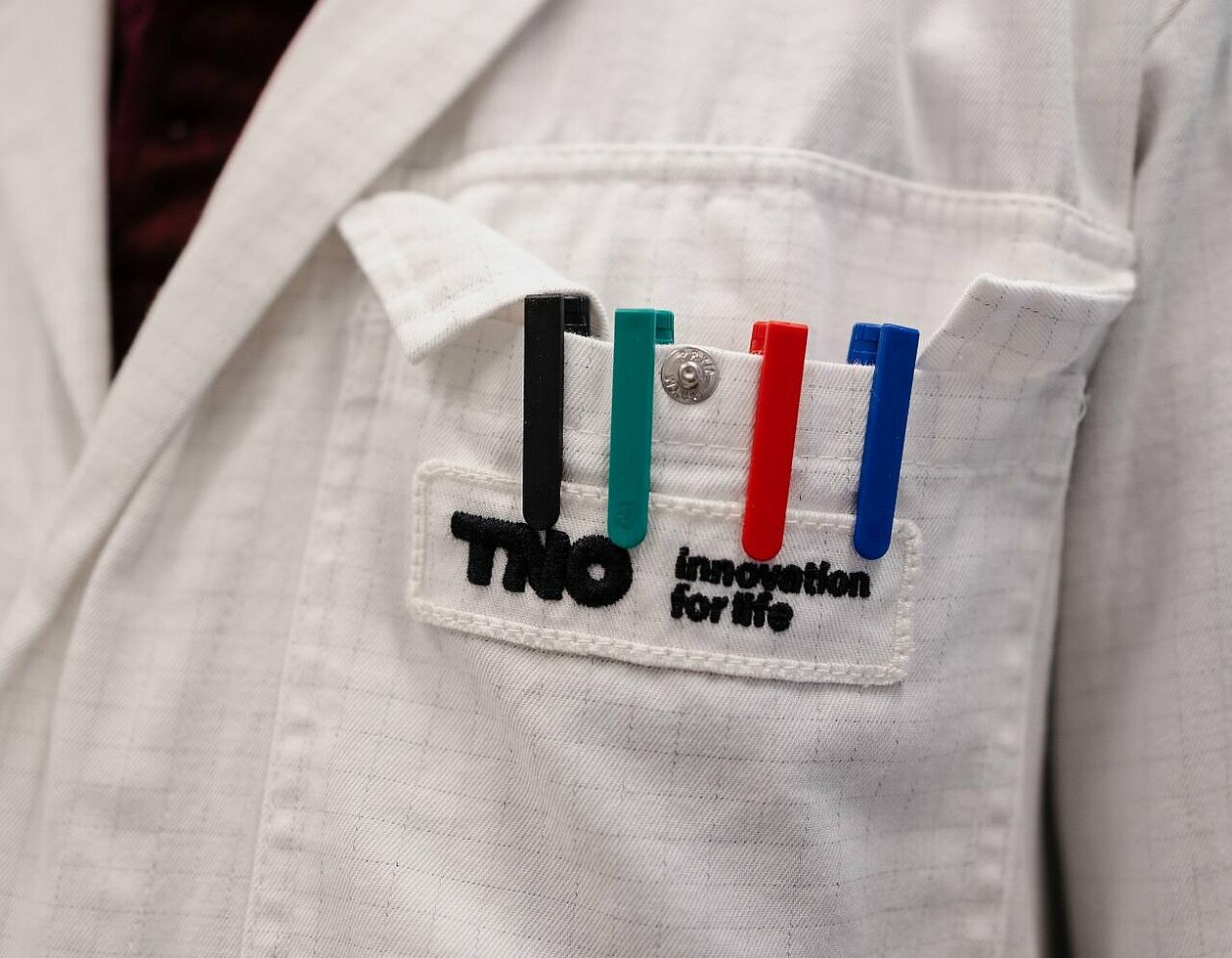 Does the work environment help to make you feel more at home?
Definitely, TNO is quite international, but it also combines the Dutch culture very well. My supervisor is also from Germany, and I have colleagues from Spain, Greece, and Turkey. But it goes two ways. You have the one way, which is the internationals, where you share the same experience of coming to the Netherlands, a new language, how to integrate, and the problems along the way, but at the same time, you also interact with your Dutch colleagues, and you can ask them about life here. And that's why I have lived here so long because I find that the Dutch are amazing in being so open with internationals, and they are kind and friendly.
Did your colleagues make you feel at home at work?
Oh yeah, for sure. First of all, they showed me the nice restaurants in the High Tech Campus. They also showed me around the lab. We have nice chats like I was recently on holiday in Italy, and the first day I was back at work, they asked me how it was and what I did. And I love that one of the initiatives when you start working at TNO, you go for coffee with a colleague. It's really part of your assignments, and that's an amazing way to know a company's work culture.
What advice would you give to others thinking about coming to work at Brainport Eindhoven?
I would say do your research or come and visit so you can see for yourself. The region has growth opportunities when it comes to the workplace and your career, and it is continuously developing. Just looking around, there are so many companies here; I think there won't be a shortage of jobs thanks to that. So definitely, if you can come and see it yourself.
"The region has growth opportunities when it comes to the workplace and your career, and it is continuously developing."
Tips for further exploration
Discover more of this European tech hub.
Check out the other stories