---
Close
Close
Home is where the heart is
Meet Andre, an ASML product owner from Brazil. For Andre, Brainport Eindhoven in the Netherlands feels like home when he can combine his two passions, music and sports. Luckily, the region has the perfect place for Andre where his passions come together, the PSV stadium. His story is of persistence, passion, and being true to oneself. Exactly what a Brainport Eindhoven pioneer should be. Read more to know his story.
What is home to you?
Home, to me, is a place where I feel myself. A place where I belong, where people know, recognize and help me. A place where I can rely on my colleagues and friends and where I have my activities and things I like to do. For me, home is the place where I can have all these.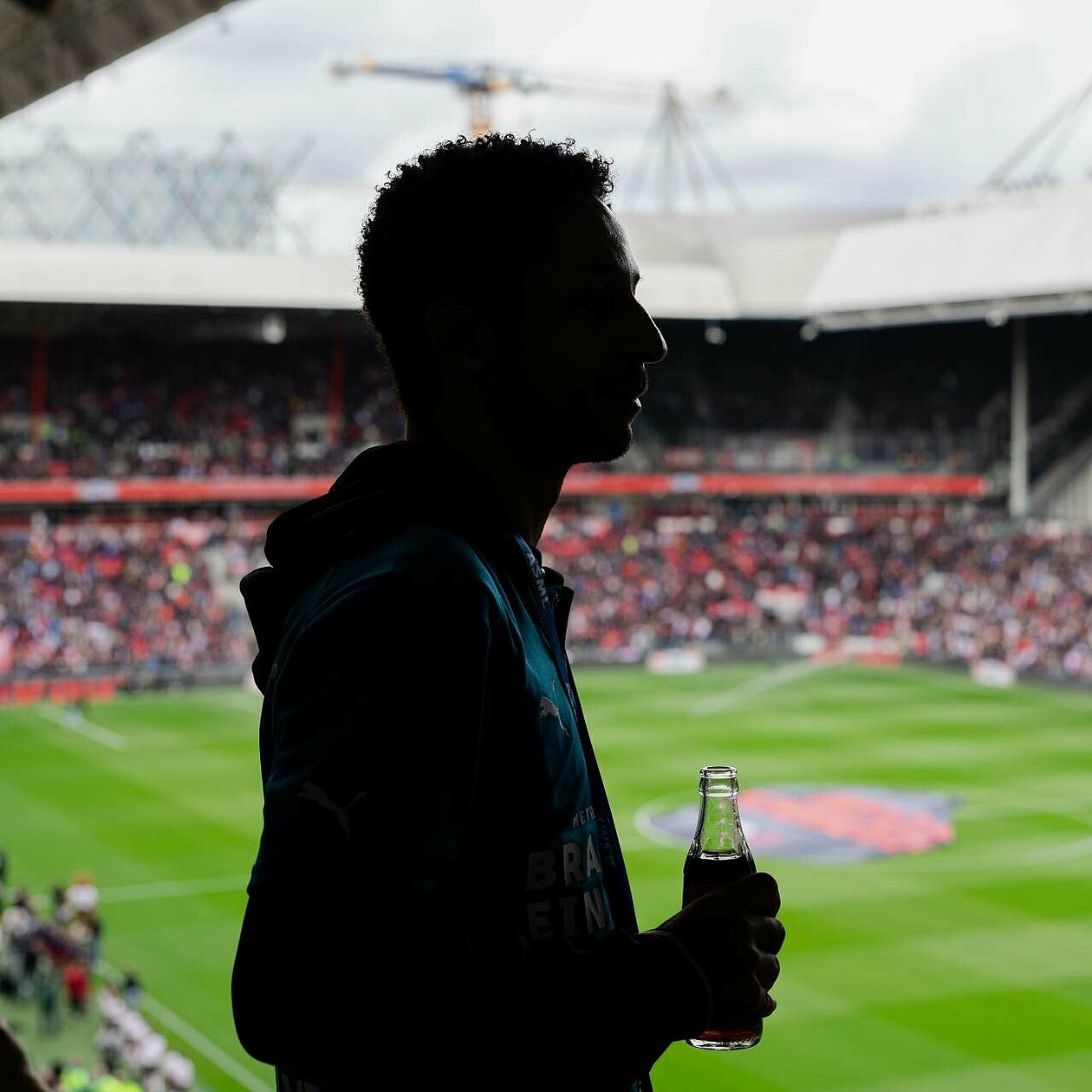 How was your journey moving to Brainport Eindhoven?
In Brazil, I had a very nice job, and not many people from where I am from can say that, and I already knew what it was to work for an international company. But one time, out of the blue, I got a call from a Dutch number from someone talking in Portuguese. "We saw your profile. We want to talk with you because we have a specific job for you." They were from an agency, but they never mentioned the name of the company where the job was from. In the beginning, I said no, I was not interested, but my dad told me, "Do it; you have nothing to lose."
I did the first interview and got invited for a second round. I was still doubtful and needed to know the company. They only told me, "It is one of the biggest companies in the Netherlands," and it definitely was one of the country's biggest companies: ASML. It was a very long process, but my dad kept saying, "Just do it; let's see what they have to offer." And as each interview passed, I also thought, do I really want this? Leave my family back in Brazil and move to the Netherlands. But it made sense for me professionally.
Once I got the job, I made the best decision at that moment and moved to Brainport to work at ASML.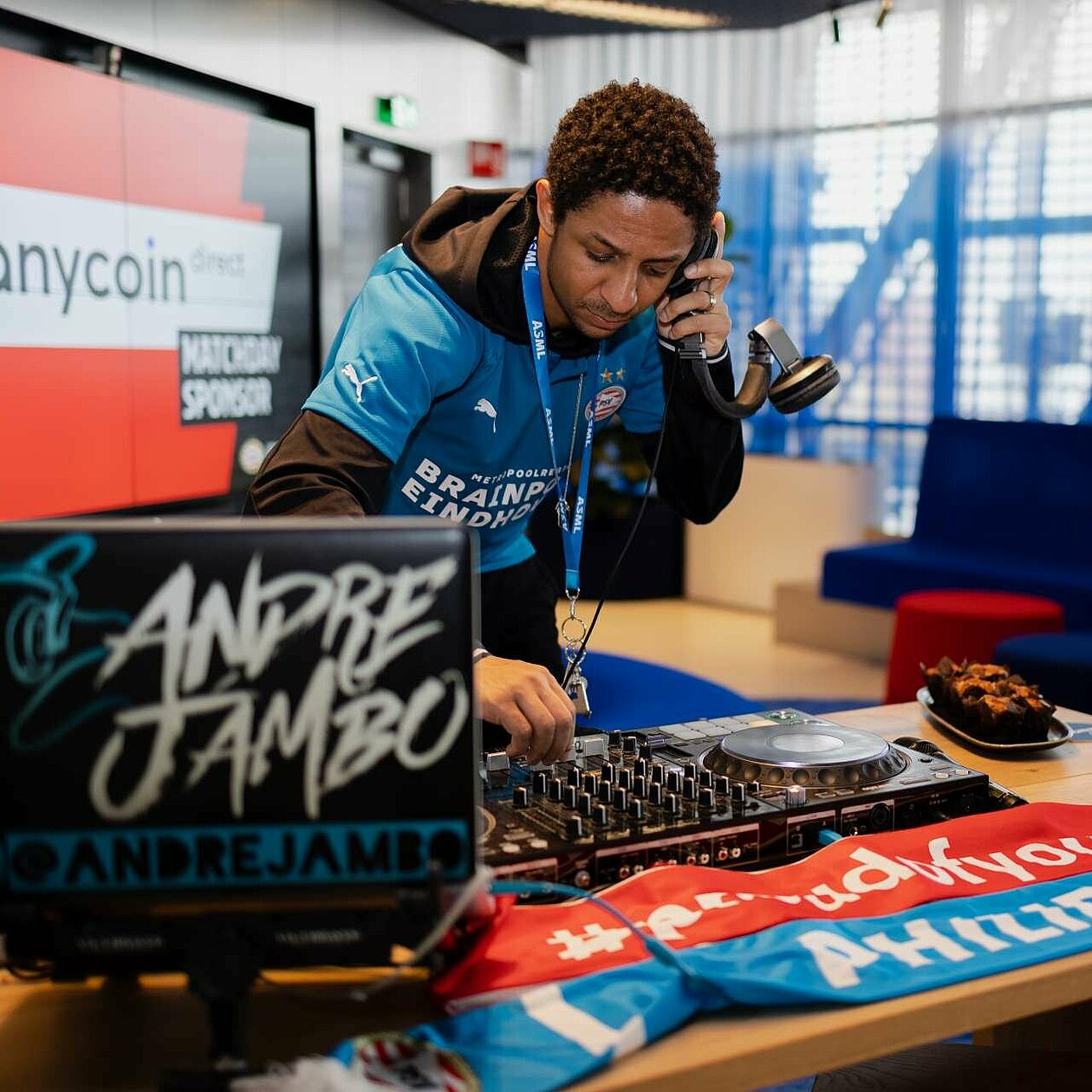 What makes you feel at home in the region?
When I moved here, ASML arranged for an agency to help me find a place to live. But I could finally feel at home when I could do the two things, I love the most: music and sports. I was thrilled when I saw ASML offered a sporting plan. And for me, that's also the best opportunity to build relationships. And for music, the perfect opportunity came when I went to see a game of the PSV at the ASML lounge and noticed there was no music. I was a DJ in Brazil, and I offered to play at the lounge to make the ambiance nicer. Now I DJ at the lounge when there's a game, and since I love football, this is the perfect place to combine the two things that make me feel at home.
Can you tell us one of your first memories when you moved here?
When I offered to play at the ASML lounge, it took a while for people to reply. I really wanted to do it, and I sent emails and talked to people, but either they would be on holiday or would not reply. I was in Brazil visiting my family when I got a phone call at 4 a.m., and it was the person responsible for the ASML lounge. "We are very interested in your proposal and want you to DJ at the lounge." I was so happy. I started going around the house saying, "I'm going to be a DJ at the PSV stadium and see all the games!"
Since then, I have met so many people. Sometimes at work, I hear, "Hey, that's the DJ that was at the game," it makes me so happy. I have even met some of the players and the president of the PSV. And the lesson of the story is to be persistent and keep trying; good things can happen.
There's a saying to goes, "Home is where the heart is." Where is your heart here in the region?
I am not going to lie; my heart will always be where my family is. But if I had to pick somewhere in Brainport, my heart is at the PSV stadium. At the stadium is where everything I love connects, sports, music, and people.
"...my heart is at the PSV stadium. At the stadium is where everything I love connects, sports, music, and people."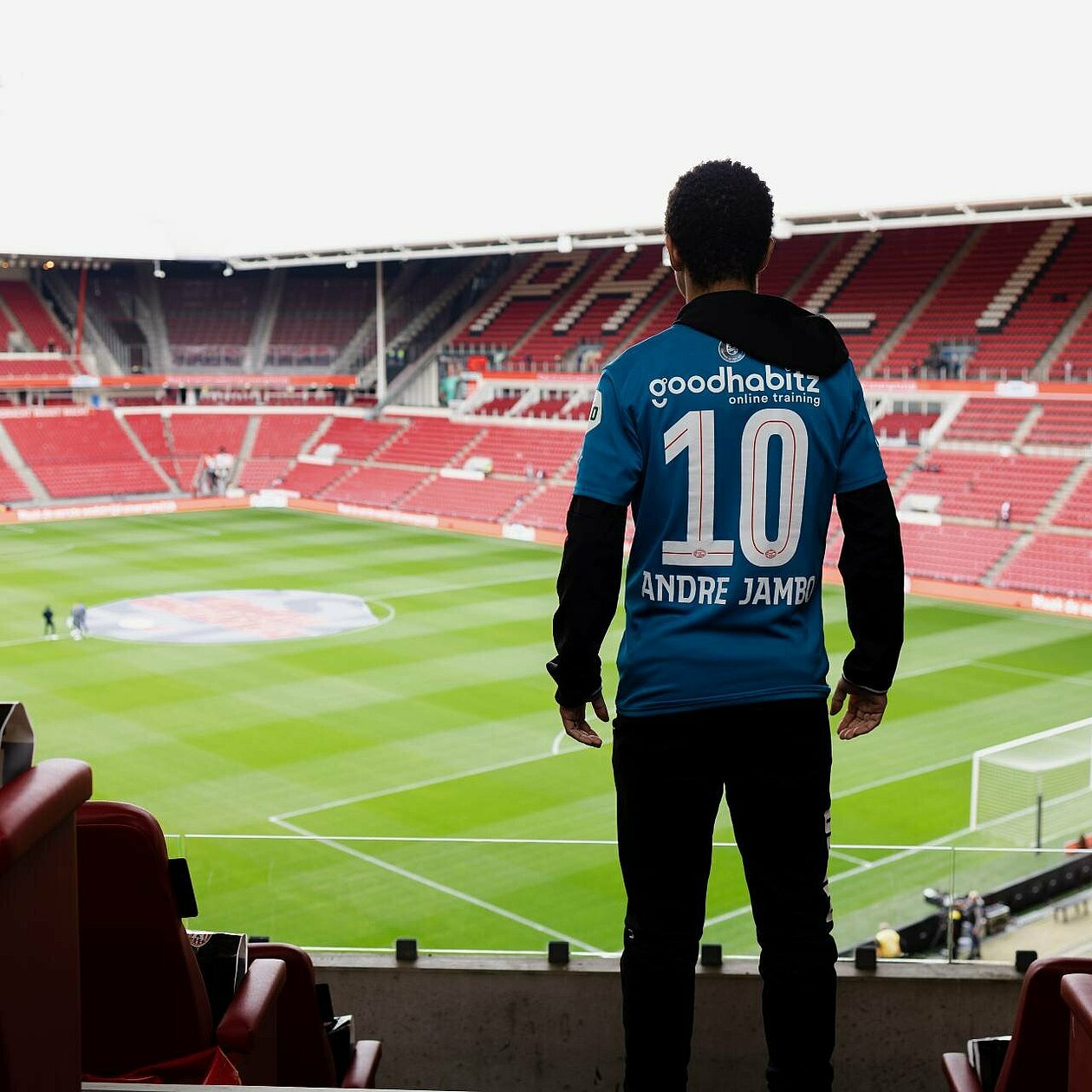 Did you feel at home when you set foot in the PSV stadium?
Yes, because football is something very Brazilian. When I am watching a game at the stadium, there's something different in the people. Dutch people are more reserved, but then a match starts, and they start chanting and opening up. It's amazing to see 30,000 people hugging, and sometimes they don't even know each other, but their passion for the PSV and football brings them together. And at that moment, Dutch people behave similarly to Brazilian people.
Do you notice any difference in the working culture compared to the place you used to work before?
I think if I hadn't had my previous working experience, I would have been shocked by the size of ASML and the cultural diversity. But what is different, at least for me as a Latino, is how punctual they are. They do meetings on time; they respect people's time. I think that that's nice because they can plan their lives in a better way. And they definitely plan everything; they don't do anything without planning. "You have two months to plan and deliver," and you do that; you plan and deliver.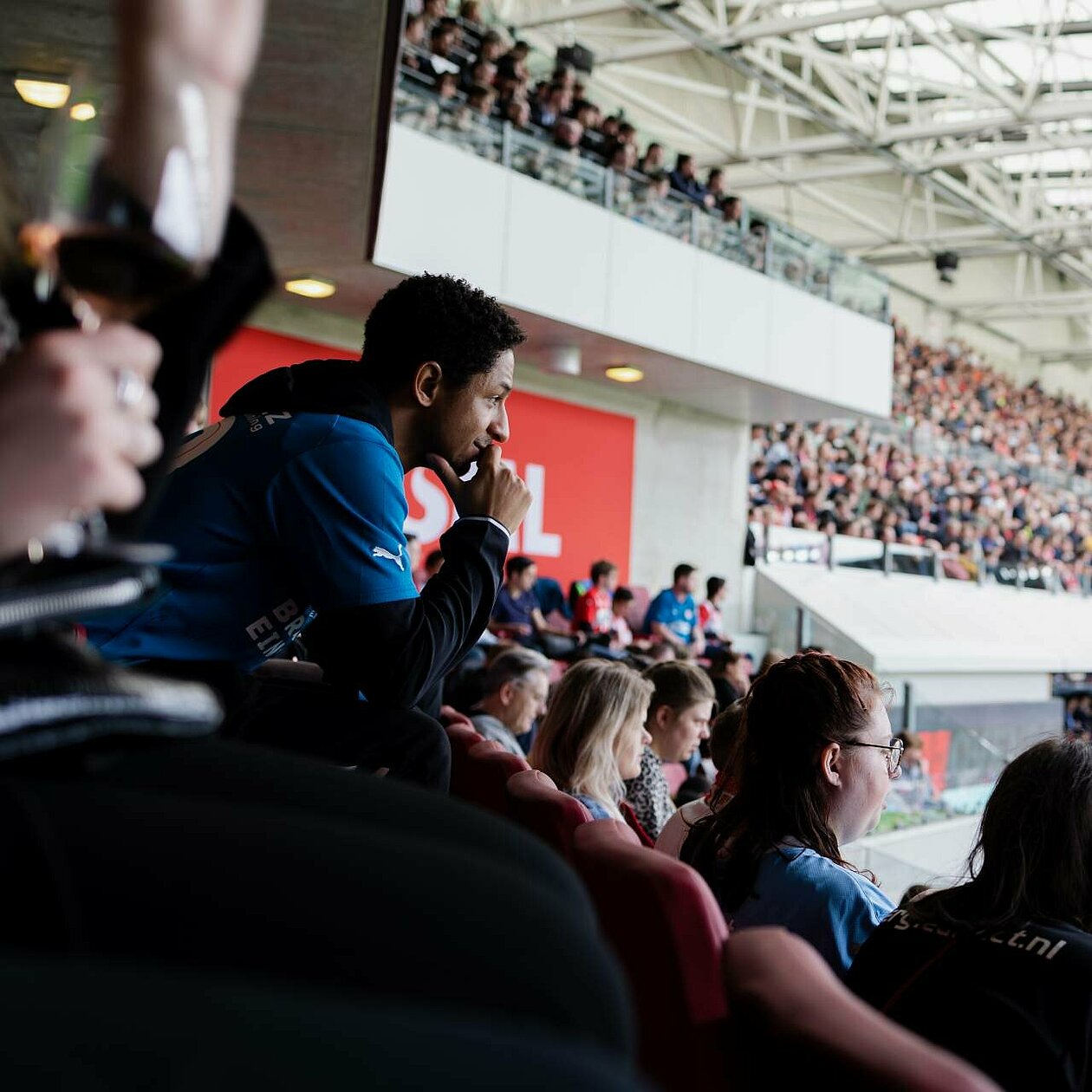 Can you be yourself in Brainport?
Yes, and that gives me an advantage. I don't look and sound like Dutch, so I am not like everyone here, and that means I can bring something new to the table. I am friendlier and more informal, making me more approachable when talking to people. And at work, that adds value as well. I'm just myself, and they accept and respect it very well.
What advice can you share for people recently moving here to make themselves feel more at home?
Set expectations. Keep in mind that what you read on the internet might not be what you will experience. Everyone has a different journey. If you are coming from a warmer country, know there will be a long period of cold and rainy weather, so prepare. It is crucial to set expectations. Also, map the things you like to do. Find something around you that you enjoy doing and explore it. Doing things that make you happy will help you feel more at more quickly.
Is Brainport Eindhoven your forever home?
No, but I am one of its most enthusiastic ambassadors. I am very grateful for what the country, the region, and ASML have given me so far, but my heart will always be in Brazil with my family. But I don't think there's anything wrong with coming here, enjoying the experience to the fullest, and then going back at some point, knowing I will return as a better person. I came here. I learned a lot. Brainport helped me develop myself in my career in a way that I can bring a piece of Brainport home, improve my country, and help my community.
"I came here. I learned a lot. Brainport helped me develop myself in my career in a way that I can bring a piece of Brainport home..."
Tips for further exploration
Discover more of this European tech hub.
Check out the other stories