---
Close
Close
First VDL hydrogen truck tested in Europe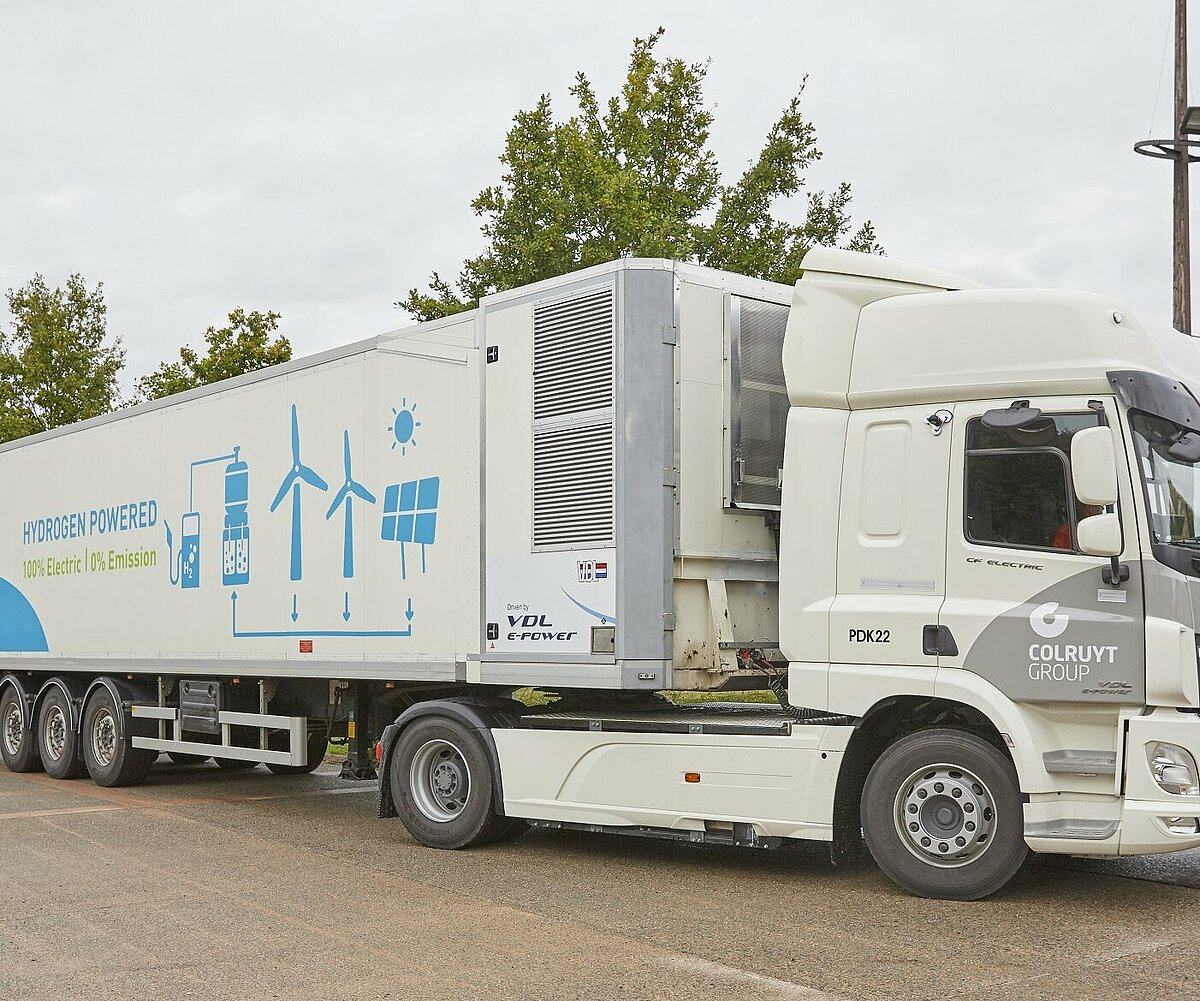 Fuel of the future now also tested for heavy-duty transport, in the context of the European Hydrogen Region 2.0. demonstration project.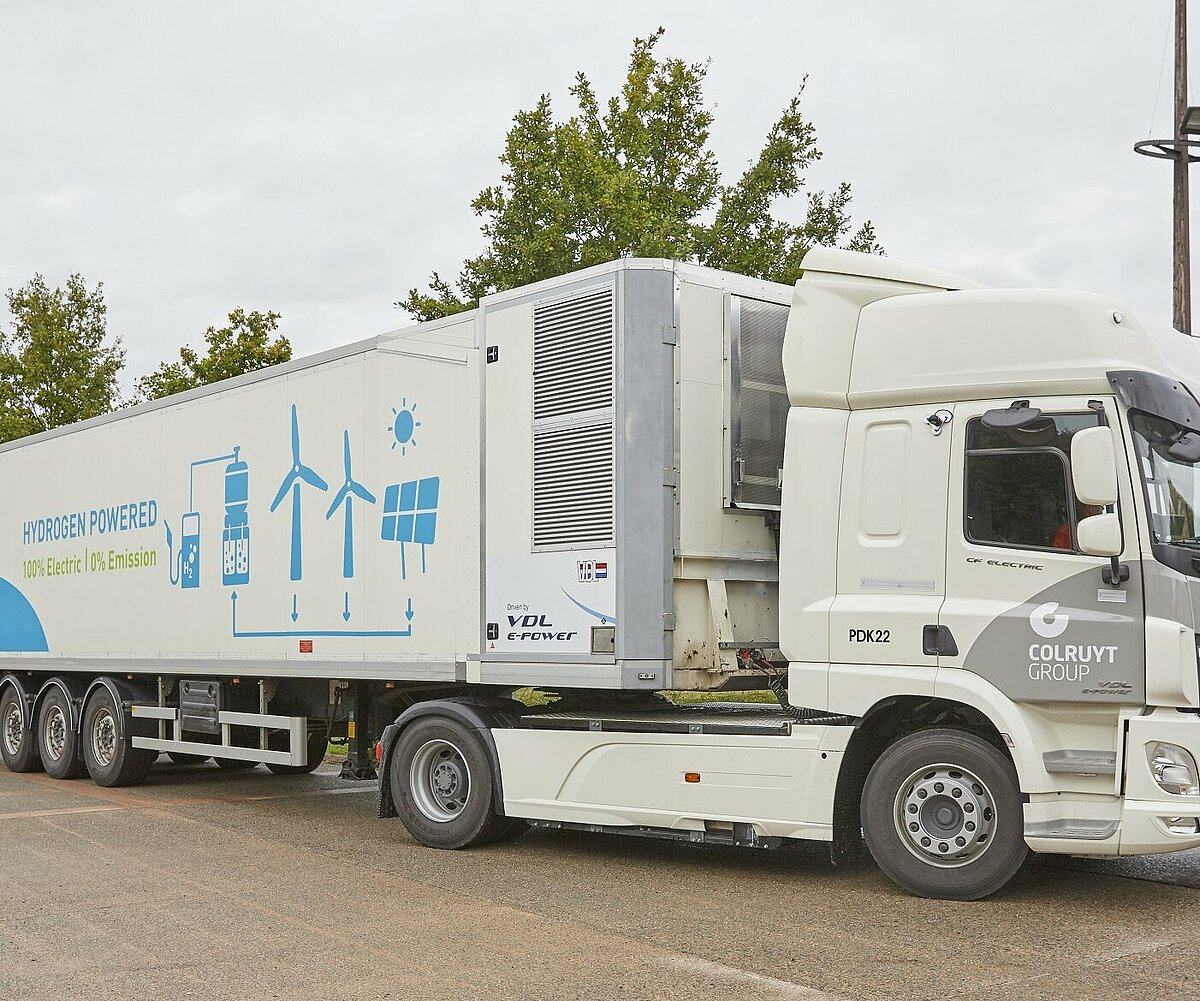 In Europe, the first VDL 44 tonne heavy-duty full electric truck with a hydrogen "range extender" is tested by Colruyt Group. The test is part of the European Interreg demonstration project Hydrogen Region 2.0. While driving, the truck's batteries are recharged with the electricity generated by the hydrogen fuel cell. Besides its sustainable character through the use of green energy and hydrogen, an additional advantage of this vehicle is that it can cover longer distances than other electric trucks - an important asset for freight transport.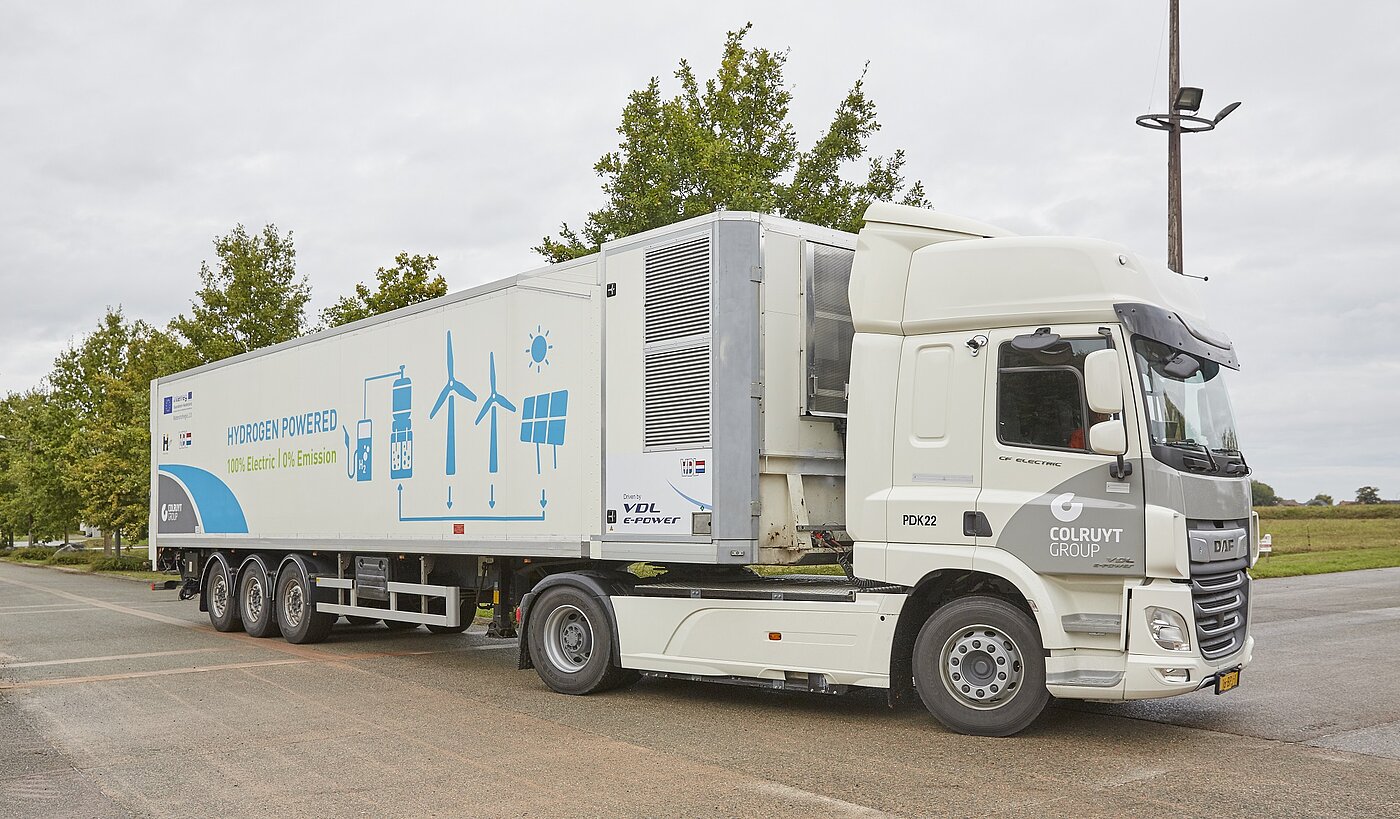 As a dedicated end user, Colruyt Group will test the hydrogen truck in its daily logistic operations. Given the diversity of the group's activities, it will be possible to test a variety of user cases, including store deliveries. In this way, the group fully lives up to its pioneering role in the practical application of green energy. The truck is also much quieter than others, which also supports Colruyt Group's ambition for more silent deliveries. For this specific test, we are actively collaborating with VDL Groep, the manufacturer of the new truck.
Jef Colruyt, CEO of Colruyt Group, is a staunch supporter: "Our goal is to gain knowledge and experience to prove that hydrogen technology can be used efficiently in heavy-duty logistics. We strongly believe in the future important role of green hydrogen as a sustainable option: renewable and without CO2 emissions. We are very excited about this European test project in which hydrogen technology is integrated to make the heavy-duty logistics sector more sustainable." Colruyt Group and VDL Groep are active partners of the European Hydrogen Region 2.0 demonstration project, which aims to build up knowledge and experience with large-scale hydrogen applications in logistics. By widely sharing the experience gained, Hydrogen Region 2.0 wants to inspire other major logistics centres to start using hydrogen-powered vehicles as well. This project is made possible by financial support from the European Union within the framework of the Interreg Flanders-Netherlands programme.
Director Menno Kleingeld of VDL Enabling Transport Solutions indicates: "The collaboration with Colruyt Group in the run-up to this introduction went well: our family businesses share the values of innovation and sustainability. The technology we have developed for our buses, is also widely applicable to other, heavy electric vehicles, such as trucks, also powered by hydrogen. We are proud that Colruyt Group uses this progressive and sustainable hydrogen truck in the context of Interreg. We are confident that together we will take the next steps in the process of this cooperation."
Adwin Martens, director of WaterstofNet adds: "As WaterstofNet we have been stimulating cross-border cooperation between Flanders and the Netherlands on hydrogen for several years now. The cooperation between Colruyt Group and VDL within the Hydrogen Region 2.0 Interreg programme is a nice example of this. We are therefore very pleased with this new milestone. We see great potential for hydrogen-powered heavy transport applications. With this demonstration we take the lead in Europe and show hydrogen solutions which are being developed and tested in our region. Therefore, this project is an important step towards introducing hydrogen-powered trucks to the market."
This project was financed within the Interreg V programme Flanders-Netherlands with financial support from the European Regional Development Fund. For more information, visit: www.grensregio.eu