---
Close
Close
Europe's first industrial 3D concrete printing facility is located in Eindhoven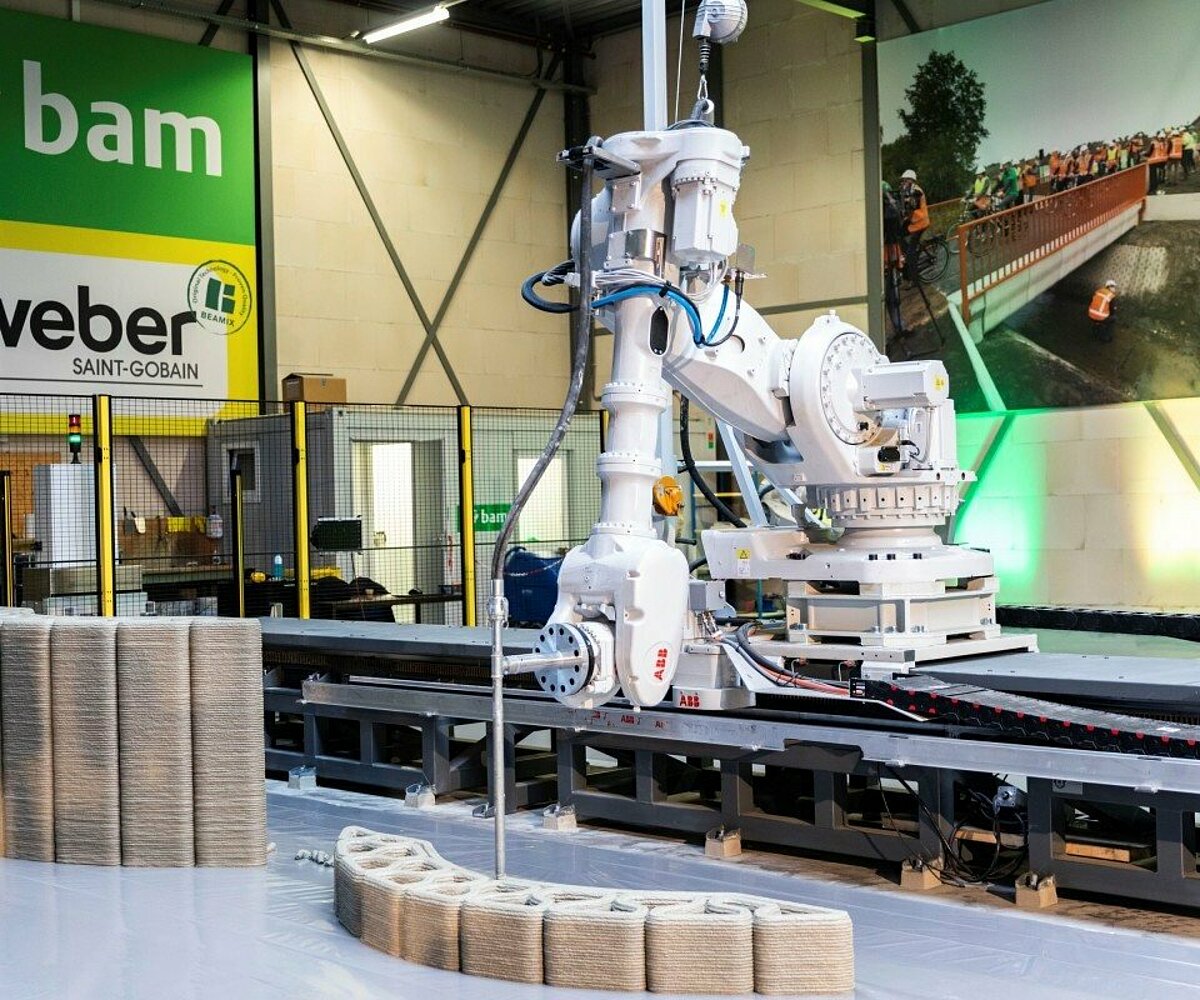 The first commercial, industrial 3D concrete printing facility in Europe was officially opened this morning in Eindhoven. Weber Beamix and BAM Infra will experiment here with 3D printing of concrete elements for construction, with the aim of further developing this technology more quickly. The first order was also announced this morning: the printing of four bicycle bridges for the province of North Holland.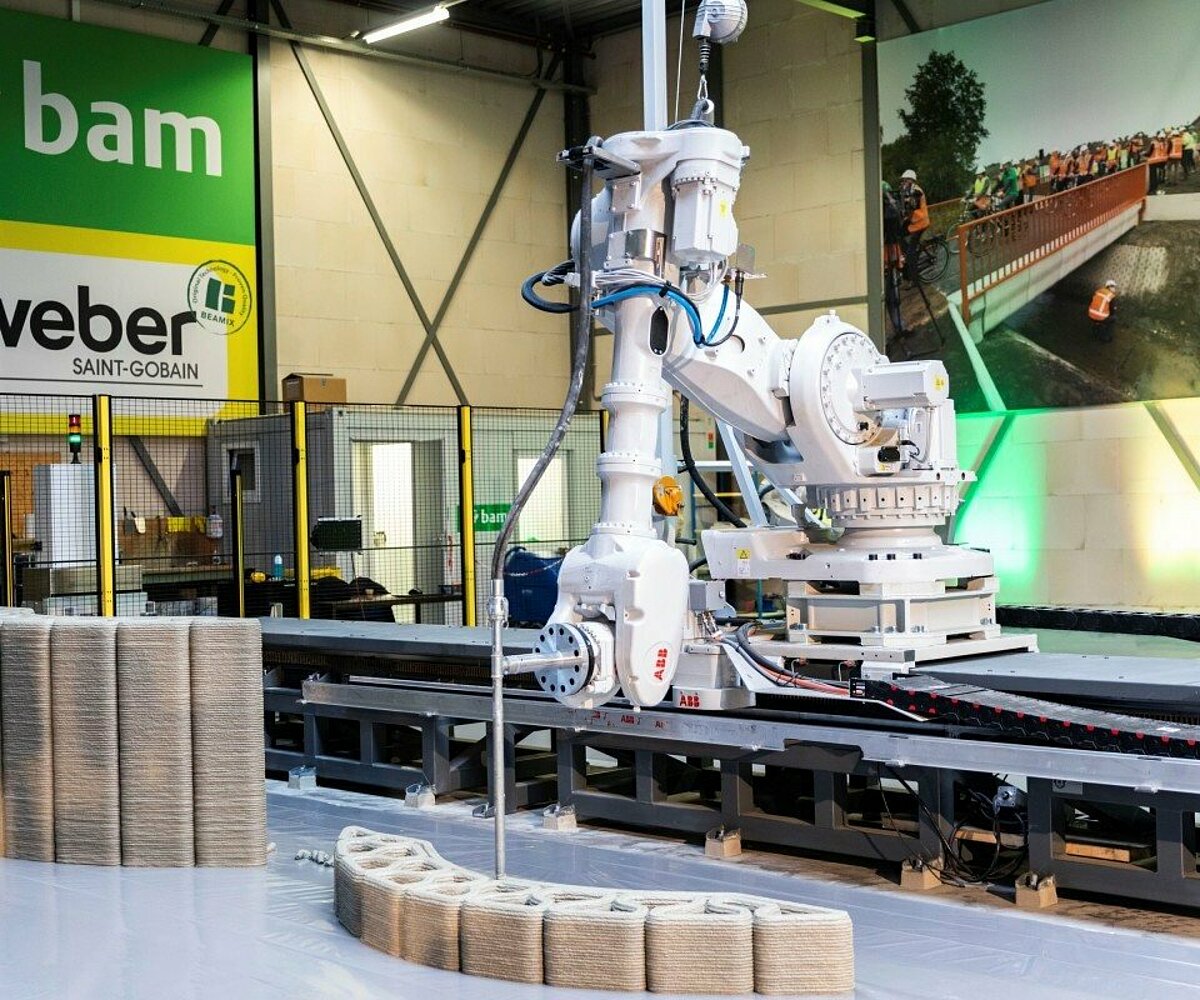 By printing concrete instead of casting, less concrete is needed for the same result, which saves CO2 emissions. Also, no frame is needed, so there is no more waste. Bas Huysmans, Managing Director of Weber Beamix, is enthusiastic about this technology: "I think 3D printing of concrete has a fantastic future. For us, the ultimate goal is to be able to print a house on the construction site."
3D printed houses
The 3D printed houses which will be located in Eindhoven will be printed in the new facility. Marco Vonk of Weber Beamix tells more about this: "The first houses of Project Milestone will be printed in elements here and assembled on location. We hope that the last of the five houses can be printed on location, but that's still very difficult. Here it is always 18 degrees and we have a constant humidity, but outside you can't control that. For example, if the temperature drops below 5 degrees, the concrete will not cure at all." Printing houses on location is the ultimate goal, but when that will be achieved depends on the speed with which they can further develop the technology.
Cooperation
Huysmans explains how the collaboration came about: "In the mid-nineties, we already started printing concrete, but then there was no market for it, so when twenty years later someone from Eindhoven University of Technology knocked on the door and wanted to start a project to print concrete, we were immediately enthusiastic."
Theo Salet is that professor of the TU/e and is now proudly looking at the result of his research: "Four years ago I started a study into 3D printing of concrete. I didn't want to do that alone, so I started looking for partners." These partners found Salet, the project is a collaboration between Saint-Gobain Weber Beamix, BAM Infra, Bekaert, Witteveen+Bos, Eindhoven University of Technology and Van Wijnen.
"We have done scientific research that can be applied directly in the construction industry. The step between research and practice is often very large in the construction sector. Now we have done it the other way around. Bam-Infra and Beamix have been involved in the research from the start. This is a good example of parties who have found a middle ground between production and research. The partners were very interested in the knowledge we had built up at the TU/e," says Salet.
Further development
The first commercial 3D concrete printing facility is, therefore, a fact, but that does not mean that Salet's research is over. "There is still a lot of room for improvement. As you can see here, the speed of printing is still far too slow, it should be ten times faster. There is also much to gain in the materials. We can think of new types of concrete, for example in different colours, different reinforcement or lightweight variants."
According to the professor, the partners in the research are an accelerating force in the project. "Now the printer is there, but tomorrow they will come to me to say that printing should be faster. They can now see the possibilities of the project and stimulate us to develop them. This will be a healthy marriage between industry, the university, and the construction industry."