---
Close
Close
Back to overview
AM-Flow
The Industry 4.0 technology provider for the Additive Manufacturing industry
AM-Flow combines expert knowledge in the field of 3D-shape identification, industrial machine vision, AI software, and deep learning in 3D printing. Together with the integration of AM production-line hardware and MES (manufacturing execution systems) software, AM-Flow delivers a solution stack to automate the 3D-printing process end-to-end.
The beauty of 3D printing is that you now have full freedom of design at your fingertips. Literally, any form can be printed. A prerequisite for a fully automated 3D printing post-processing workflow is to be able to identify any 3D printed part in seconds. Since its inception in 2018, AM-Flow has worked on solving this major hurdle: 3D part recognition using geometry. AM-Flow is currently the single source of a market-ready solution stack to automate 3D the post-processing workflow. Winning the Formnext Startup challenge in 2020 was a milestone for acknowledging the need for 3D printing automation. From offices in Brainport Eindhoven (Mechatronics, Vision & Robotics) and Amsterdam (3D software, Machine Learning & AI) the company serves clients all over the world.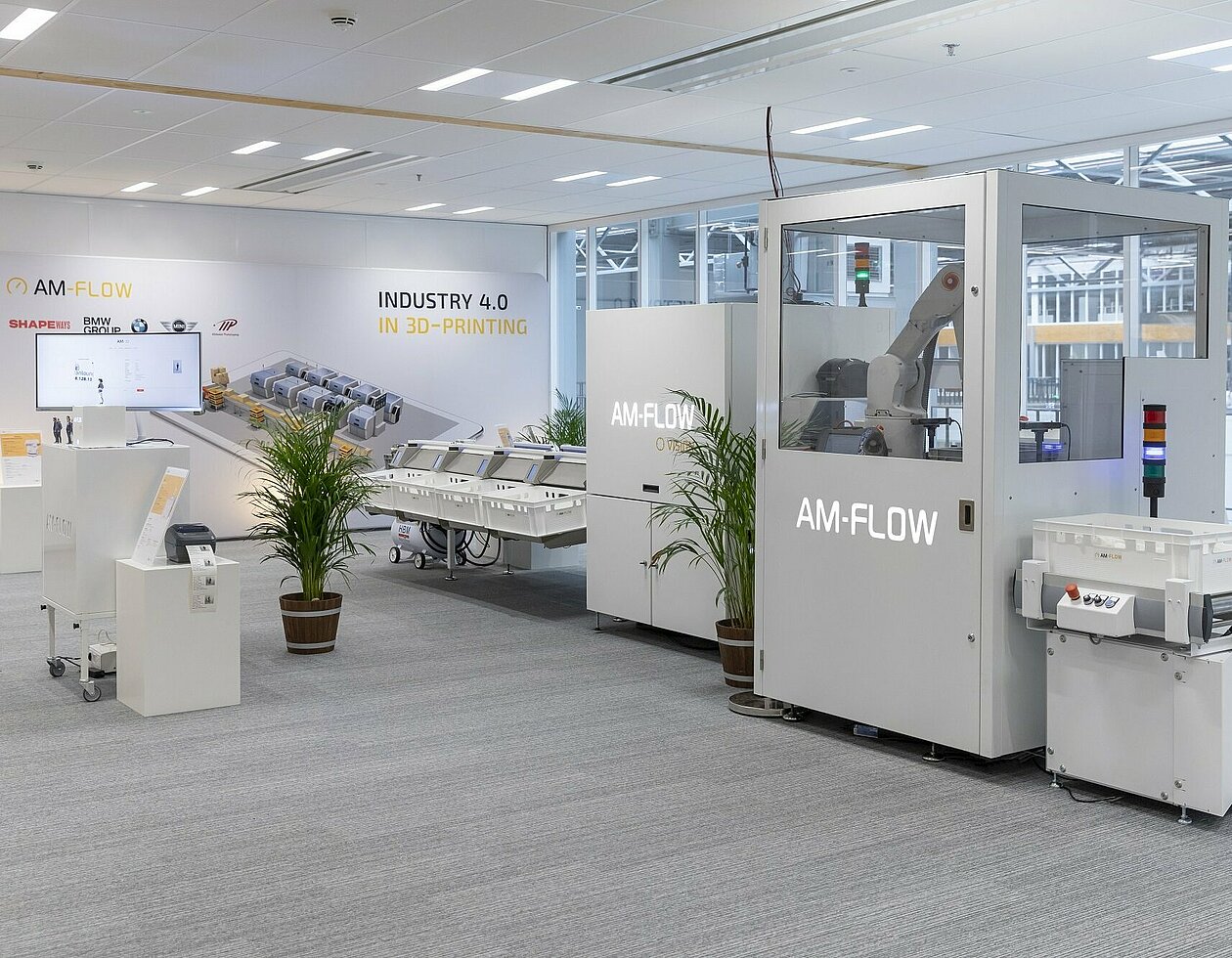 Automation of 3D print post-processing
Ever since 3D printers began the shift from stand-alone rapid prototyping machines to networked units within production workflows, it became clear that additive manufacturing was also the least automated and the hardest to integrate into full end-to-end production workflows. "The 3D printing industry can learn a lot from the other industries," Stefan Rink, Co-founder and CEO of AM-Flow explains. "For example, automated picking and placing, tracking and tracing, transportation and packaging. The big difference is in the individualized geometries and the fact that you don't have a limited, standard product library with common product ID labels. That's what we started solving: we can now identify parts in a split second based on the geometry alone. AM-Flow provides the recognition, sorting and routing of the printed parts, where the MES software tells which printers the parts are coming from and where they need to go next: to post-processing or to be packaged and shipped to the end customer."
This way the company can provide a full 'track & trace' process for AM production lines.
Solution for high mix, high volume 3D production
Customers who want to scale their 3D printing activities need to think about automating the different steps of the process, including post-processing. This demand typically comes from high mix, high volume production environments. These companies are facing a lot of manual work needed to identify and sort hundreds of 3D printed parts a day. Automating these steps brings substantial benefits. It not only enables clients of AM-Flow like BMW, Midwest Prototyping, Shapeways, Materialise, Marketiger and Oceanz to regain full control of their workflow, it also minimizes failures in post-processing, reduces the cost per part, reduces lead time, through automatic data entry and counting, it offers the fundaments of a certifiable production process. Ultimately, on an economical level, this helps companies scale their business, increase their revenues and gain maximum capitalization of their production assets.
Brainport factor
Being part of the high-tech manufacturing showroom that Brainport Industries Campus (BIC) in Brainport Eindhoven is, allows AM-Flow to be close to customers and partners. Stefan Rink explains: "There are a lot of AM companies at the BIC with which who we work, but also large customers like Siemens who can use our technology to digitally design and test their factory plants to simulate their 3D production through digital twinning. This way, they see where they can improve their output and with the data collected, we can improve our technology. This connection with the manufacturing industry, with large players like ASML and NXP is important for our success."
Post-processing
Step in the value chain