---
Close
Close
Lightyear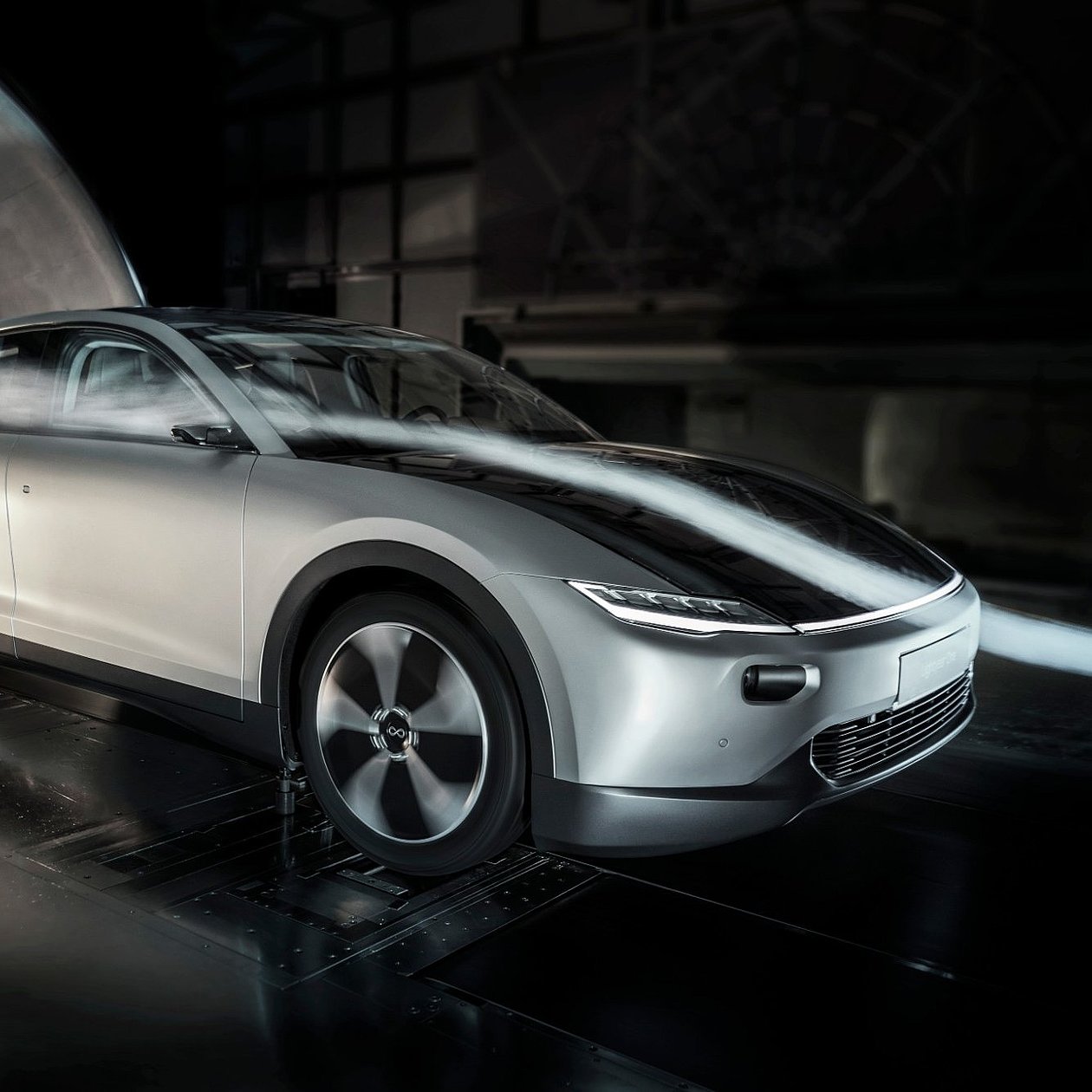 Technology
System thinking – a radically different perspective
Lightyear One is specifically developed as a solar car, not just as an EV with solar cells. It has been engineered from a radically different perspective. Its performance pushes the company to focus relentlessly on optimising efficiency, range and safety. Lightyear started from scratch while looking at the whole system. Following not the conventional ways but the laws of physics, to get the most out of every joule of energy.
Total optimisation of all aspects of the vehicle
Lightyear One has the best aerodynamic coefficient of any car to this date with a drag coefficient (Cd) of below 0.20. The company optimised every part from the chassis to the side mirrors, from the crash cone to the luggage compartment. This drastically reduces energy consumption. The unique double curved integrated solar cells on the bonnet, roof and tailgate (in total 5m2) charge the car all day, every day and also means that Lightyear One charges up to 12km/h as it goes. Lightyear One is propelled by four independently driven wheels with in-wheel motors. In addition to lowering the weight and improving control, it means that no energy is lost in transit from the motor to the wheel. Lightyear One will get to a range of 725 km on the WLTP cycle and can drive a maximum of 20,000km per year, purely on self-generated solar energy.
Talent
Maximize aesthetics and aerodynamic performance
Simone Regondi works as Lead Solar Module Engineer at Lightyear. He works on integrating the solar cells in Lightyear One's solar roof, both electrically and mechanically. Currently, he mainly focusses on process optimisation, improving technology maturity level and bringing parts to manufacturing quality.
"At Lightyear, we all appreciate the unique value of Lightyear One's solar roof; it is a direct clean energy source and a core technology we are developing," Simone explains. Lightyear One's solar roof is composed of 3 main elements. The top layer, made of glass, protects the solar cells while letting light in and gives a smooth surface to the roof. The second layer is the photovoltaic (PV) module containing the solar cells. This module is laminated together with the third element: the supporting structure."
Maximize performance
"The solar roof has a unique curvature in order to maximize the aesthetics and aerodynamic performance of Lightyear One. To create the right strength and optimise the weight of the roof, the supporting structure and the method used in the gluing process are being developed in-house. This last part – keeping the PV module lightweight while making it sturdy – is one of the most challenging aspects. We are working with different partners to ensure that the product is safe and reliable."
Increase power conversion and aesthetics
"We designed the roof to be slightly curved for aerodynamic and aesthetic reasons while maintaining focus on surface optimization. What is great about the rear-contact crystalline silicon cells we use, is that we can increase the power conversion efficiency. This also eliminates the metal busbars on top of the cells, improving the aesthetics of the roof. We are still innovating in applying conductive back-sheet technology to vehicle-integrated photovoltaics and this brings huge advantages. We can develop a system for a completely automated photovoltaic module fabrication and we have extreme flexibility in deciding cell size, location and orientation."
Dutch weather provides power for a trip from Amsterdam to Innsbruck
"In the Netherlands, the solar area of Lightyear One can deliver a peak power of around 1250 Wp and can provide about 700 kWh per year. This translates, for example, into a ski trip from Amsterdam to Innsbruck (1802 km) in which you only have to charge the car twice. Predicting the energy yield is always a challenge for vehicle-integrated photovoltaics because of the changing environment. This includes weather conditions, time of year and location. Based on all the collected input combined with our calculations and simulations, Lightyear One is expected to generate around 50-70 km of extra range per day, during a Dutch summer. "
Societal impact
Travel a lightyear by using the power of mother nature
The most sustainable way of mobility is not using a car, plane, boat or motorbike at all. But that's not in our nature. People want to travel, discover and explore. As humans we have always loved to move around and for thousands of years, we've done it by using the energy that Mother Nature gave us. We discovered that we could go further and faster by digging up and burning what nature had created. And now we travel the planet like never before. The total distance we cover each year, using fossil fuels, is just over 9.500.000.000.000 kilometers, one lightyear. Lightyear's goal is to let people travel the same distance using only the power of nature before the year 2035. The company's aim is to develop a car that directly uses natures biggest source of energy, the sun. The sun is here today, tomorrow and it will be here forever.
Making mobility truly sustainable
Lightyear is a pioneer in the field of solar-powered cars. The company's vision is a world in which mobility will be truly sustainable. Electric cars have the potential to contribute to that goal tremendously. Not only do they provide a way to reduce emissions and thereby provide us with cleaner air in our cities, but electric cars are also an important part of the solution to mitigate climate change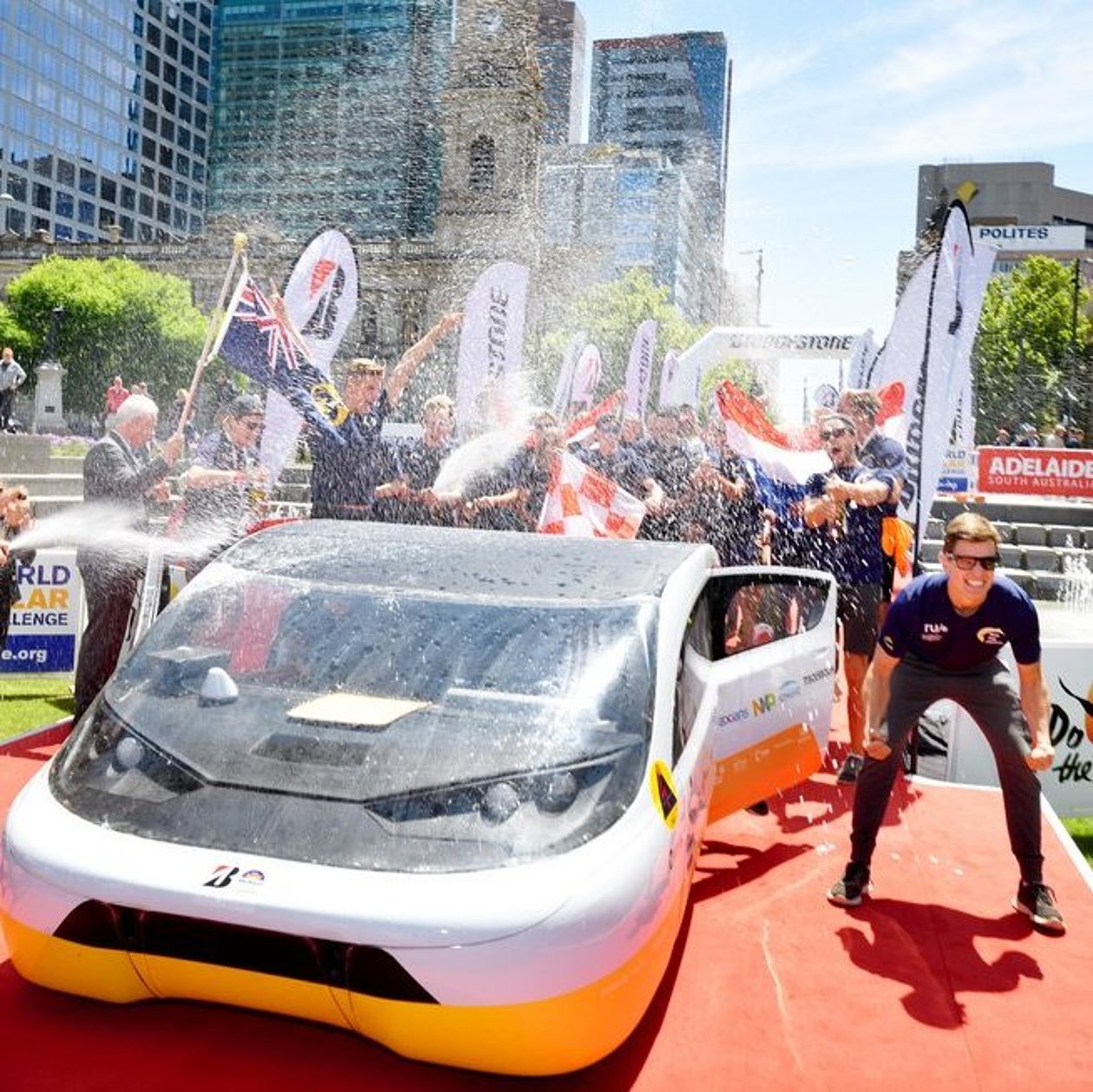 Brainport factor
Fertile breeding ground for new ideas and innovations
Because of its many accelerator- and incubator programs the Brainport Eindhoven region offers a fertile breeding ground for new ideas, technologies and innovations. Moreover, Eindhoven University of Technology in specific is known for its close collaboration with industry and unsurpassed expertise in knowledge valorisation, Lightyear is a great example of this way of working. What started as a student team that worked on developing fully solar-powered cars and became world champion in the Bridgestone World Solar Challenge Cruiser Class resulted in a start-up that grew out to be a scale-up in just a couple of years' time.