---
Close
Close
Meet our pioneer: Thomas van der Sterren
In Brainport Eindhoven we change the world because here we develop key technologies that change society. We can only do this thanks to our pioneers. So we would like you to meet one of our pioneers: Thomas van der Sterren.
Who are you?
My name is Thomas van der Sterren and I am 24 years old.
What do you study?
I recently completed the four-year bachelor Mechatronics at Fontys University of Applied Sciences. The nice thing about this bachelor is that it makes you the link between college and university. You are practically involved, but you are also busy working out theories. You understand the vision of the inventor and you can translate it into something that can be produced.
Are you going to do a master's after this?
I would like to do a master's and I have been looking a lot at masters in Control Engineering. I want to go in the direction of Aerospace Engineering and there is none at TU/e. There is also a new master at TU Delft in robotics that seems very interesting to me. I just don't want to continue studying right away. First I want to do something with my knowledge and I want to work. Hopefully, I can stay at the company of my graduation internship. I want to apply new things and prove them through test setups. Making new products is not my thing, I want to test applications. I want to innovate. I think it would be very cool to be able to say, "This is how it is. That's how it can be done. This is how we use it now. This is how we can use it too."
"I would think it would be very cool to be able to say, 'This is how it is. This is how it can be. This is how we use it now. This is how we can use it."
What do you do in addition to your study?
I'm active as president of the Makersplayce. I have been working on this project since June 2019. Then I started this with some friends, following an article by the director, Ella Hueting. After a conversation with her, she allowed us to work on this. Fontys Hogescholen is one of the founders of the Make Impact Consortium. Together with the Massachusetts Institute of Technology (MIT), one of the other founders, they are establishing Makerspaces around the world.
What is the Makersplayce?
It's a tech lab for students, where they get more freedom in hands-on entrepreneurship and making things. The Makersplayce also wants to be the link from students to companies. This way, companies can more easily come into contact with motivated students.
In Makersplayce students can also work on projects and they can apply for these. They can also participate in various challenges and win prizes. But in addition to that, students can follow certain studies (from MIT, among others), so you learn a lot. It has a lot of added value for the student. You can learn something and you can benefit from it for your career.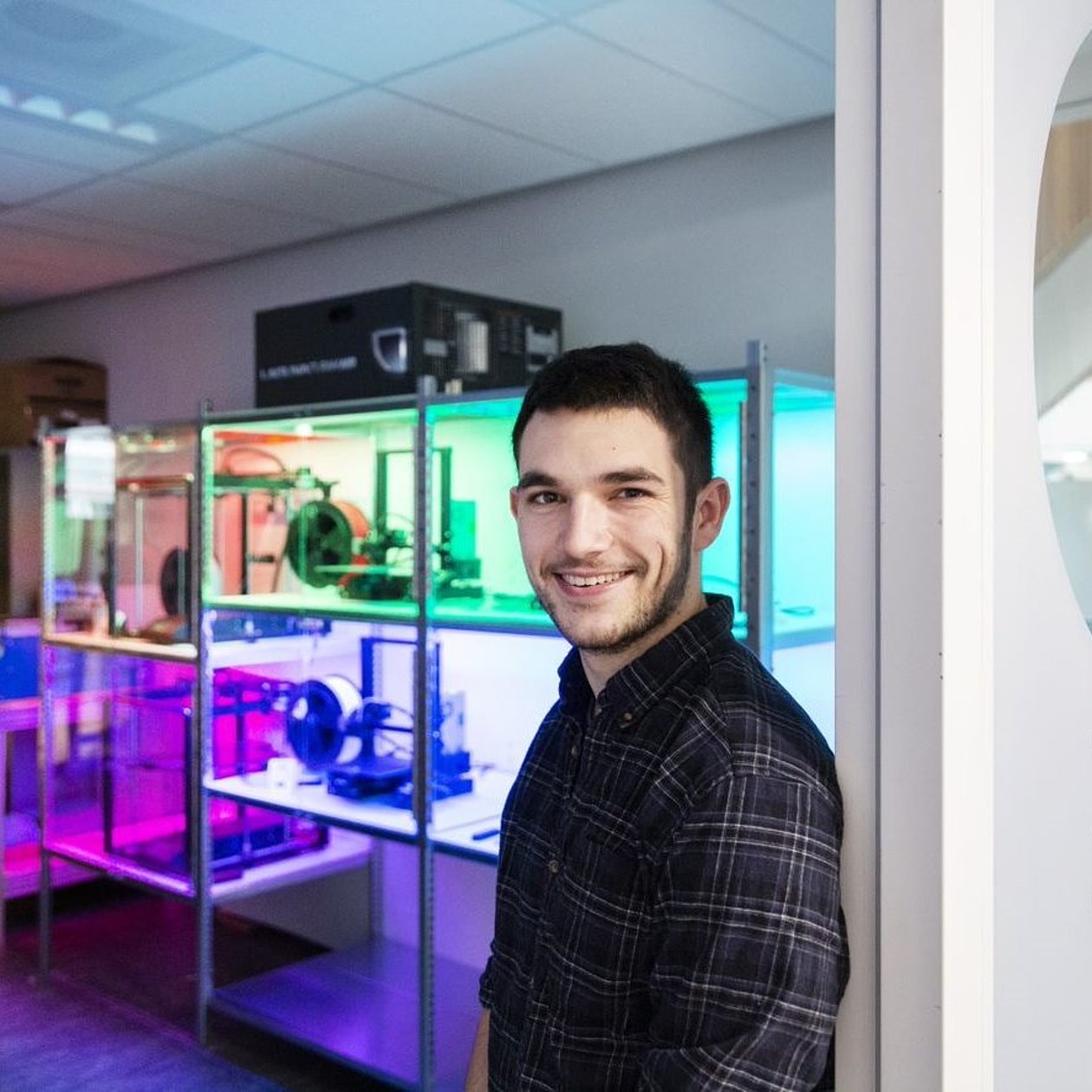 What does the presidency of the Makersplayce entail?
As chairman, I have to make sure that everything runs smoothly: I have close contact with all sorts of parties and I prepare meetings. The team consists of seven other students and we all feel our responsibility. Precisely because of the corona measures, we are more motivated than ever to create something that students can just walk into. If they say they want to make something, we can say, "Come on in and get started!"
In the startup phase, there was a lot more involved. It was a project that started with an idea that had to be implemented. It had to be financed, space had to be available, and a plan had to be in place. We had to make a lot of documentation and in preparation, I went with a few others as representatives of Fontys to the University of Derby for a boot camp of MIT. This way we got to see how MIT makes Makerspaces in America. Ultimately, the intention is that we will also hold symposia to show to other universities in the Netherlands and Europe in the hope that we can pass on the baton. We want to build a large community with all motivated people who want to make it.
Why did you start working on the Makersplayce?
I was immediately excited about this initiative. I am an extreme hobbyist. For example, I am now building an autonomous robot dog. It's a small version of Boston Dynamics' robot dog Spot. I, fortunately, have the luxury of having the materials and tools at home and I have a fair amount of knowledge about robotics. But there are plenty of students who can't afford it or still have limited knowledge. Then the Makersplayce is the ideal solution. We also want to make students curious, that they can get a taste of the different possibilities.
I am very motivated by technology and I am very involved in the training and all the opportunities around it. Because I've always believed: you can do a lot, but you have to initiate it yourself. Bring your motivation forward and not many people will turn you down.
When you graduate, will you also say goodbye to the Makersplayce?
I hope I can still stay involved in the Makersplayce. And maybe I can find others there to work together on my robot dog. Then we can share knowledge. Knowledge is not fun to keep to yourself. Knowledge is more fun when you share it. Together you improve.
"Knowledge is not fun to keep to yourself. Knowledge is more fun when you share it. You improve together when you work together."
What do you want to do later?
I would like to work with technology concerning autonomy and robotics. This consists of a lot of investigative engineering. It is my passion. I worked for a while after high school and that gave me a chance to figure out better what I wanted to do.
I'm very much into autonomy now. I didn't get that as much in my education. In Mechatronics, you do get software training, but it's not as in-depth. During my memberships with student teams like Blue Jay Eindhoven and Force Fusion, I learned that I find autonomy very interesting. That's why I also work on my robot dog in my spare time.
What do you think about studying and living in Brainport Eindhoven?
I think there are a lot of opportunities here. But you have to take them yourself. If you are motivated, knock on the door of a company at the Brainport Industries Campus (BIC). "I want to start a project, are you interested?" You can just do that here.
The fact that we as Fontys Universities of Applied Sciences are on the TU/e campus and that we are now talking to the BIC in particular and want to collaborate with Summa College is quite special.
What would you like to tell (future) students in Brainport Eindhoven?
If you are motivated and passionate, then you can do a lot outside your study. There are a lot of opportunities and possibilities and you should make use of them.