---
Close
Close
Making sure everyone is prepared for a future with AI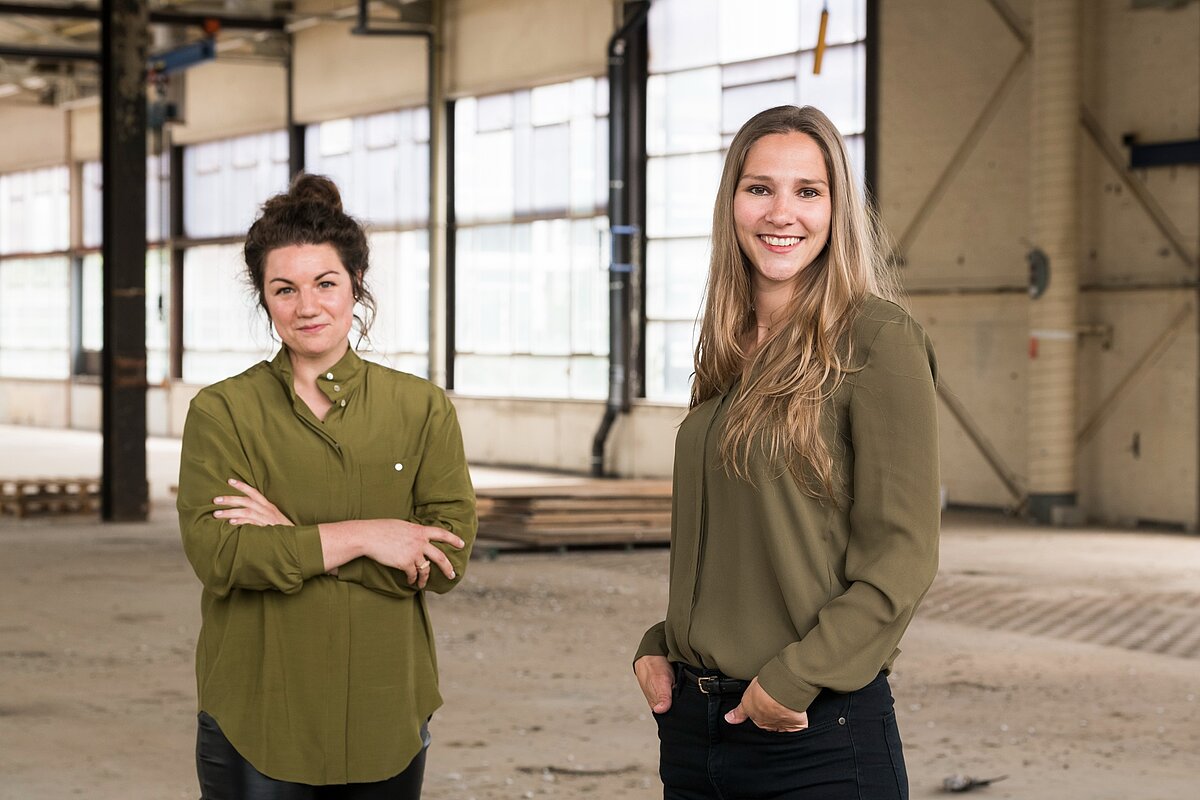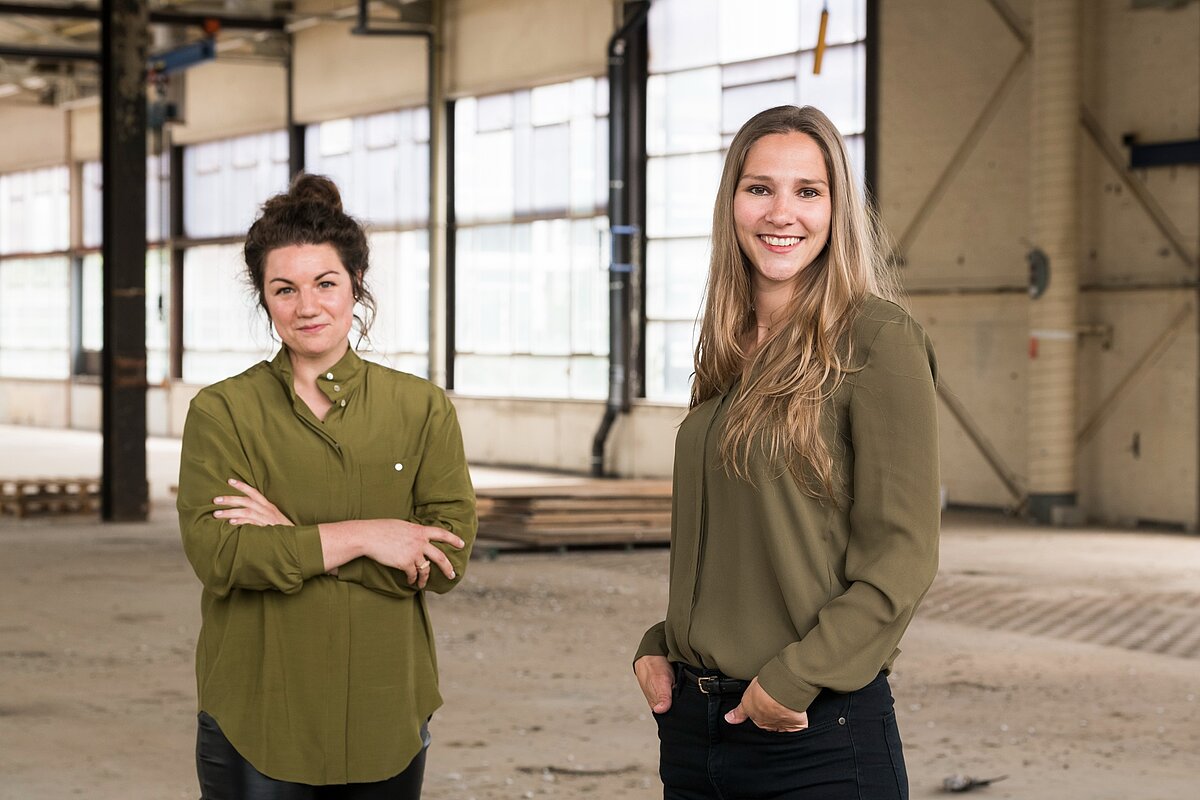 Can you give a brief definition of Artificial Intelligence?
"Artificial Intelligence can be described as a technology that essentially imitates the human brain," Floor explains." AI equips systems with 'human' properties such as learning to deal with uncertainty, recognizing emotions and solving problems. In addition, it provides systems or apps with a self-learning capacity so that those systems or applications can use data to improve themselves. AI in itself is nothing, it only becomes something when you integrate it into machines or systems."
AI is everywhere, perhaps without us even realizing it. Now, you still mostly see the technology in internet services such as Netflix and Spotify but in the future, it will be present everywhere in all kinds of machines and devices. In Brainport we mainly focus on AI for high tech, health and mobility. Can you give an example of an AI application for each of these areas?
Floor: "Brainport is known for its high-tech industry. We develop complex systems here. You can, for example, think of ASML's lithography machines or Thermo Fisher Scientific's electron microscopes. A well-known example of the application of AI in the manufacturing industry is predictive maintenance, aimed at continuously monitoring the performance of the machine. This way you can carry out timely maintenance and replace parts, which leads to a much more sustainable use of the machines."
"When it comes to medical technology, you can, for example, think of what is happening in the field of imaging. AI helps doctors worldwide to analyze MRI or CT scans, make a diagnosis and determine the stage of the disease. " Mira adds: "But you can also think of prevention of diseases through stress reduction. Think of Alphabeats that adjusts the audio frequency of your favorite music so that it stimulates you to relax. "
"In the field of smart mobility, you can think of self-driving vehicles," Floor continues. "Many vehicles are already equipped with functionalities that support autonomous driving, such as your parking sensors or cruise control. In the long term, these types of functionalities offer many advantages, not only when it comes to ease of use and safety, but also, for example, in terms of cost reduction. It will play an increasingly important role in the coming years. " Mira adds: "An example of such a vehicle in which these functionalities have been implemented extensively is Fabulos, a self-driving van that was driven to and from the Automotive Campus without a driver in the most recent test phase."
Why is the development of AI competencies particularly important for a region such as Brainport Eindhoven?
"As mentioned, Brainport's strength lies in devising, developing and making complex systems," says Floor. "Application of AI in those systems will lead to unprecedented possibilities. Therefore, Brainport has been investing heavily in the development and application of AI for years. For example, with 137 AI-related patents, Noord-Brabant is in the top four of European regions with the most AI patents. Not only companies, but also knowledge institutes are committed to a stronger focus on the possibilities of AI. Ultimately, a large part of the regional earning capacity will be realized through the application of AI in the products and services that the region produces. In addition to the economic aspect of AI, the human aspect also plays an important role in the AI ​​hub Brainport. Another important point of attention is the social acceptance of AI. Our campaign and the AI ​​course play an important role in this."
Can you summarize in a nutshell what the AI ​​hub Brainport is and what the strength of the partnership is?
"Just like six other AI hubs, the Brainport AI hub is part of the NL AI Coalition," Floor explains. "What you see is that AI offers endless opportunities on both an economic and social level. From a scientific point of view, the Netherlands is highly regarded when it comes to AI. However, this is still insufficiently translated into concrete applications. We must accelerate this process so that we, as Brainport and the whole of the Netherlands, acquire a leading position worldwide. The hubs work closely together in this. The strength of this way of working is that the regional innovation ecosystems have a central role in this. You ensure that all kinds of separate initiatives that arise in the country are bundled and developed efficiently. The Netherlands has a smaller innovation budget compared to other countries. That's why you have to work efficiently. The greatest strength of this way of working lies in the collectivity. "
How does AI hub Brainport support companies, knowledge and educational institutes and governments that want to explore, further develop and accelerate the possibilities of AI?
"The Brainport AI hub focuses on stimulating AI developments at start-ups and scale-ups, SMEs, large companies and educational and knowledge institutes. For example, digitization is often still a challenge for SMEs, even before they can get started with AI. Availability of sufficient data is also a point of attention. The US and China, for example, have very large home markets and generate a lot of data themselves. In Europe, data crosses national borders and when you want to share data, all kinds of legal, ethical and privacy aspects come into play. " Mira adds: "human capital is also important. This involves training the talent of the future as well as training, further training and retraining of the workforce. "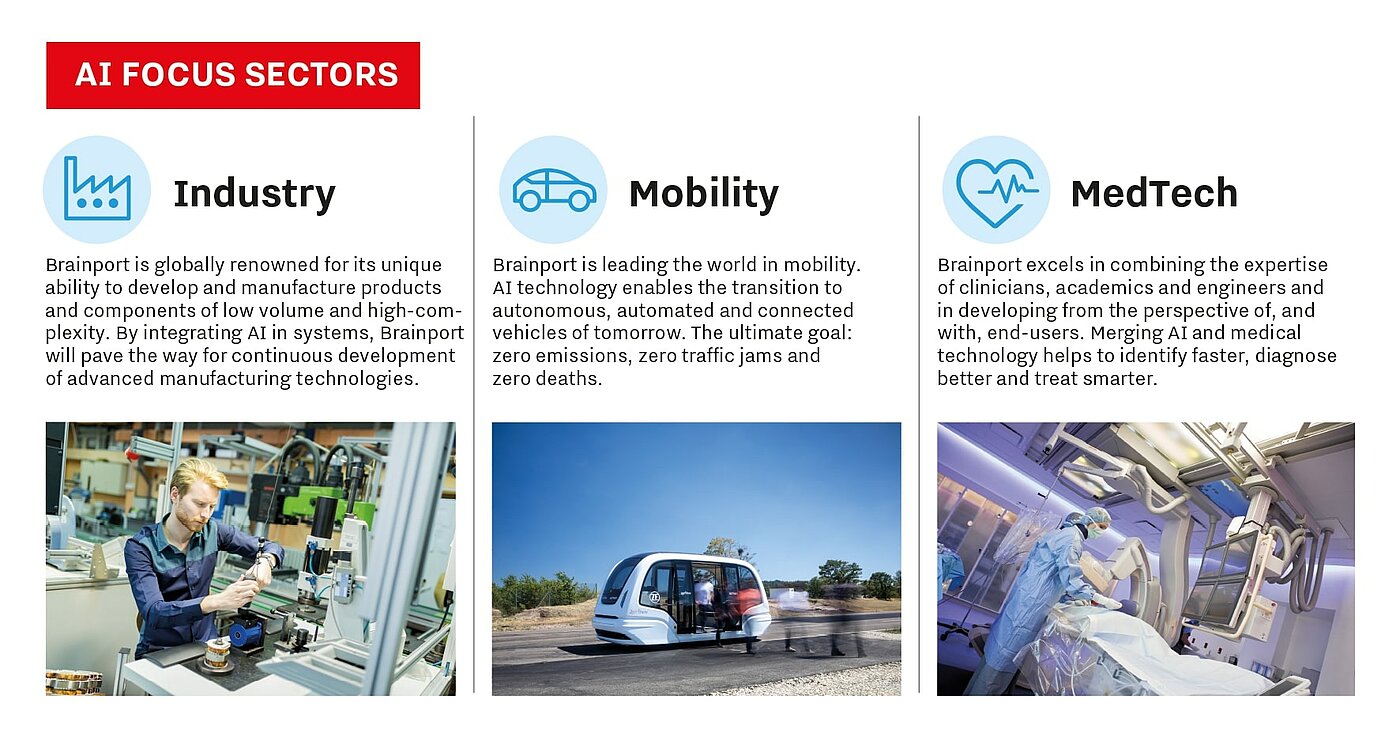 Various regional campuses are involved in the AI ​​hub, what is their role and function in the collaboration?
"The various campuses in the region play a major role," says Floor. "Jheronimus Academy for Data Science, for example, is involved in the development of re-training and further training of technical professionals. The training material they develop, is developed in collaboration with other campuses as much as possible and we also try to involve the companies and organizations on the campuses in the training. We use the same approach for other subjects as well. "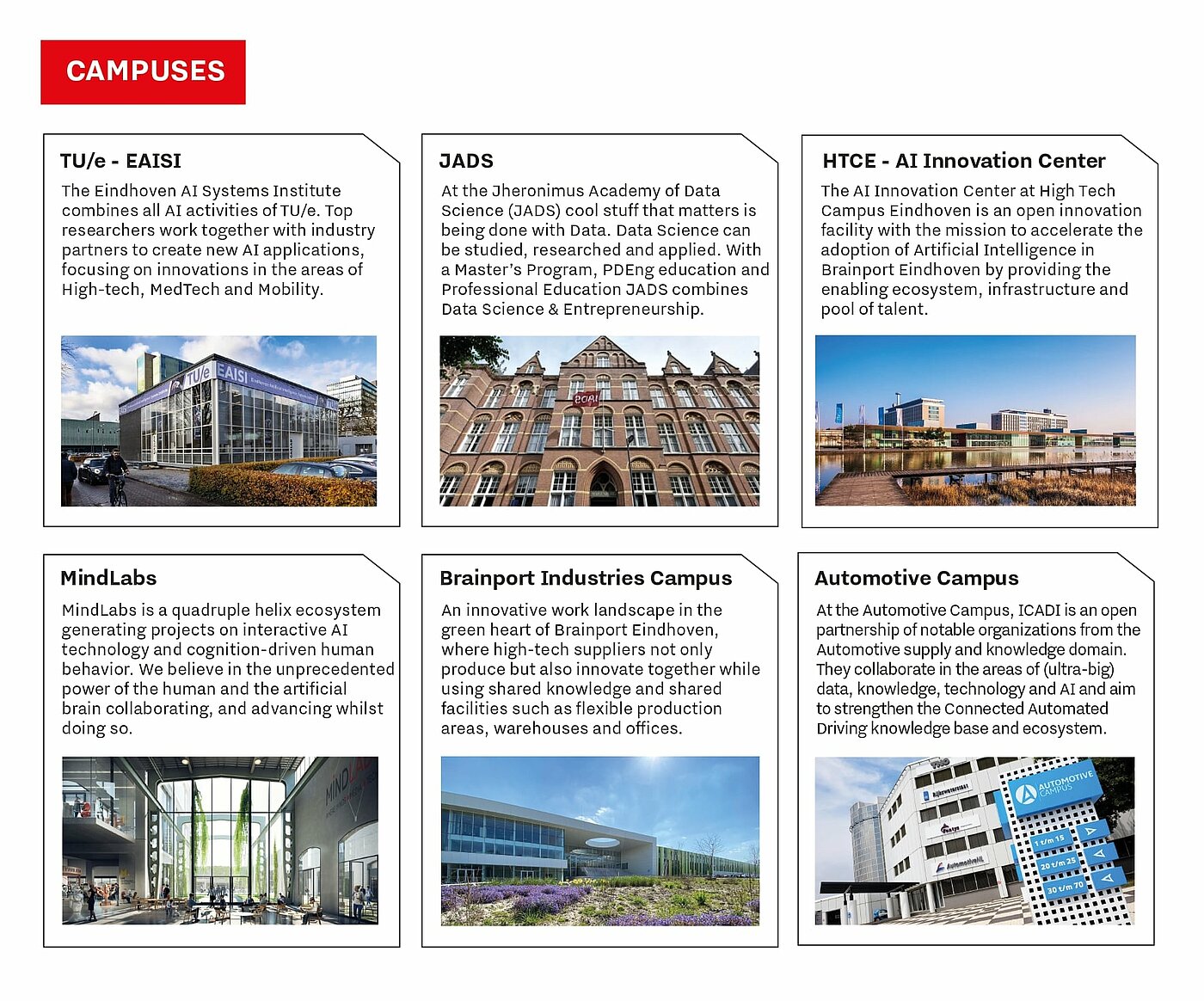 Eventually AI will be present everywhere in our society, both in our spare time and in the workplace. It will impact today's talent and the talent of the future. How does Brainport ensure that the talent of today and the talent of the future is ready for that future?
"In the short term, we are faced with a shortage of AI specialists, data scientists and machine learning experts," Mira says. "To tackle that, matters such as retraining and attracting the right talent are important. We also focus on attracting international talent to ensure that innovation does not stop. In addition, we also invest in creating broad awareness. Everyone has and will increasingly be dealing withsome form of AI. That is why it is important to make people aware of this now and to have them think about what it means for them and their profession, now and in the future. Take Google translate as an example, it keeps getting better. When you are a translator for example, it is wise to start thinking now about what that means for you in the future and what your distinctive character will be."
To introduce pupils, students, teachers and residents of the region to AI, you have developed an AI course and you run a campaign on various key technologies, including AI. Can you tell me what the course and campaign are about and who they are for?
Mira: "The general idea behind the campaign and the AI ​​course is that everyone has a minimal level of knowledge of these technologies, in this case AI, and that everyone can also recognize opportunities in his or her field of work. That level of knowledge is of course different for everyone. That's why we've tailored the campaign to the recipient's experience. For the inhabitants of the region, for example, it is important to get acquainted with AI on the basis of accessible examples in order to be able to make better decisions about future possibilities. For primary and secondary education, we have developed teaching letters in collaboration with regional companies so that teachers can work on AI subjects in class. This collaboration with companies means that we present relevant cases and that companies work on brand awareness with future talent at an early stage. We are also targeting students by showing them the potential application possibilities of AI based on stories from students from other educational institutes. "
How do you envision the future in, say, 30 years? What kind of influence do you expect AI to have on your life?
"What you mainly see now is that the potential of AI is overestimated in the short term and underestimated in the long term," says Floor. "My expectation for the future is that AI is something that will be invisibly present all around us to support us in our daily activities and actions, making it indispensable while we are still in control. AI that benefits humans. Think of, for example, your fridge that signals that the milk is running out and suggests that you order it. After that, all you have to do is confirm it and it will automatically be placed on your shopping list. Another example could be an application that recognizes syndromes, makes diagnoses and provides insight into the expected development of diseases and provides a doctor with the information, after which the doctor assesses the diagnosis and takes action on it. I also expect AI to support people in heavy or repetitive tasks, leaving you with more time for work that gives you energy. " Mira adds: "in this respect, having confidence in the correct application of the technology will be very important. Right now, I don't think we can imagine what kind of jobs there will be in thirty years, but you have to know what the status is now to see the opportunities for the future. All the more reason to start with the AI ​​course quickly."